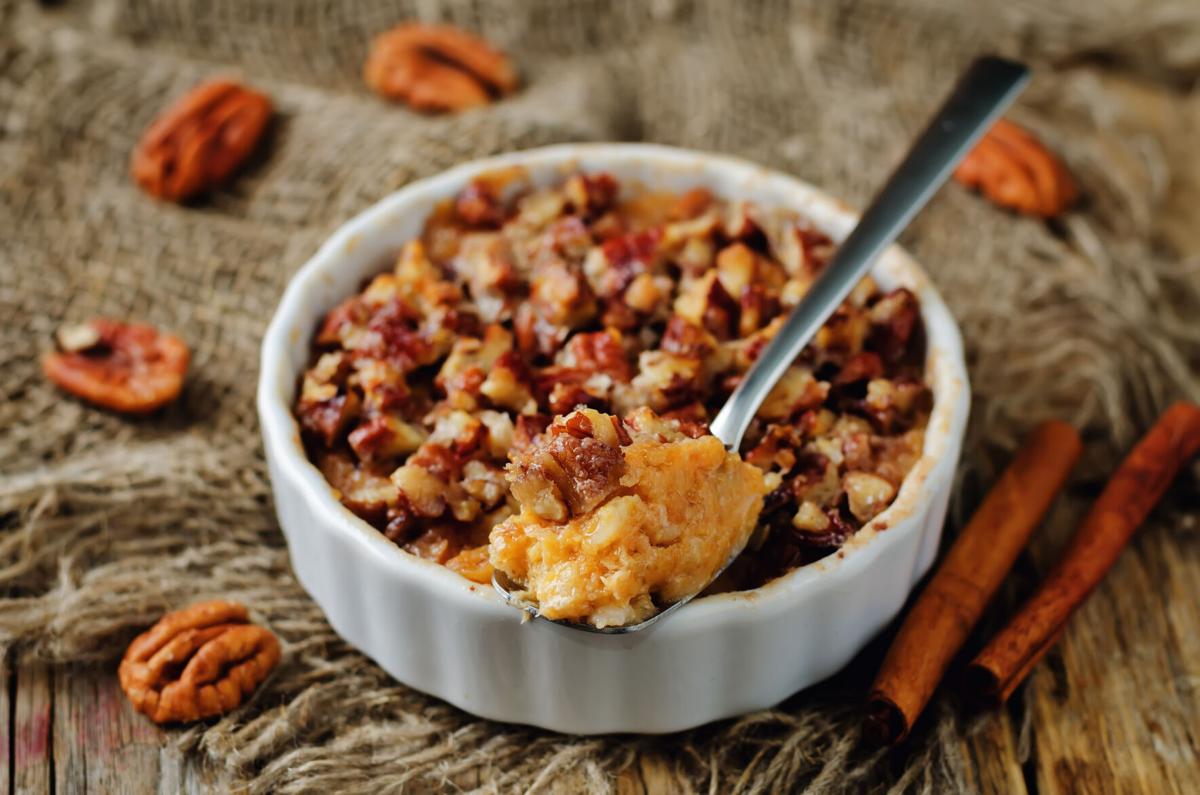 For years, my most-read story for The Detroit News food section was a playful step-by-step guide on how to get Thanksgiving dinner on the table without losing your mind.
The guide presumed that you would do all the cooking on the actual day. It provided a foolproof game plan, including such steps as "Sit down. Have a drink, for God's sake" and "Grab a kid. Make him/her set the table" and "Pop into the living room. Ask a penetrating question about the game — 'who's ahead?' is good — then return to the kitchen."
I followed it myself for many years.
Today, however, the way I approach Thanksgiving has changed considerably. These days, I take a day or two a couple of weeks before the holiday to prepare a couple of side dishes, then pop them into the freezer. They're ready to bake when I need them and having them already prepped reduces the stress of the day considerably.
Because I'm cooking for a much smaller group nowadays, I've streamlined my menu a fair bit. If there's turkey (I sometimes do Cornish game hens instead), there'll be bread dressing, mashed potatoes and gravy, cranberry sauce, and just a couple of vegetables. I'll usually make a pumpkin pie, unless I'm missing my father, who loved mincemeat pie best.
These are two of my favorite make-aheads. I hope they'll make your Thanksgiving a little less stressful.
Praline-topped sweet potatoes
Skip the gooey marshmallows this year and try this rather more sophisticated sweet potato dish. The praline topping is easy to do, and the dish freezes well before baking. Be sure your baking dish can go from freezer to oven! Bake for 50 to 60 minutes if it's thawed before baking or bake straight from the freezer for 70 to 90 minutes.
2 large eggs, lightly beaten
6 cups mashed sweet potatoes, about 4 large (bake these in the microwave or oven before mashing)
½ cup brown sugar, packed
1 teaspoon vanilla OR 1 tablespoon bourbon
1 cup brown sugar, packed
2 tablespoons bourbon, optional
Grease an 11-by-7-inch baking dish. Combine eggs, sweet potatoes, brown sugar, butter, milk and vanilla or bourbon in a large bowl. Transfer to the greased baking dish, smoothing the top.
In a small bowl, combine butter, brown sugar, pecans and flour; sprinkle atop the sweet potato mixture.
Freeze now if you wish to do so.
To bake, preheat the oven to 350 degrees. Remove the casserole from the freezer while the oven preheats or thaw it in advance.
Bake for 50 to 60 minutes if thawed, or 60 to 90 minutes if still frozen.
Make now, bake later dinner rolls
Makes about 48 rolls Prepare and shape these rolls a week or two before Thanksgiving, then stash them in the freezer. (They'll keep up to 4 weeks in the freezer, but the older they get, the less they'll rise.) If 48 rolls is more than you can use, you can halve the recipe.
2 ¼-ounce packages active dry yeast (instant rise is OK here)
In the bowl of a stand mixer, combine 2 cups flour, sugar, salt and dry yeast.
Place milk and butter in a small saucepan. Heat, stirring, over medium heat until the mixture reaches 120 to 130 degrees. It's OK if the butter doesn't melt completely.
On low speed, gradually add the warm milk mixture to the dry ingredients until well blended. Beat two minutes on medium speed, scraping the bowl occasionally. Beat in the eggs and another ½ cup of flour; beat at high speed for two minutes, scraping the bowl once or twice.
Remove the bowl from the mixer. Stir in enough flour to make a soft dough, then turn dough out onto a lightly floured board. Knead until smooth and elastic, about 10 minutes. Cover the dough with a floured towel and allow to rest for 20 minutes.
Punch the dough down; shape into desired shapes for dinner rolls. Place on greased baking sheets, cover with plastic wrap and foil, sealing well. Place in the freezer and freeze until firm. Transfer the frozen rolls to plastic freezer bags and return to the freezer.
At baking time, remove the desired number of rolls from the freezer and place on greased baking sheets or into a greased cake pan. Cover and allow to rise in a warm place until doubled in bulk, about 1½ hours.
Bake at 350 degrees for 15 minutes or until golden brown.
Remove from baking sheet or pan and allow to cool.
Robin Mather is a longtime food journalist and the author of "The Feast Nearby." Follow her blog as she writes her third book, "The Feast of the Dove," at thefeastofthedove.com.