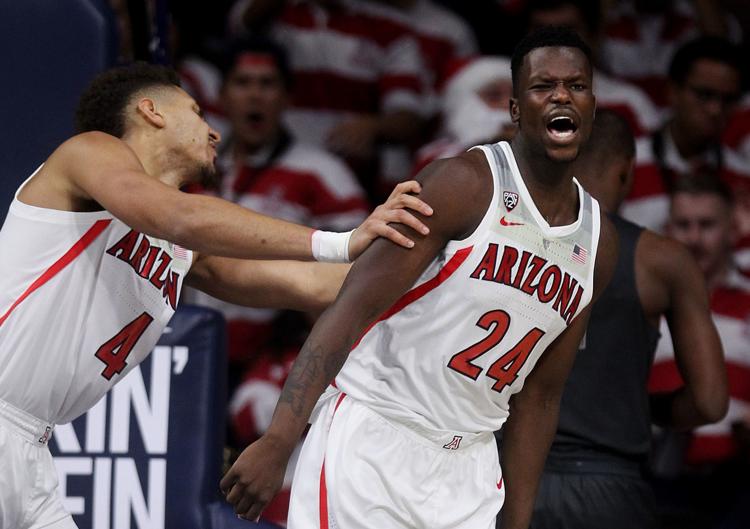 1. Oklahoma last week gave offensive line coach and co-offensive coordinator Bill Bedenbaugh a raise to $750,000 per year, making him what is believed to be the highest-paid offensive line coach in college football. When Bedenbaugh was Mike Stoops' line coach at Arizona from 2007-10, it didn't take long to realize he was something special.
2. Emmanuel Akot's apparent decision to transfer to Boise State is commensurate with his basketball ability. Akot arrived at Arizona as a five-star recruit in the Class of 2018. It became clear in about five minutes that those who put the star-rankings on prospects blew it on Akot, who isn't a fluid athlete, can't create a shot and plays without much confidence. If he stays at Boise State through his senior year, 2022, he could average 10 or 12 points a game and be a solid contributor.
3. When the UA selects its sports Hall of Fame Class of 2019 it should give strong consideration to Paul Robinson, a Marana High School grad who played football and track at Arizona in 1966 and 1967 and became the AFL Rookie of the Year, a two-time Pro Bowl tailback who rushed for 1,074 yards for the 1968 Cincinnati Bengals. "I don't know what it takes to get in the Hall of Fame," Robinson said last week, "but I'm 74 and my time is coming to an end. I'd like my nephew (Salpointe Catholic mega-prospect Bijan Robinson) to be able to be part of something like that."
4. Heather Moore-Martin, who has coached Catalina High School's boys volleyball team and Salpointe's girls volleyball team to four state championships since 2010, was named Western Region coach of the year, 2017-18, by the National Federation of High Schools last month. That's an award that includes all schools in California, Nevada, Arizona and Hawaii. Moore-Martin is 95-18 her last three seasons at Salpointe, with two state titles and a runner-up finish at state. It is a well-deserved honor.
5. Tucson High's 23-1 state championship basketball team of 1969 was honored at halftime of the Badgers' final home game last week. It will also be honored at the boys Class 6A state championship game Feb. 26 at ASU's Wells Fargo Arena. The '69 Badgers beat No. 1 Phoenix Union and No. 2 Tempe in the final two games that year. Delano Price, who scored 24 points in the title game, and Chuco Miranda, who scored 21, were at the Tucson High ceremony last week, joined by All-State selection Kenny Ball and five others from the school's last state championship basketball team.