Rejoice, Tucsonans! For the next 5-10 minutes it will be nice enough outside to enjoy luxuries like picnics, hikes that won't burn you alive and sitting in restaurant patios. 
Tucson is packed with outdoor seating but we're looking for a patio with lots of space for the kids, a nice view and an option for shade. 
We're especially excited to catch some rays while we lunch. And it doesn't hurt to have good lighting for Instagram photos. 
Start with these five ...  
DOWNTOWN
Merchant hours are listed online. 
This counts as Downtown right? I hope so.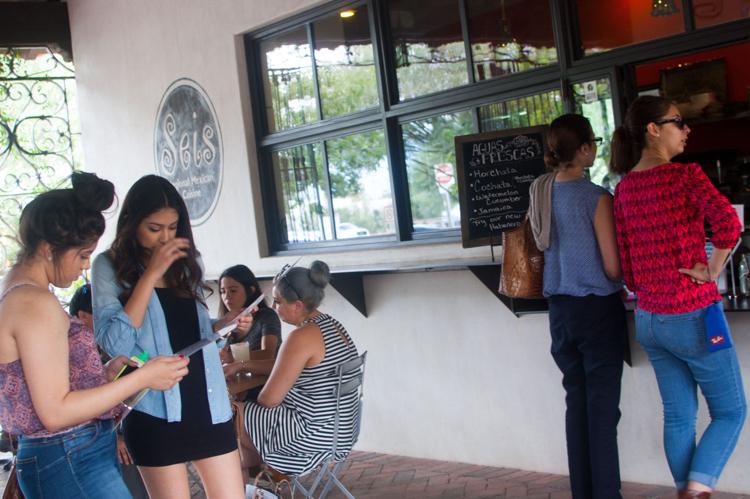 Sights, sounds and eats: This courtyard is the cutest and coolest. The trees keep it bright and colorful, some tables have succulents on them and there's plenty of space for your kid to run around. Some spots are shaded and others are in the sun. 
And you have options. You can order calabacitas tacos from Seis, browse Mast's cute goods and eat empanadas from La Estrella.
Give me all the calabacitas tacos. 
FOURTH AVENUE 
Open from 4-10 p.m. Tuesday-Thursday, 4 p.m. to 1 a.m. on Friday, 9 a.m. to 1 a.m. on Saturday and 9 a.m. to 10 p.m. on Sunday. 
And dang its neon sign looks so awesome in front of Tucson's colorful sunset.
Sights, sounds and eats: You'll probably hear the streetcar, actually you'll definitely hear the streetcar. You'll see it before it enters the underpass, too. But you do get a nice view of The Shanty and Fourth Avenue. 
Brunch is a good idea at The Coronet. Eat the $13 quiche with roasted red peppers, caramelized onions and fromage blanc or the $11.50 herb biscuits and sausage gravy. 
A CLOSE SECOND ... The Cafe Passé back patio is cozy af because of the twinkling lights. 
UNIVERSITY BOULEVARD
Open from 11 a.m. to 10 p.m. Monday-Wednesday, 11 a.m. to 11 p.m. on Thursday, 10 a.m. to 1 a.m. on Friday and Saturday, and 10 a.m. to 9 p.m. on Sunday. 
We're here for the Father Kino. 
Sights, sounds and eats: Either sit at the front of the restaurant where you'll hear and see people walk by or watch the streetcar glide by. There's more seating on the side facing Geronimo Plaza where the kids can play in the grass while you sip your cocktail.
Speaking of cocktails, the happy hour menu will leave you feeling inspired. We'll take the T-town nachos ($5) and a beer ($3.50). Happy hour lasts from 3 to 6 p.m. everyday.
NORTH SIDE
Open from 11 a.m. to 9 p.m. Sunday-Thursday and 11 a.m. to 10:30 p.m. on Friday and Saturday. 
Yes, La Encantada is on this list because almost all of the outside seating is great but Blanco is affordable and has tequila. 
Sights, sounds and eats: You'll see the mountains, city and the already beautiful and fancy La Encantada.  
On top of the Mexican-inspired food, you can get an $18 grilled salmon and a $12 Blanco burger. The children's (12 and under) menu is limited but comes with fries. Yum!
A CLOSE SECOND ... Reforma has lots of seating and there are (GOOD) $6 margaritas on Mondays.
EAST SIDE
Poco & Moms Cantina (Not the one on Kolb)
Open from 9 a.m. to 9 p.m. on Tuesday, Thursday, and Friday and 7 a.m. to 9 p.m. Wednesday, Saturday and Sunday. Closed on Mondays. 
Good Mexican food and margaritas sound perfect almost all the time. And now even more perfect with a mixed-with-Tucson-weather option.
Sights, sounds and eats: You'll hear the trickling fountain over the conversations while the sun sets. The menu has favorites like breakfast burritos, enchiladas, chimichangas and tacos.
Get the chile relleno breakfast burrito for $8.79 or the stuffed sopapilla for $10.99.