Tucson's winter gem showcase is legit. 
It finally has its own theme song. 
Called "Tucson" by Shockley and Fields (and available for download here), the song is a partnership between the musicians and Visit Tucson to give your gem show experience a soundtrack. 
Just a sample of the lyrics: 
"Headed west to watch the sun go down/ Came across a mountain desert town/ Where I found/ Tucson, my rock city/ Free me, free yourself/ Magic like I've never felt."
Hear that? Magic like you've never felt. 
Most of the shows get started this weekend, but some are already rocking and rolling. The crown jewel of the showcase, the Tucson Gem and Mineral Show, doesn't open until Thursday, Feb. 9 and closes that Sunday.
Visit Tucson has a handy app that you can use to keep track of all of it. You can download it in Apple's App Store or through Google Play. It's the free purple one. Use the app to find more information about individual shows, including opening and closing dates and addresses. 
We chatted with Jane Roxbury, the director of convention services for Visit Tucson. Roxbury basically manages all 45 shows that set up in Tucson over this two-week span and says that even if you're not a die-hard treasure hunter, the gem shows have something for you. 
Here are five of her suggestions (all are open to the public). 
Take the kids geode hunting
Get prehistoric
We love dinosaurs! And other large, fossilized creatures. If you feel like playing paleontologist for a day, the 22nd Street Mineral and Fossil Show is a good bet. That show is bigger again this year and a good place to ogle dinosaurs. "There's lots of fossil action down there," Roxbury says.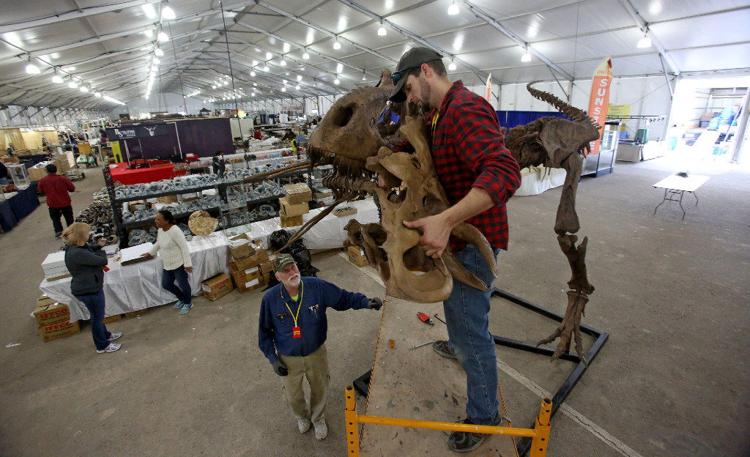 Stretch your legs
During the gem show, Interstate 10 basically becomes Interstate Gem. Roxbury suggests parking at the downtown parking hub west of I-10 and south of Congress Street. Park for $5 and then take a stroll. You're in walking distance of a handful of shows, including the GIGM Show — Globex Gem and Mineral Show (Jan. 27 to Feb. 11) at the Days Inn Tucson Convention Center, the Rapa River Gem and Mineral Show (Jan. 27 to Feb. 12) and the Pueblo Gem and Mineral Show.
From the parking hub, you can also hop on the free GemRide shuttle Saturday, Jan. 28 through Sunday, Feb. 12. to access shows throughout the city. 
Let your creativity shine
If you have ever wanted to learn how to make fancy jewelry, here is your chance. Many of the bead shows host jewelry-making workshops, including To Bead True Blue (Jan. 28 to Feb. 4) at the DoubleTree near Reid Park and The Tucson Bead Show (Jan. 30 to Feb. 4)  at the Radisson Suites Tucson. The classes can get a bit pricey, but most include the materials you need to make your bling. For more information on the workshops at these two shows, visit beadanddesign.com.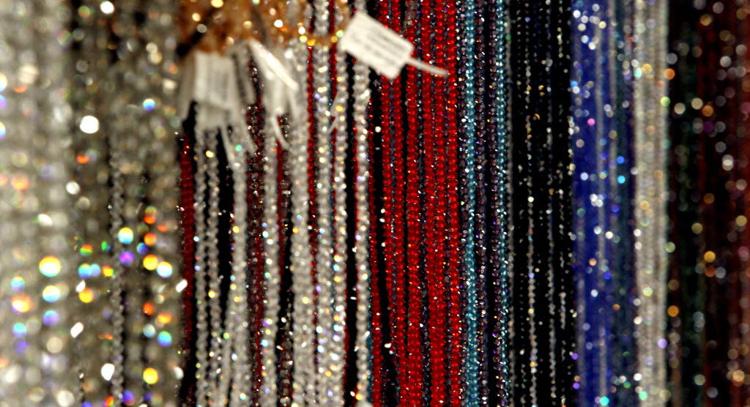 Learn something new
This is where the Tucson Gem and Mineral Show at the Tucson Convention Center excels, Roxbury says. The Tucson Gem and Mineral Society has been doing this for more than 60 years, and this year's theme is "Mineral Treasures of the Midwest."
"The main show is a blending of museum meets gem show," Roxbury says. That means that even if you're not planning to make any purchases, this show is prime for window shopping, with exhibits coming from private collections or even museums such as the Smithsonian or British Museum, she adds. This show also has lectures and programs directed specifically at educating kids. Admission costs $13 but is free for children 14 and under who visit with a paying adult. For more information about this show, visit tgms.org/show.