---
I have never asked a reader to drive more than five minutes for a fast-food hamburger ... let alone a fast-food version of Filipino spaghetti. But there is a first for everything. And I just had my first ShackBurger. 
There in an upscale Central Phoenix parking lot, the clouds split open revealing the heavens, and a trumpet played a meaty cover of Jimmy Eat World. Nearby, other chains in the shopping center clamored for my attention. Be gone random Sam Fox restaurant, be gone AJ's! Be gone Chipotle! I am eating Shake Shack now, and it is so damn good, it's messing with my head ... 
Disclaimer: What you are about to read does not promote the slow foods movement or local eating in any way. (Although one of these chains does make an effort to source sustainable ingredients like non-GMO hot dog buns.) At its heart, this article is about the interception of American capitalism and the most powerful market force of all: millennial nostalgia. It is about delicious foods we ate as children or on vacation ... foods that are now within our reach.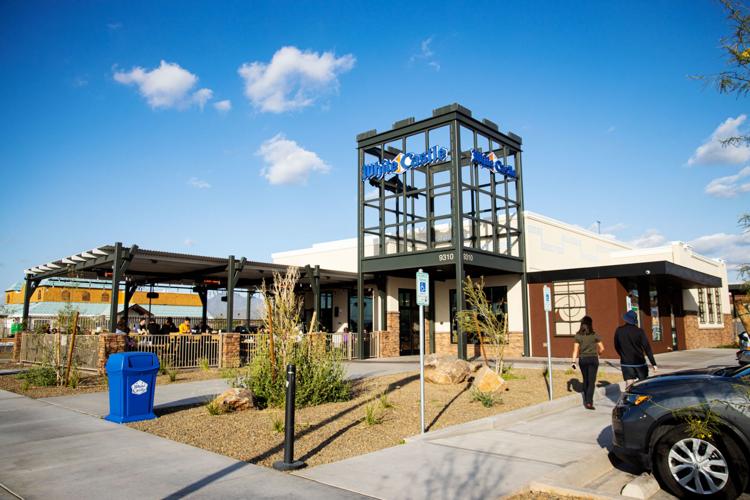 I spent a weekend eating at all these buzzworthy spots in the place where I grew up, The Valley of the Sun. You may come here to go to a spring training game or to look at a large screen that vaguely resembles an aging Billy Joel. Before or after that experience (or during), you might crave a White Castle slider.
To help you navigate this Wild West metropolis of fast food, I break each experience down: Is the trip worth it, how long is the wait, and does it even taste good? So strap on your seatbelt but not too tight, we're going for a ride! 
Shake Shack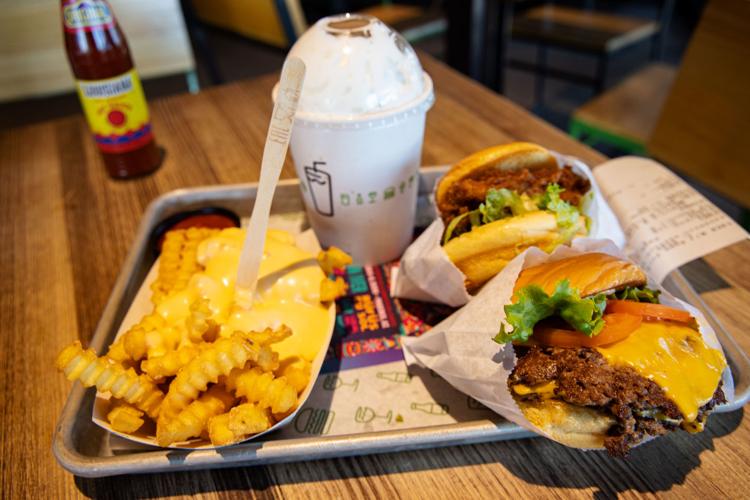 Worth it ranking (based on wait times, flavor and nostalgia): 8.5/10
New York City's answer to In-N-Out Burger made its Arizona debut in 2016, and has quickly branched out to five locations across the Valley. The menu here is much more extensive than your typical In-N-Out though, and flirts with the gourmet aesthetic by using high-quality ingredients like pasture-raised Angus beef. 
Unlike the other chains on this list, Shake Shack has been in Arizona long enough that it no longer commands giant lines. I was able to walk into their Central Phoenix location and receive a tray of food in under 10 minutes. And the tray was quite full, as I ordered enough for two people: a double Shackburger, cage-free Chick'n Shack sandwich, crinkle-cut cheese fries and the chain's namesake, a thick and delicious milkshake of cookies and cream.  
I didn't want to like it, but the hidden New Yorker in me sang that day. This feels horrible to say, but I don't think I've had a cheeseburger this good in several years ... and I eat at In-N-Out on a regular basis. The genius here is in the texture: The thin patties are juicy in the center and have those hanging crags of meat crunch on the outside. The cheese melts into them and becomes a form of heaven. And when it comes to French fries, there is no comparison. In-N-Out's suck, and these are delicious. 
Jollibee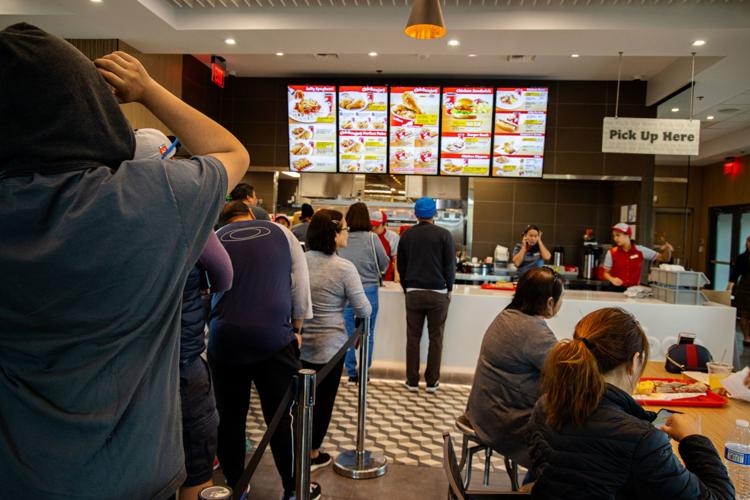 This Filipino fast-food chain is the most fascinating thing to me because it tells a story of globalization and the relationship between our two nations. But for thousands of Filipinos across Arizona, the restaurant just means home. When Jollibee opened way out in the burbs of the East Valley in late-December, people waited for literally days to be the first in line. And on my visit, the place was freaking packed with a line that stretched to the door. 
Despite this madness, the service was actually very fast, and I was able to get my food within fifteen minutes of walking in. (I did spend several minutes studying the menu, and several more minutes taking pictures in front of a smiling bee mascot wearing a chef's hat and a bowtie.) What an interesting spread! My tray was filled with boxes of fried chicken and adobo rice, hot dog spaghetti noodles, beef patties covered with gravy and a fast-food take on pancit noodles called the Palabok Fiesta, topped with little shrimps.
Jollibee is also known for their peach mango hand pies, which looked and tasted like McDonald's apple pie but with a saucier filling. As of now, the menu didn't include halo halo, the signature snow cone of the Philippines, but an employee told me they were working on it. What would I order again? Everything, to be honest. I feel like Jollibee opened the doors to a new and wonderful world of Asian fast food. But if I had to pick one thing, it would be the Palabok Fiesta, because we like, to party. 
White Castle 
The low rating here reflects the large amount of hype, and the insane expectations I made in my own head prior to eating White Castle. Unlike the other businesses on this list, I do have nostalgic memories here. They date back to the '90s, when my dad tried to put an entire slider in his mouth at one time and freaked out my stepmom. I remember from that visit, not quite sure where it was actually, that White Castle was greasy and delicious and that I too, wanted to eat it in one bite. 
The spanking new Scottsdale location is right across the 101 freeway from the now dolphin-free complex that includes OdySea Aquarium. (Just down the street lies a much larger castle, a Medieval Times jousting place.) Upon seeing White Castle's polished facade, my father let out an audible "whoa." This Scottsdale location is far cry from the 24-hour-joints you may remember. 
The restaurant opened in October and still feels like a mad scene. The line here literally stretched into the parking lot, and the exhausted employees looked like how my insides felt after eating a Double Shackburger. After almost half an hour, I brought my tray of little boxes back to my table, avoiding the pack of frat guys who were laughing about that terrible smell one of them just made.
The sliders were actually much less greasy than I remember them being, but my memories may have been mixed with other memories of microwaved burgers. I also tried the Impossible Slider, which was much less juicy than I had come to expect from all that talk about leghemoglobin. The fish slider, on the other hand, was actually pretty good! 
---

Before you head down the road, take your car to Jack Furrier Tire & Auto Care to get it Road Trip Ready with 50 percent off services that will get you where you need to go. Click here for more info or call 520-547-5005. With 14 locations around Tucson, you'll find one near you.