The best tribute to the now-closed Bentley's House of Coffee and Tea would be an anthology of the stories that happened there, from customers and staff throughout its 38 years and four locations across Tucson. That book would be full of meet-cutes that led to marriages, heartrending breakups, babies that would become as much a part of the space as their parents. Neil, a regular who showed up every one of its nearly 14,000 days, would share some of the poems he wrote there, or maybe his calligraphy.
You'd hear about Gabby, for whom Bentley's was a haven away from the scrum of politics, who found sanctuary in the cafe for years. She cried when Anthony, a cook who had been with Bentley's for 34 years, told her they were closing.
You might overhear the conversation that owner Jo Schneider had with a man about having a baby together. Then you might hear the stories of those kids, who each ended up managing the cafe on their own time.
We were able to so easily find a home at Bentley's because Jo — along with an enormous roster of employees, who she would never let us forget — made it one. "I made Bentley's a place where I felt comfortable and safe. I figured, if I feel that way here, others will too."
Bentley's was a holdout of the old kind of coffee shop, the kind that had poetry readings and live music, where teens hung out and felt safe to figure out who they were, from the days before there was wifi and work-from-home, when coffee shops were about the communal experience, not the individual with a laptop. Although the University of Arizona-area Bentley's formally closed its doors in December, Jo said that a part of Bentley's died the moment she became an internet cafe, because people started seeing it more like an office than a living room.
When COVID shut the world down, Bentley's took over a year to come back. Its community, the thing that made it so special, never did. "People couldn't show up," said Jo. "It's small. It's inside. It was time."
Bentley's closed, but the Schneider family and their community can still be found at its downtown restaurants LaCo and TallBoys — with another project in the works with details to come.
While none of those concepts are meant to be a reiteration of Bentley's, the family continues to forge spaces powered by the abundance of community, the idea that when you work with care and true generosity, a little bit more comes back. If it sounds like too simple, cliche, or altruistic a concept, ask the employees and regulars who have stuck with the Schneiders through it all. They can tell you best.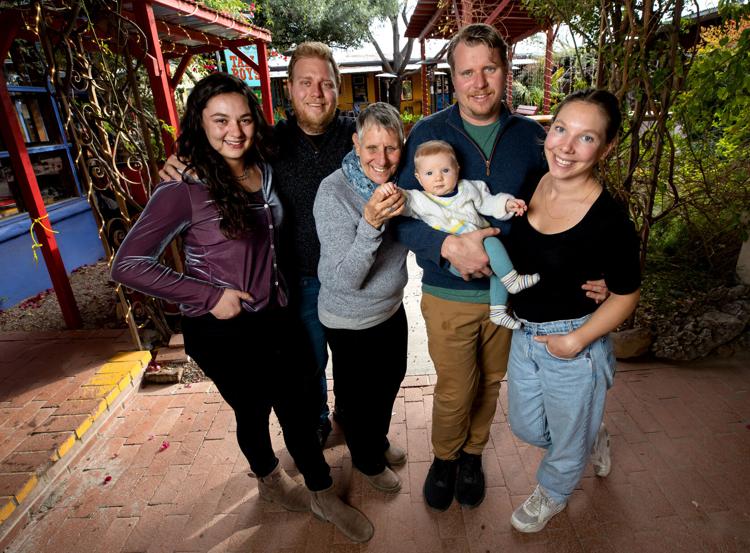 The start that led to Bentley's, LaCo and TallBoys
As the legend goes, Bentley's started in Cleveland, where Jo and her one-time partner Willow Bentley grew up. Jo had opened a vintage clothing store that bored her out of her mind. While the shop wasn't a good fit, as an out lesbian in the '80s, she was determined that owning her own business was how to make starting a family work. She and Willow loved this coffeehouse called Arabica, from whence Willow would bring Jo coffees and pastries as Jo languished at the vintage shop.
They reached out to a former owner of Arabica, who mentored them, and they sent out 100 letters to 100 family members and friends asking for their financial support — a GoFundMe of the 1980s. No one, not a single person, sent them a penny. "And they loved us, too! They loved us. They thought we were crazy, though," Jo said.
One person changed her mind: Willow's mom. She took her life savings out of her retirement fund: $40,000 (which, in today's dollars, is worth over $100,000), and gave it to the women as a nest egg. "That was when I decided," Jo said. "One, that I was going to do anything to make this work, and, two, that I wanted to be the kind of mom who would give her kid her life savings to help them realize their dream."
That was the money that allowed the women to pack up and move across the country to Tucson, a place where Willow had some relatives and where Jo thought she could raise a family.
Jo's romantic partnership with Willow was shorter-lived than their time in business together. "We only lasted a few months after Bentley's opened. She was the kind of person who could go home and let go of work and I wasn't," Jo said. The first time Bentley's almost closed was when the women were exhausted and looking to sell. They were about to sign the papers when Jo said, "You know, Willow, what if I bought you out?"
"I couldn't let go," she said. Their relationship was distant for a while, but soon Willow started helping Jo with her books, and she still does. "We talk five times a day. She's one of my best friends," Jo said.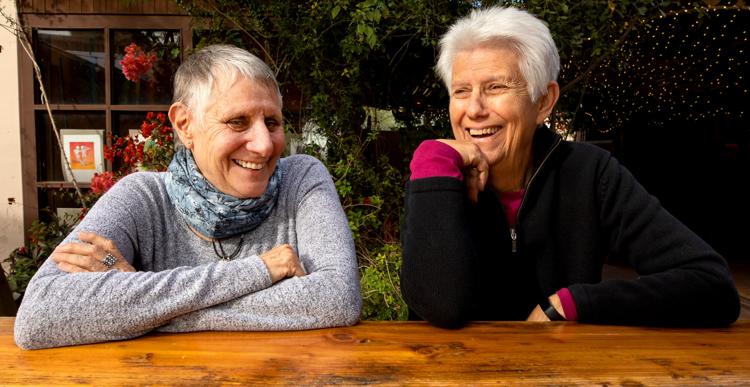 Not only were the women able to pay Willow's mom back, Jo has since become that mom, investing in her son Ben's now-defunct music festival and restaurant Tallboys, trusting her sons to fail until they succeed.
Ben comes off as genuine as his mom does, but in a more introverted register. He is a good partner with her because he's good in the back of house, whether as a chef or writing necessary emails. Over the course of his life, he has seen his mom face innumerable small failures, and experienced no small share of his own. "That's part of it, right?" Ben said. "Your struggle, as long as it resonates and has some magic for a few people, the failure can be worth it in the long run.
"No matter how much loss and hardship you experience through it, as long as — [Jo's] whole thing is, which I believe now — as long as you didn't hurt anyone and you positively impacted the community, it was never a failure. As long as you put your money into bettering and not selfish reasons, it's not a waste of money," he said.
Bentley's grew alongside Jo's kids. The trademark plastic dinosaurs they used to match your order to the table were once her sons' toys. The boys played with them in the cafe while their mother worked. When the kids grew up, the toys found a new life in new people to love them.
In 2011, Jo was asked by the owners of La Cocina, now called LaCo, to take over. They were reaching retirement age, and the restaurant takes up nearly an entire small city block. It was a big project, and they trusted her to do it right. While Ben was initially in charge of Bentley's, it wasn't the right fit. "I had a different vision," he said. "Lots of things I thought I could do better, and plenty I knew I did worse. I'm not my mom."
At age 19, Jo's second son Eli dropped out of Pima Community College to manage the coffeehouse. "My brother, he's my mom," Ben said. "He is the person you want to talk to and hang out with and he knows everybody's name."
Eli is the first and only member of the family I've been able to meet in person. You might be like me, and want to be suspicious of someone who comes off as disarmingly kind and easygoing and uncover their hidden malice, but you're not going to find it. He just is that good.
Ben would eventually create TallBoys, which is now nestled into the same courtyard as their mom's eatery. His partner, Carolyn, heads Ceres across the street. They are raising their five-month-old son as Ben was — in the arms of his community.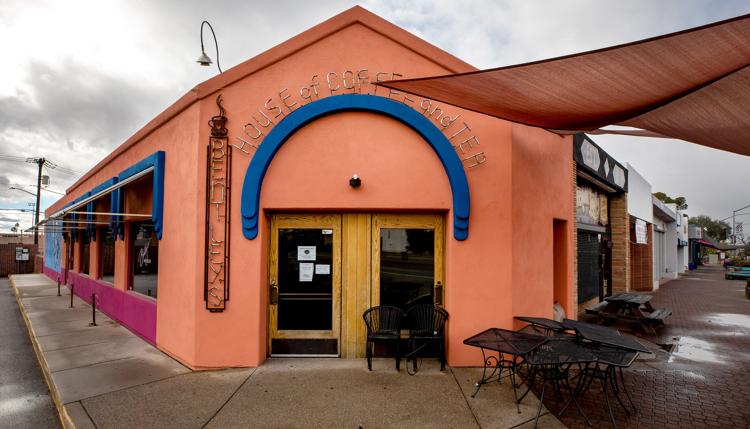 Bentley's offered a home for many
The failure of this piece is going to be that no one article or essay can completely articulate the impact Jo has had on a place by showing up and giving herself, with complete generosity of spirit, to its community each and every day.
Her friends know she's always either at LaCo or her house. "I am my business, my business is me. I don't know how to separate and I never have. It's kind of my survival kit in some ways. I feel safe and comfortable. I feel comfort in my business," she said.
"People think I'm crazy with the hours that I work, but I feel like I'm in my house," she said. When friends want to catch up, they stop by LaCo for lunch or coffee.
When she was still running Bentley's, she would pick up her cook Anthony every day before work and they would drive together, except one day when she had car trouble and they took the bus. Anthony worked at Bentley's for nearly three decades, until the day it closed. He has become family in his own right.
He and his partner, Karl, go to the Schneider family Christmas. Karl's art had long adorned the walls of Bentley's, including the signature mural in the bathroom. Many regulars recognized Anthony by the aprons Karl made by hand.
That kind of partnership has eluded Jo. "I don't know how to make romantic relationships work. I know how to build community," she said. She loves her kids ("I live and die by them," she said). She is proud of them for finding and nurturing partners in a way that she never figured out.
Eli said his mom would want to be known for trying to pay her dishwashers more than anyone else in the business, for paying her employees wages that people can really live off of. She and Eli remember each employee that they've had to let go over the years. They say they often parted ways because the employee had outgrown Bentley's.
"It's more than just employees, we care so much, and want to make sure y'all succeed," said Eli. "I always said Bentley's was a stepping stone." Over his eight years of managing Bentley's, he only ever had a couple dozen employees. People stuck around.
Jo, meanwhile, has worked with hundreds of employees over nearly four decades. "I haven't changed in 30 years," she said. "I knew if people started getting annoyed at me, or the vibe at Bentley's, or their jobs, it was because it was time for them to move on."
"But I know I hurt people, even though I tried not to," she said. Her work, she admits, is her life. In life, we hurt people, all of us do. "I don't want to come off like I haven't," she said.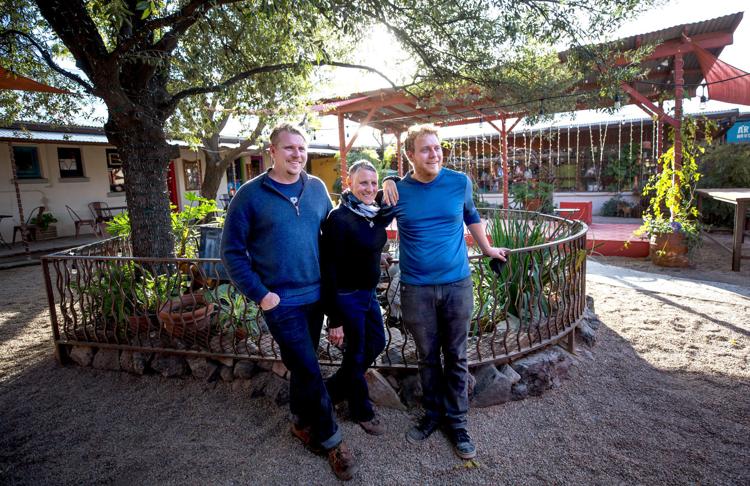 Jo has been interviewed many times, and I suspect she has felt pained each time. When we were talking, early on, I called her a mogul as a joke. "I am more of a dishwasher than a mogul," she said with fervor. She is unwavering in her humility. She will read this profile and likely first notice the people who I didn't have space to feature: especially Anthony and Frieda, her decades-old friends-compatriots-employees.
But when I talked about the success of Bentley's with the people who knew it best, everyone always came back to Jo. She has a matchless gift for making community in the definitional sense: inspiring a group of people to show up for themselves, and by doing so, show up for each other, and for her.
"I think there are a lot of owners that show up every single day and put their heart and soul into it," said Eli. "I can't imagine we're the only ones. I think we just got lucky in the moment of time and Mom just being who she is. We all got very very lucky to be around her." 
"I call her a tiny little genius," Eli said, of his mother. "She could be a cult leader if she wanted," he added later.
Back before COVID temporarily closed Bentley's for the first time, Jo hosted a yearly Thanksgiving celebration for her staff and her regulars, her community. I asked everyone I interviewed the same question: "How would you like Bentley's to be remembered?" Jo and Eli recalled this dinner: a full house of people who spend the classic family holiday with the Bentley's community rather than their blood. The Schneider family cooked the turkey, and everyone else brought sides, potluck style. The feast was hosted at Bentley's until 2011, when Jo moved to LaCo and the celebration became more and merrier.
Every year, Jo would choose a special person, from her staff or one of her regulars, to make a toast. When we talked, she didn't have to say that the event wasn't about her, though she did anyway. "I'm not sitting here thinking 'I'm the greatest, I did this,' because we did it together," she said. "This happened because people showed up. It was never about me or Willow, it was about this community. It always is."