To celebrate Tucson this holiday season, our food writer is putting the spotlight on La Doce. Follow along as we eat tacos and soak up the atmosphere at 12 different joints along iconic South 12th Avenue. Share your favorite taco memories with us on Facebook, Instagram or elueders@tucson.com.
---
Rollies at 5 p.m. is the beginning of the rush. Shifts are changing. The dining hall is full of mixed families, older outdoorsy white ladies who definitely own a Subaru Forester, a dad in a worn baseball cap and his son off from work and school, hipsters with tattoos still wrapped in plastic from the parlor. A family walks in with kids ranging from a blue-haired teenager to a baby in a bassinet. Every corner of Tucson has collided like it's a house party.
Rollies gets a lot of hype that it lives up to. You might have seen pictures of its over-the-top birria ramen and highly pigmented murals across social media and "best of" lists. The trademark award-winning birria has notes as rich as wine, brought out further by the mild vinegar in the diced green olives on top.
The eponymous rolled tacos come with either queso or rojo sauce. I get the chicken and queso upon the counter lady's suggestion. They're scrumptious. The richness of the fried rolled tortilla, the queso and the pulled chicken is powerful but not overwhelming, cut slightly by diced scallions. Add brightness with a generous pour of their thin, sweet red salsa with the fiery aftertaste. You'll be ready for another bite.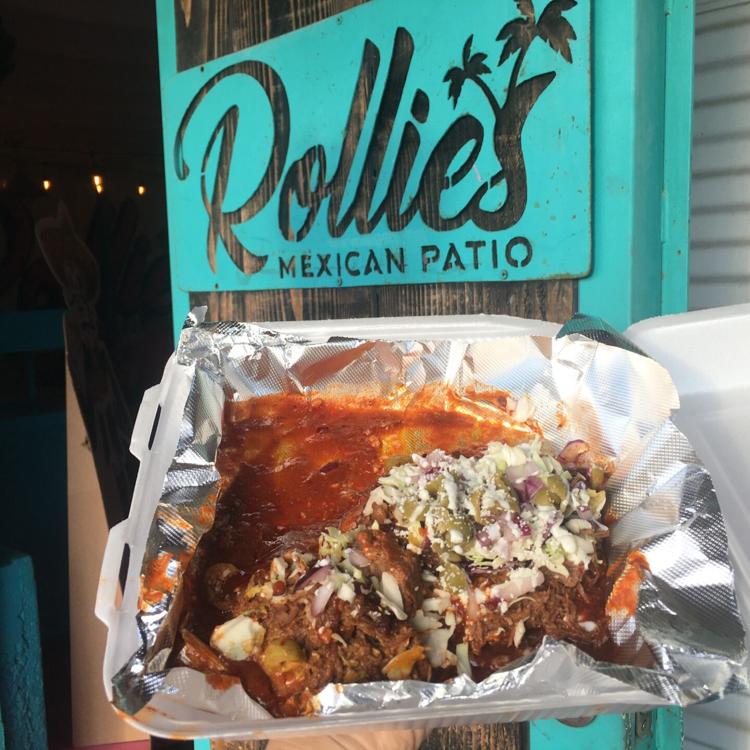 The food is delicious and slightly elevated, but still kid-friendly. This place is popular because it makes everyone happy. The ladies working the counter hug like friends. You can hear them laughing when there's a lull up front, but there's still a stream of delivery orders coming in through the back.
The airbrushed style of the murals and bright pink highlight colors make the space feel suited for a party (or is it the pinatas?).
You can't see 12th Avenue from here because the parking lot is full. You're just as likely to see a poster of a community event like Cyclovia (en español) or Moonlight Mariachi as you are an accolade on the walls.
While the food is good enough to come here alone, you're doing Rollies right if you bring some people you love.
---
Open 11:30 a.m. to 7 p.m. daily. Closed on Wednesday and Sunday.
For more information, check out their website.
Their birria flat enchiladas cost $9. Three rolled chicken tacos cost $5.95.