To celebrate Tucson this holiday season, our food writer is putting the spotlight on La Doce. Follow along as we eat tacos and soak up the atmosphere at 12 different joints along iconic South 12th Avenue. Share your favorite taco memories with us on Facebook, Instagram, or at elueders@tucson.com.
---
I encountered BK Carne Asada & Hot Dogs for the first time before I was a food writer. I was driving down South 12th Avenue and was thrown off by the industrial-chic building that dominates the block. The trendy corrugated metal facade and big wood-framed windows are unlike anything else on the avenue. The logo, which marries the shapes of the two initials (owner Benny Galaz's B and his newlywed wife's K), had been revamped by a designer contracted out from Europe. I was afraid big money was coming from outside Tucson to transform the south side. It turns out, that big money was from La Doce.
When you go to BK's website, you won't find a story about how Benny Galaz started the restaurant as a hot dog cart in the '90s. Within a year, he was selling thousands of Sonoran dogs a day, keeping enormous sums of cash tied in tight rolls and hidden in his home. The website offers no reference to the origin of the name, which was spontaneously scrawled in red paint when the health inspector asked what should be on the title of his certificate of approval for the cart. Instead, when you click the "About Us" tab, you'll learn about BK's corporate mission of "supreme ambiance" and that the BK Vision is to be a trademark of regional Sonoran dining by 2022. Now middle-aged, Galaz wants his legacy to be an empire. Its capital is on South 12th.
The trifecta of classic Sonoran street foods are carne asada tacos in paw-sized tortillas de harina, bacon-wrapped dogos and the beer-inflected Bloody Mary Michelada. You'd be hard-pressed to find a place on 12th Avenue that does all three better than BK does.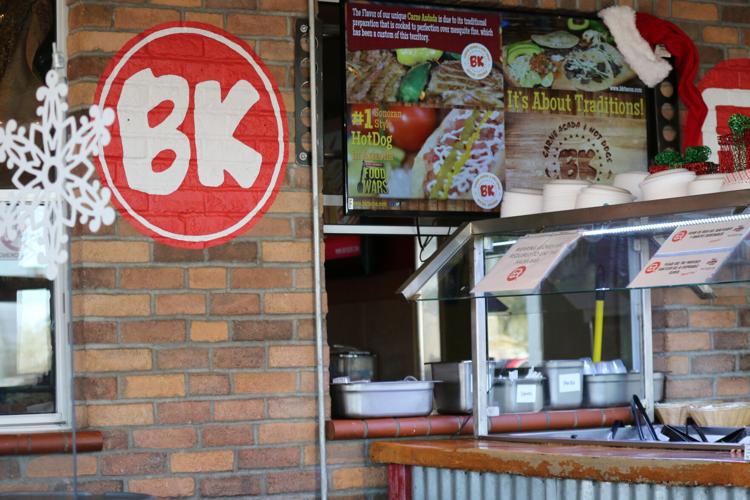 Unlike many taco stops on 12th, BK feels like a full-service restaurant, because it is a full-service restaurant.
You can see the Catalinas in the distance from the north-facing tables, thanks to the huge parking lot creating its own horizon. The mugs of beer are frosted like you're in a commercial. Reggaeton is playing from a sound system. There's a manager leading a staff of servers from a command station between the dining rooms and the kitchen. Every staff member is wearing a matching black T-shirt. On the back, they read: "Mas Tacos, Por Favor." Our server, though, is the only one wearing royal blue eyeliner and her hair crimped like Selena.
The interior is, as always, decorated to the season. Sparkly snowflakes hang from the ceiling; pine garlands with a galaxy of ornaments adorn an industrial-chic metal support beam. A neon blackboard announces in bright letters that happy hour is from 4 to 6.
It doesn't feel right to come to BK and not order a Michelada, but here I am, trying to be able to drive myself home.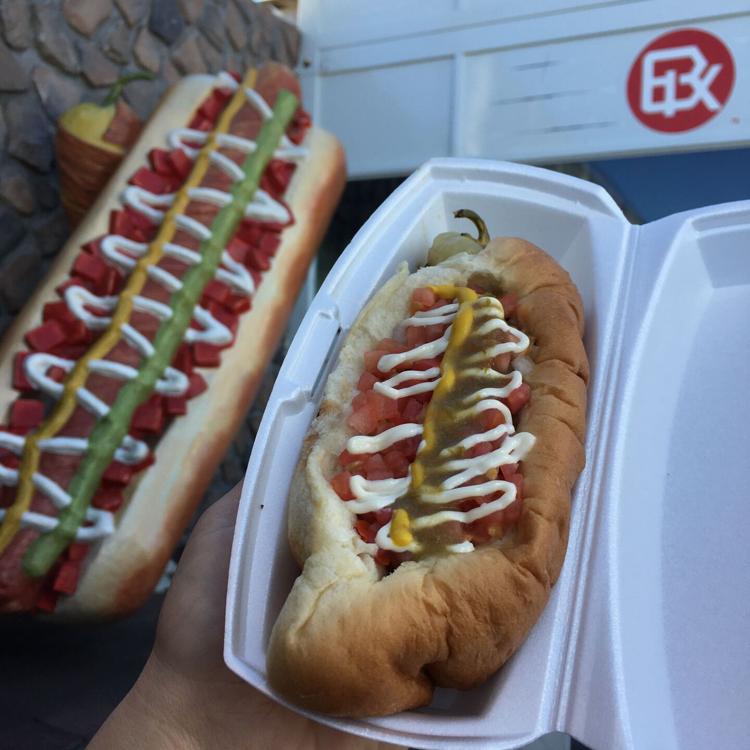 Instead I stick with the warmly (think flavors like cinnamon and mace, not hot heat) spiced cabeza, and two tacos that are harder to find at trucks: chicken and veggie. The chicken has a buttery flavor that might come from a buttered tortilla or from somewhere else in the grilling process.
The veggies benefit from aromatic proximity to marinated meats on the grill, but mostly I appreciate that they're not crunchy or mushy; a Goldilocks in-between that holds up substantially to the bite. The mix of mushroom, bell peppers, tomatoes and onion holds the same composition as a great veggie kebab. The trio of tacos is a good mix to go from one bite to the next: taste the fatty cabeza, then the refreshing veggie, the buttery chicken, repeat.
---
BK Carne Asada & Hot Dogs
Open 10 a.m. to 9 p.m. Sunday-Wednesday | 10 a.m. to 10 p.m. Thursday | 10 a.m. to 11 p.m. Friday-Saturday
For more information, check out their website.
Carne asada and pollo tacos cost $3.75 each. Veggie tacos are $2.95.