To celebrate Tucson this holiday season, our food writer is putting the spotlight on La Doce. Follow along as we eat tacos and soak up the atmosphere at 12 different joints along iconic South 12th Avenue. Share your favorite taco memories with us on Facebook, Instagram, or at elueders@tucson.com.
---
Unlike many entries in this 12 Days of Tacos series, Delicias is not a truck with white-tent seating in a parking lot; it's a full-service restaurant with a laminated menu and drink specials. On Sundays, they say they close at 2 p.m.; we discovered this is a very soft deadline. The restaurant is still full with patrons nursing micheladas by 2. Some are just picking up menus. After observing the jolly crowd, I make note to come back on a day when it's open later and order margaritas.
When we order takeout, they give us complimentary chips with salsa and delicious, soupy beans. They ask us several times if we'd like a glass of ice water. The LA Chargers are playing the Bengals on a flatscreen TV. Families are here with tiny kids and drinks in old Jose Cuervo bottles.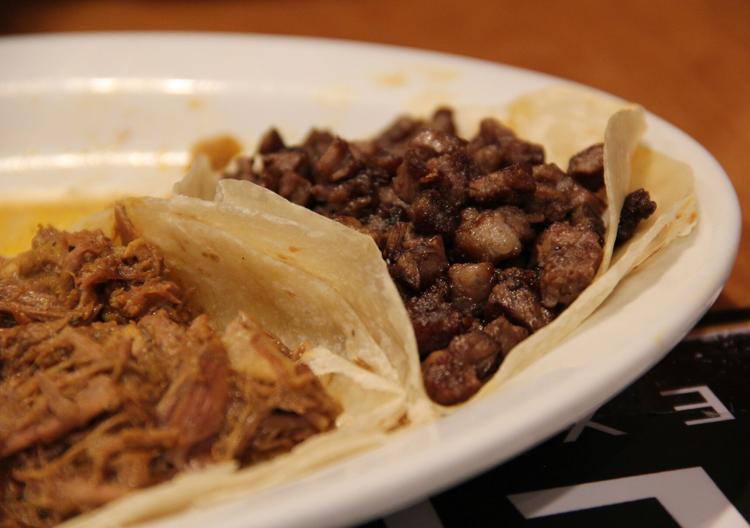 I heard from a journalist at Arizona Bilingual that Delicias turns into a dance club on weekend nights. On Sunday morning, though, the only hint of this debauchery is a stripped concrete floor in a side room that winks at you on the way to the bathroom.
We eat even the crumbs out of our bowl of chips. I wish we could take the beans to go. Next time!
We eat the tacos at home: shrimp, chicken and carne asada. I ordered the carne asada to see how it holds up to giants like Tacos Apson. I got the chicken because I couldn't find chicken tacos anywhere else on 12th; beef is the dominant protein. Both are tasty, if standard. The shrimp is the standout, chopped and grilled with a bouquet of veggies and spices. Honestly, though, I'd say the reason to go to Delicias is the atmosphere. It's like the living room of your friend with fun parents on game day. Oh, and the beans...
---
Hours: Monday-Thursday, 8 a.m. to 9 p.m. | Friday-Saturday, 7 a.m. to 10 p.m. | Sunday 7 a.m. to 2 p.m.
For more information, check out their Facebook.
Carne asada and chicken tacos cost $2.99. Shrimp costs $3.99.