The clock strikes midnight and a tall glass of milk sits next to a plate of cookies.
Santa Claus quietly tiptoes in and drops gifts under the twinkling Christmas tree. He takes a bite of a cookie and a swig of milk and he's off.
It's no secret that Santa loves cookies. Lucky for us, there are plenty of places in Tucson to get them scratch-made.
Here are a few of those spots.
Snack Monster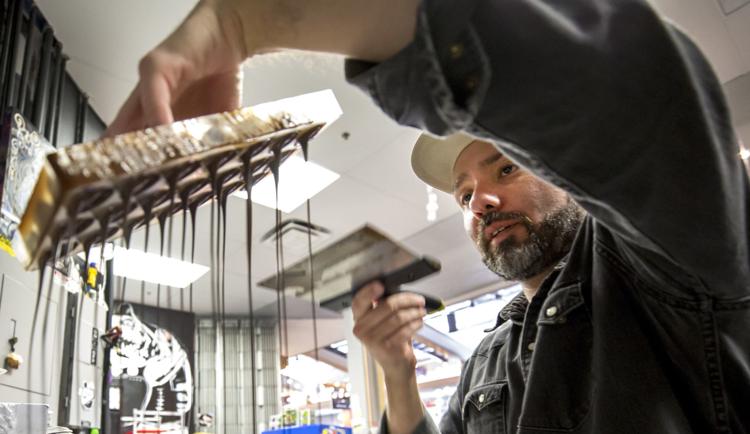 The treats at Snack Monster, 4500 N. Oracle Road, are not only made from scratch — they're entirely custom.
"We're totally artists and our medium happens to be food and desserts and little items," says owner Shane Ray.
From sugar cookies shaped as saguaros, to seasonal dark chocolate cookies with bits of candy cane, Snack Monster serves a variety of cookies. Ray and his team make two to three different types of cookies each day.
Seasonal cookies include gingerbread glazed with maple and orange-cranberry shortbread. Year-round, Snack Monster has made chocolate chip, M&M, peanut butter, and butterscotch cookies, in addition to macarons.
One of Ray's favorites is the snickerdoodle, which is filled with caramel.
Snack Monster opened four years ago near the food court at Tucson Mall. The bakery also makes cake pops, rice cereal treats, candy apples and more to satisfy your sweet tooth.
Snack Monster's goodies can also be found at local businesses including Funtasticks, Hacienda Del Sol and Coffee Times. It also does catering.
If you're hoping to order cookies from Snack Monster before Christmas, order by Dec. 23. Snack Monster will deliver up to Dec. 24.
Dedicated. A Gluten Free Bakery and Coffee Shop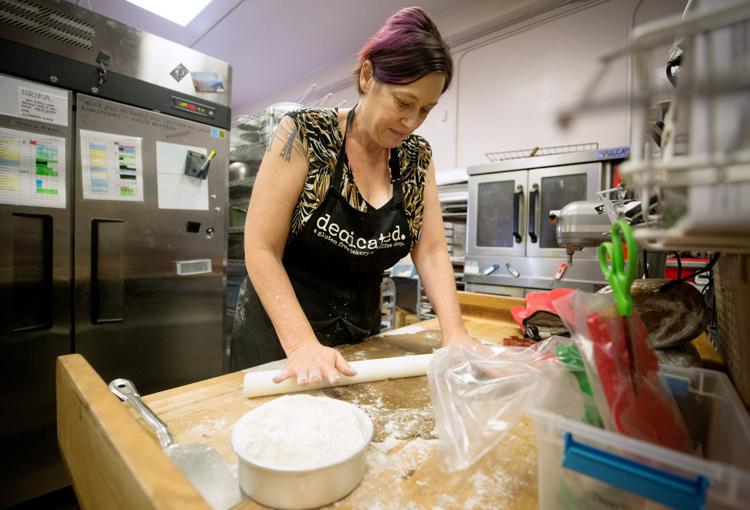 Years before that, doctors thought her husband, Gordon Wicker, had lupus. As it turned out, he had a severe wheat allergy.
"We tried all the (gluten-free) stuff that was available in stores at the time and it wasn't very good," Wicker says.
So, Wicker — an accountant at the time — started playing around with different flour blends. When she found a blend she liked, someone told her to open a bakery.
"I missed serving the community and I thought this was a way to take my business management experience and make something really great and really needed in the community," she says.
Dedicated serves sandwiches and salads, in addition to heaps of sweets at the bakery and through catering. Everything is gluten-free and many treats are vegan.
Cookie flavors include chocolate chip, snickerdoodle, gingersnap, and sugar cookies flavored as matcha, lemon turmeric, lavender, and maple.
Wicker's favorite is the vegan peanut butter cookie.
"The peanut butter cookie is what I was making when I discovered our flour blend that we use for everything, so there's that sentimental piece," she says.
The bakery is currently offering holiday cookie boxes, which come with a variety of cookies and are available while supplies last. Regular cookies can be ordered until Dec. 23.
Time Market, Rincon Market, The B Line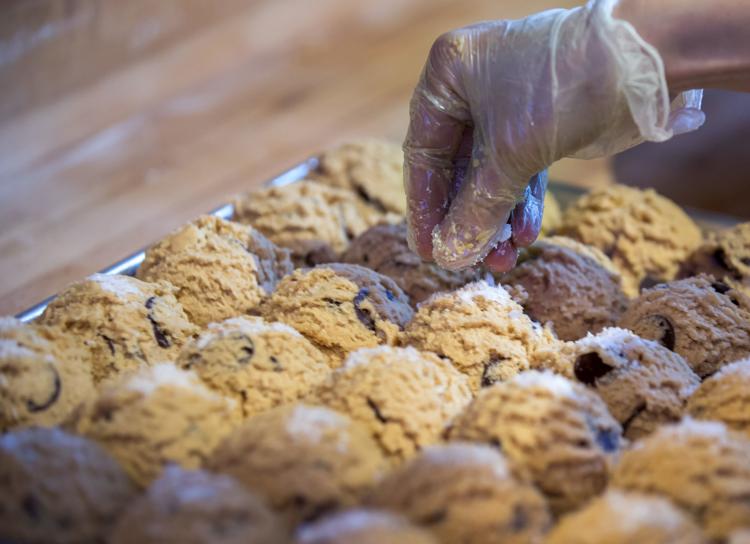 A few years ago, a chocolate shipment arrived at Time Market — but it was melted.
"I had to figure out how to use it because I couldn't sell it on a shelf," head chef Curtis Wright says.
So, Wright and head baker Katie Morris threw the chocolate into a cookie, which later became the Time Market Salted Chocolate Chip cookie.
Beyond the chocolate chip cookie, Time Market offers rotating cookie flavors made by Terri LaChance of Rincon Market and The B Line. The two restaurants, in addition to Time Market, are owned by Peter Wilke.
Rotating flavors at Time Market include oatmeal raisin, flourless chocolate, double chocolate, ginger molasses and Mexican wedding cookies. At The B Line, 621 N. Fourth Ave., you can find gluten-free options, chocolate pecan and "The B Line Flat," which is a salted chocolate chip cookie.
And at Rincon Market, 2513 E. Sixth St., diners can stumble across flavors such as Tahini chocolate chip, ginger molasses, almond coconut, peanut butter, double chocolate walnut, cornmeal lime, and orange rosemary shortbread.
"They're all good," LaChance says. "I would say if I could only have one cookie, I would say the ginger molasses."
For the holidays, Rincon Market is offering a holiday assortment of cookies for $24.
The last day to order the holiday assortment is Dec. 22, with pickup from noon to 4 p.m. on Dec. 24. If you're hoping to order Time Market's chocolate chip cookies before Christmas, order by Dec. 23.
Beyond Bread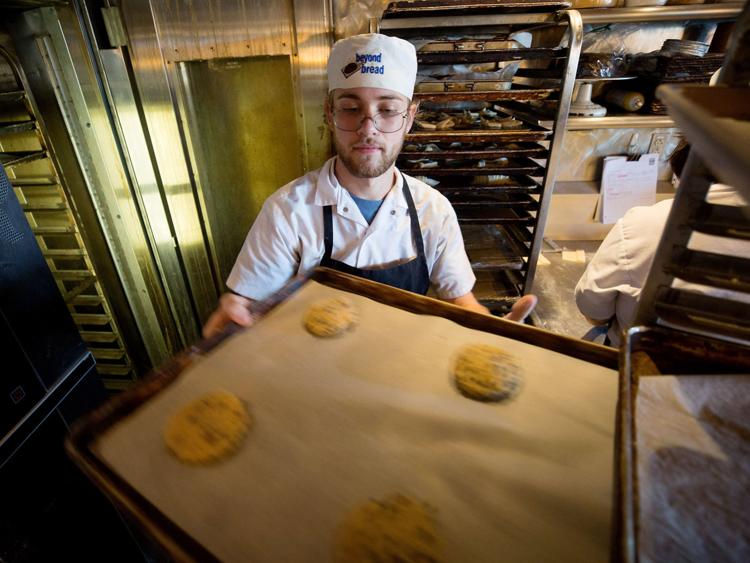 Come for the sandwich, stay for the cookies.
"Everything is scratch-made — every part of it," Beyond Bread's president Shelby Collier says. "And they're making (cookies) all the time."
The cookies at Beyond Bread with three locations in Tucson are larger than your average cookie — but they also make 14-inch cookies if you're itching for something even larger.
Varieties include chocolate chip, oatmeal, milk chocolate chunk, wheat-free death by chocolate, Russian tea cake, gingersnap, sugar cookies and peanut butter — which is Collier's favorite. More flavors are available through catering and depending on the season.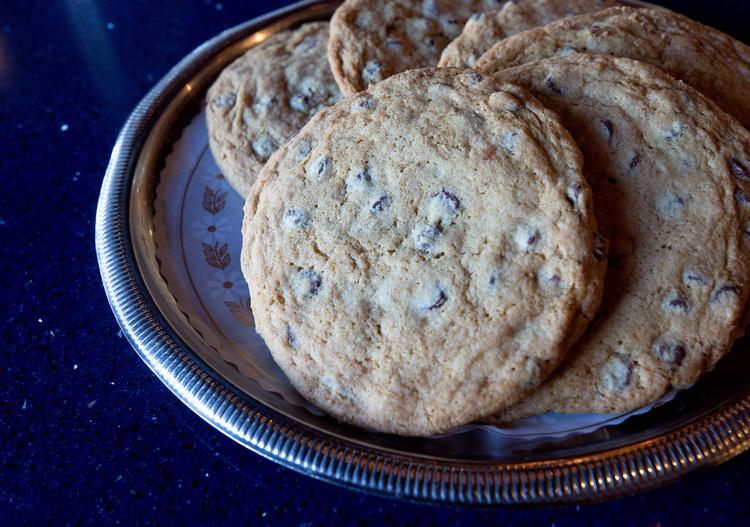 One of the seasonal cookies, which is now available, is the puddle cookie. Bakers roll nuts into chocolate cookie dough, then flatten and fill it with ganache.
Beyond Bread has been using the same recipes for most of its cookie staples for the last 15 to 20 years.
But Collier says recipes are always being perfected. "It never stops," he says.
If you're hoping to order cookies from Beyond Bread before Christmas, orders are taken on a first-come, first-served basis.