Magdalena Alvarez took a southside appliance shop and turned it into a colorful dining room with unique tacos you can't find anywhere else in town. 
Her new taco spot, Ensenada Street Food, delves into the flavors of Baja California ... but not just the seafood that this coastal region is known for. Alvarez is from Ensenada, a port city about 75 miles south of Tijuana. Like the border city to the north, Ensenada is home to a diverse population of people from all over Mexico. 
"When you go to Ensenada, there's a lot of people from Guerrero, Guadalajara ..." she said. "It's not everything about seafood. We also have birria on the street, tacos al pastor: You'll see it on every corner. It's a different taste from what we have here."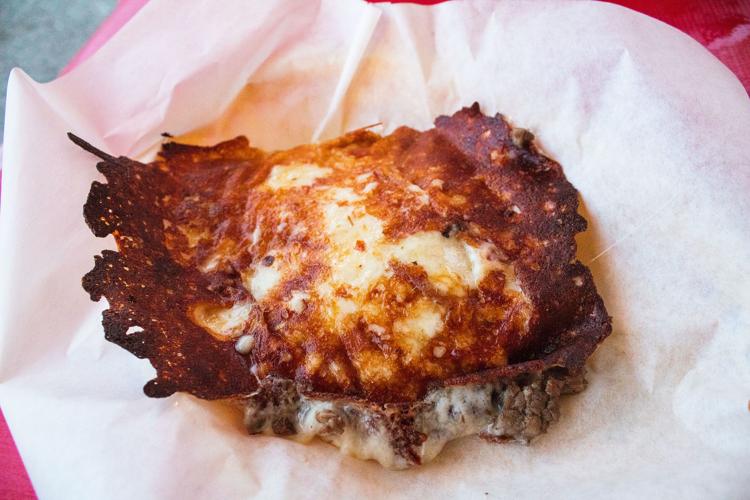 Alvarez serves both of those meats along with carne asada, putting them in tacos, burros, tortas and her own special creations like the Sicodelico. The dish is a cross between a caramelo and a grilled cheese sandwich, with a layer of crispy melty cheese on top that you rip apart with your hands. In true Baja fashion, Ensenada Street Food makes its own corn tortillas by hand. 
Alvarez started out cooking at the Tohono O'Odham Swapmeet on Westover Road. Late last year she found a tiny lot tucked back behind a barbed wire fence on Park just south of 22nd Street. Inside you'll see her bright orange trailer emblazoned with the calavera of Frida Kahlo. 
The little appliance shop is now painted turquoise and has all sorts of Pinteresty taco quotes, like this: "Yesterday I really wanted tacos. Now I'm eating tacos. Follow your dreams ..." But the coolest thing about the space is the trippy sheet hung on the wall to cover a door, with a psychedelic montage of flags and Mexican Independence Day dancers.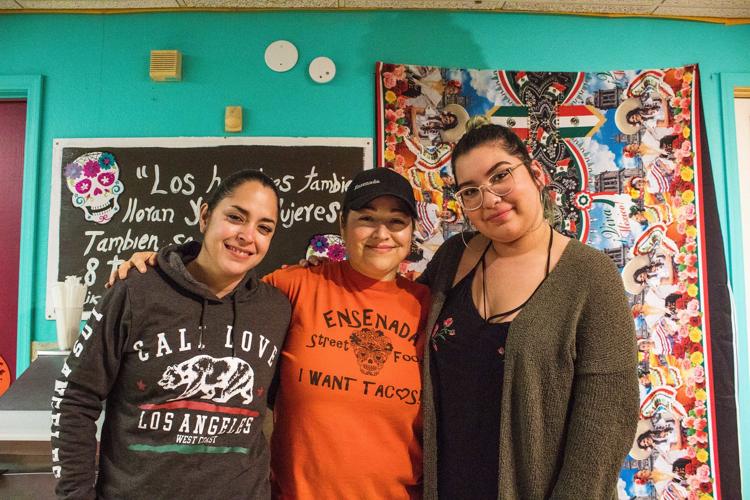 You can see Alvarez there in the evenings, running the space with her partner and two daughters. Ensenada Street Food is mostly a night spot, open from 5 p.m. to 10 or 11 p.m. on Fridays and Saturdays. As the sun went down, we enjoyed a flurry of tacos and burros from the parking lot, staring out onto the distant Catalina Mountains. 
The standout meats were the al pastor and the birria, which is more delicate with a lighter sauce than the Sonoran birria we're accustomed to. We got our birria in a special creation called the Frida, where it's sandwiched Big Mac style into two corn tortillas. It was a little messy, but the flavor was was perfection, especially when you hit it with a little of the avocado sauce from the salsa bar. 
We also enjoyed a burro with al pastor meat that had been perfectly grilled up with pineapples, taking on their sweet flavor. The burro itself has also spent some time on the grill, which gave the tortilla a little crunch. In addition to the meaty tacos and burros, Ensenada Street Food also does a vegan taco and a keto friendly dish with cheese instead of a tortilla. 
If you're looking for something a little different and very Tucson, hit this place up for dinner or a late-night snack. Like the sign on the wall says, "Mi cuerpo dice gym, pero mi corazón dice ... TACOS!!!"
Ensenada Street Food is at 1602 S. Park Ave. Phone: 520-245-6496. It's open 5 p.m. to 10 p.m. Tuesday through Thursday, and 5 p.m. to 11:30 p.m. Friday and Saturday. Closed Sunday and Monday.