It ain't Taco Tuesday without housemade kimchi! (Said some dude named Dave with a pizza tattoo.) There's just something about that spicy sweet funk that makes us wanna wrap it in a tortilla and smother it with artisanal adjectives. 
But a local chef is taking all that, throwing it into a blender and making something new. Quite literally, he ferments his own fruits and veggies much like you would with Korean kimchi, and then blends them up into a tasty sauce.
At any time, Ermanos' chef Matt Kraiss is aging about a dozen different mixtures in a custom-built refrigerator that sits in the rafters above the bar area. Climb up the ladder and you might see jars of mango habanero, fermented papayas, and even chunky tomato salsa.
Using techniques from "The Art of Fermentation," Matt simply adds sugar and a little salt to the fresh chunks of fruit, seals the jars and then leaves them up there for 21 days. The lack of oxygen allows the sugars to break down and give off lactobacillus, creating a bubbly "pop rocks" effervescence.
The aging time gives the sauces a richer flavor, with more subtleties and a little funky kick. "You still get most of the heat from whatever pepper you're using," Matt said. "You get heat, you get funk and you get that sweetness from the fruit. So it's adding another layer of flavor."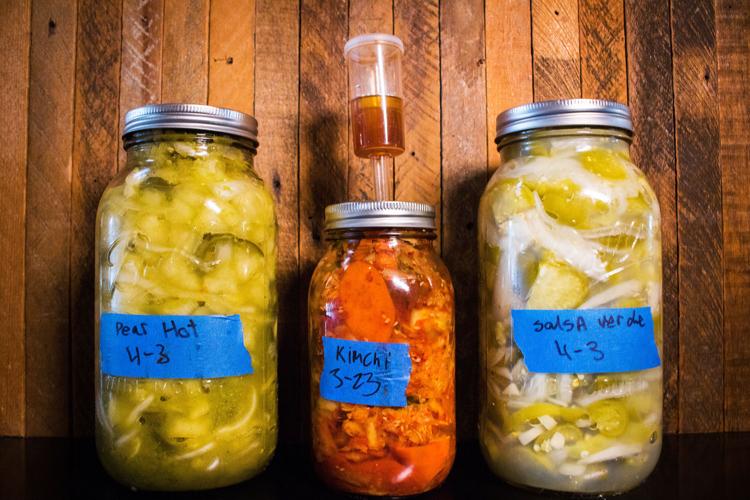 Fermented foods are a common aspect of many cuisines: Europe has its cheeses, Japan has miso and soy sauce, and Mexico even has the pickled chiles you see at the taqueria. But most traditional hot sauces use vinegar for a little punch of sour, rather than letting the ingredients do it themselves.      
There's a lot of experimentation involved, and it can be messy. (Like really messy. You actually have to be careful when you're popping open a jar, because it might explode sour fruit all over the place.) Four different people collaborate on the project, including co-owner Eric Erman, sous chef Jason Purdy and Janet Hoogasian, who comes on her days off as a chef at Hacienda del Lago in Vail.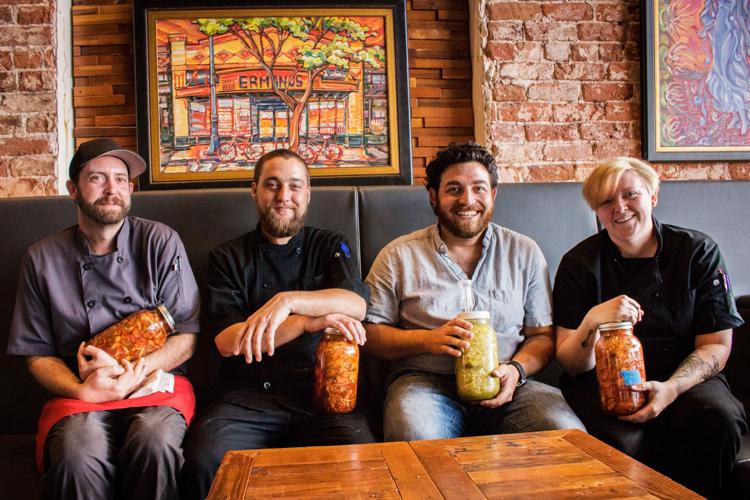 The team's sauces go on a rotating specials menu for Taco Tuesdays. During our visit, they were putting their pineapple leek sauce on little pucks of Chilean sea bass with local dino kale. But you can find the fermented pear and jalapeño sauce on the late-night menu seven days a week, paired with crispy chicken fingers and a cucumber citrus salad. ($9)