To celebrate Tucson this holiday season, our food writer is putting the spotlight on La Doce. Follow along as we eat tacos and soak up the atmosphere at 12 different joints along iconic South 12th Avenue. Share your favorite taco memories with us on Facebook, Instagram, or at elueders@tucson.com.
---
If you look up Mariscos El Bochas, you're going to find photos of towers of seafood, in such high-res that you can count the number of suction cups from the baby octopus and appreciate the gentle ridges of protein on the shrimp, the curl of freshly-shaved red onion.
The place is known for its fresh seafood, brought in regularly from Guaymas, Sonora. My predecessor Andi Berlin took two local chefs to split $70 worth of scallops, raw and cooked shrimp, octopus, avocado, and a salad of tomatoes, red onion and corn.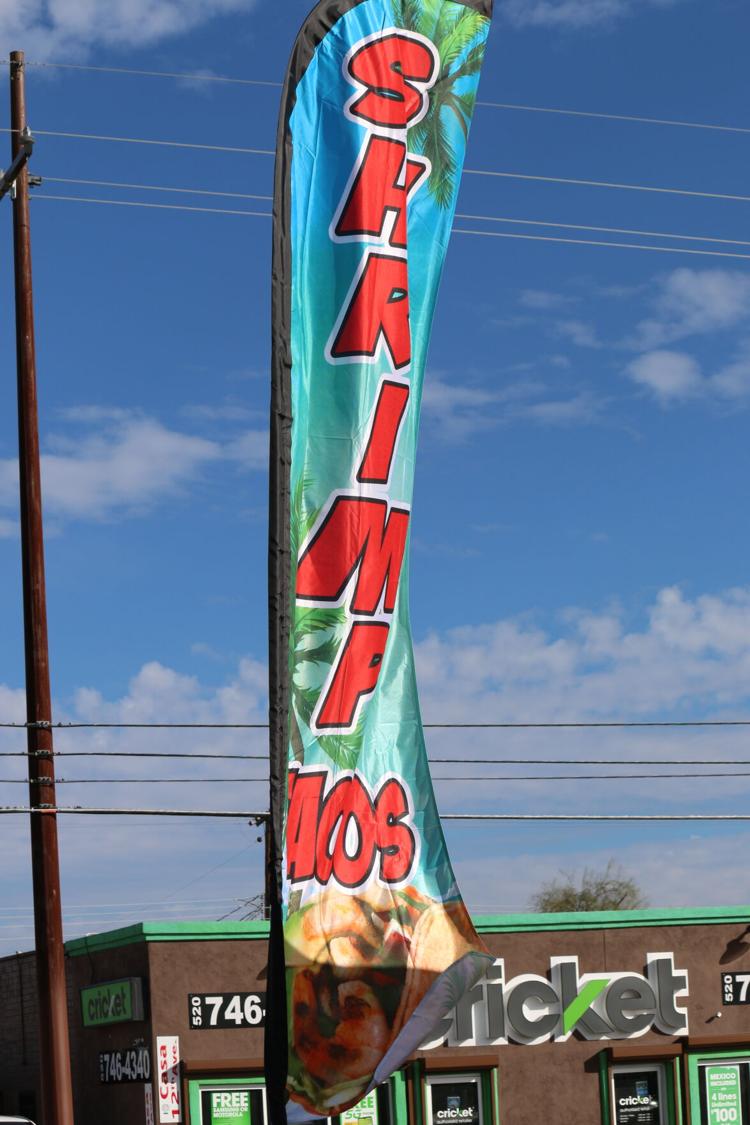 The restaurant itself has both a truck and brick and mortar shelter. You'll sit down and a generous waiter will deliver perfectly substantial and crispy corn chips and bright salsa, then take your order.
If you look at their Instagram, which you absolutely should, you'll notice there aren't many options for tacos. I wanted to try their renowned seafood (although I'm curious about the birria they have squeezed onto their menu), but needed to stick to the theme of this article series.
While El Bochas has laminated menus, my attention was drawn to the canvas wallpaper in the back of the restaurant, which depicts their favorite specialties on a large scale. At the very bottom, partially covered by a rack for silverware, was a picture of an enchilado. You won't see it on their online menu.
I had my first enchilado at Taco Fish, where I was surprised to like the combination of cheese and seafood. (As my New Jersey grandmother says: "You can make anything parmigiana except fish.") The enchilado was mostly remembered for the crispy, grill-fried cheese, held together lightly with some finely chopped shrimp and two crunchy tortillas. I was excited to try El Bocha's version.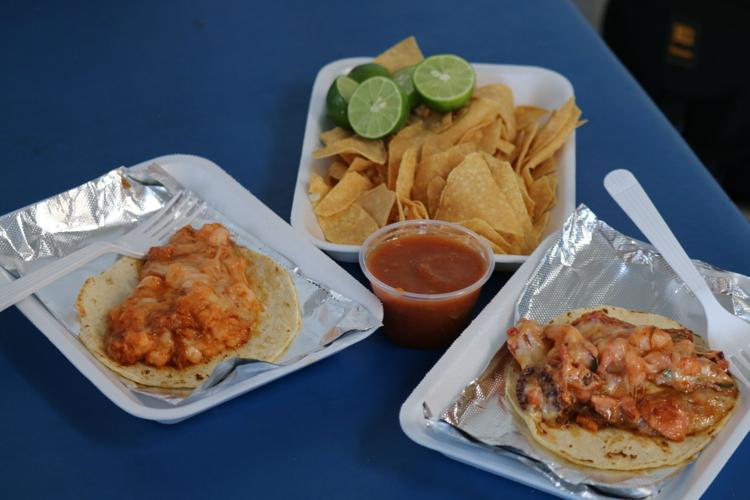 In true El Bochas fashion, their enchilado was seafood-forward. For those who would find Taco Fish's enchilado lacking in protein, El Bochas presents generous portions of fresh crustaceans and molluscs. While Taco Fish's enchilado is 40% tortilla, 40% cheese, and 20% sauce and shrimp, El Bochas is 65% octopus, manta ray and shrimp; 30% cheese and sauce and 5% tortilla. In retrospect, their tacos de camarón capeados might be more my style, but I'm glad to have experienced a vastly different style of enchilado.
While seafood is the star at El Bochas, they offer some highly pigmented hot sauces, including a thin, dark mole; a creamsicle-colored chili and lime; and an electric green one I didn't get the chance to try.
When we turned to leave, the waiter was squeezing a mountain of limes into a five gallon container of juice. It's a necessary task for an extravaganza of fresh seafood!
---
Mariscos y Birria El Bochas
Open 9 a.m. to 6 p.m. daily
For more information, check out their website.
One shrimp enchilado and one shrimp, octopus and manta ray enchilado cost $11 total, plus tip.