For a quarter century, the corner of North Fourth Avenue and East Sixth Street has been fondly referred to as the Chocolate Iguana corner.
Sometime this summer, it will be home to Madhatters Roasters, a coffee shop owned by the Tucson attorney who bought the building at 500 N. Fourth Ave. three or four years ago.
"Hopefully our plan is to get that opened sometime in the summertime," Scott Biaggi said Thursday, hours after Chocolate Iguana owner Marci Conklin announced the closure on Facebook. "We'll have some pastries, some breakfast items and a few lunch items, (but) primarily we will be a coffee shop."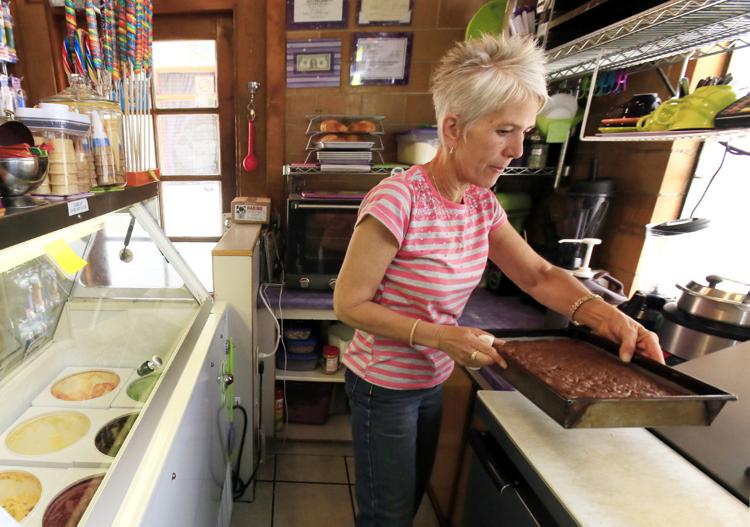 Conklin's announcement came months after she said Biaggi terminated the month-to-month lease she said the two had verbally agreed to last summer, when her five-year lease expired. Chocolate Iguana, an espresso shop and cafe that has been in business 28 years — 20 of them under Conklin's ownership — had been operating on a five-year renewable lease under the previous owner. She said Biaggi, through the property management firm, had agreed last August to a one-year lease that would have expired on July 31, but in September she was notified that her lease was up effective Oct. 1. After legal wrangling, she was able to extend it until the end of March, she said.
"When (Biaggi) bought the property, I saw him and I was like, 'Oh wow, that's exciting. Congratulations,'" she said, adding that she asked him if she was "safe." "He said, 'Of course you are. You're Chocolate Iguana. You're what makes that corner.'"
Biaggi, who has financial ties to Durango Roasters coffee company in Colorado, said he came up with the idea to open the coffee shop after he heard that Conklin, who runs Chocolate Iguana with her daughters and husband, wanted to sell the business and retire.
"When it came to our attention that they wanted out, we thought it would be a perfect location to open up a local coffee shop," he said.
Conklin said she was considering retirement but was planning to turn the business over to two of her daughters, who have worked in the shop since they were kids.
Conklin said it was hard telling her employees this week that the business was closing. On Facebook just before noon Thursday, she told customers that this would be the shop's last Fourth Avenue Street Fair, which runs through this weekend.
"Our family has been a part of this neighborhood and community over a quarter of a century and we will miss it and what has become our extended family very much," she wrote. "We are mourning this loss not only for ourselves, but for Tucson and all the generations of families that have come through our door. We have loved being part of your life and hope you'll come by and see us before March 31."
Fred Ronstadt, executive director of the Fourth Avenue Business Association, called the loss of Chocolate Iguana "incalculable."
"They have been a longtime stalwart of the avenue and it's horrible that they are being thrown out this way," he said. "The way this is being perceived as happening, there is already talk of boycotting (Madhatter's). It will be interesting to see if the Fourth Avenue community rallies behind them. The old (adage) voting with your pocketbook, your wallet, we may see a real example of that."