May we nominate fried chicken as the cure to global crisis? Think about it. Every country has their own version: Korean fried chicken, German schnitzel, spicy Chongqing chicken and peppers. And that feeling when you bite into a good one ... time suspends, and you know nothing but that blissful, meaty crunch. 
This is a good one. And on the map of spicy chicken sandwiches, it lies somewhere between the United States and Japan. Find it at Toss Fried Chicken and Ramen at 1655 S. Alvernon Way, a new restaurant by the same family as Izumi sushi bar on Speedway. Unlike its plush sister restaurant, Toss is essentially a casual takeout joint, nestled on a southside restaurant strip near Davis-Monthan Air Force Base. The restaurant just opened on Sunday in a revolving space that most recently held Fried Rice Hut.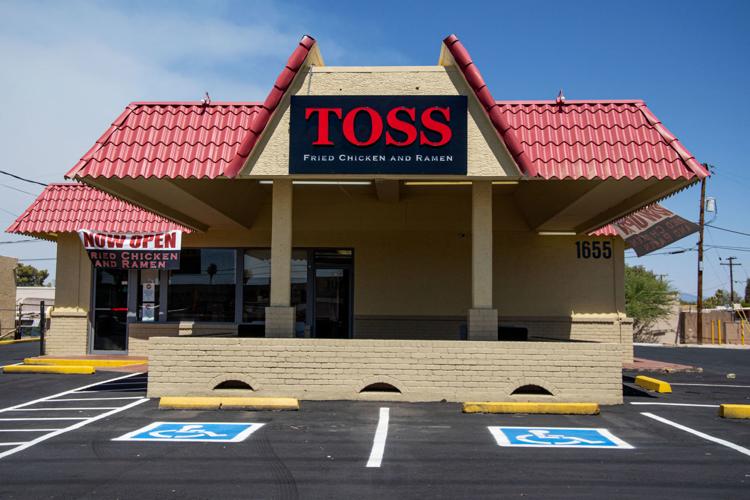 Chef and co-owner Jake Lin said that his wife Cooky came up with the idea to pair fried chicken and ramen together, because both of those items are trendy and well-liked by American restaurant-goers. Jake is of Chinese descent, and learned to cook stellar Japanese food growing up in New York, where his family owned half a dozen Japanese restaurants. While Jake helped to open Izumi with his siblings, he had been looking to branch out with his own restaurant for a few months now. 
Chicken and ramen may seem like a random combination, but they actually make perfect sense together. The milky ramen broth, which seriously blew me away on my first visit, is made from both pork and chicken bones, which are simmered overnight for several hours.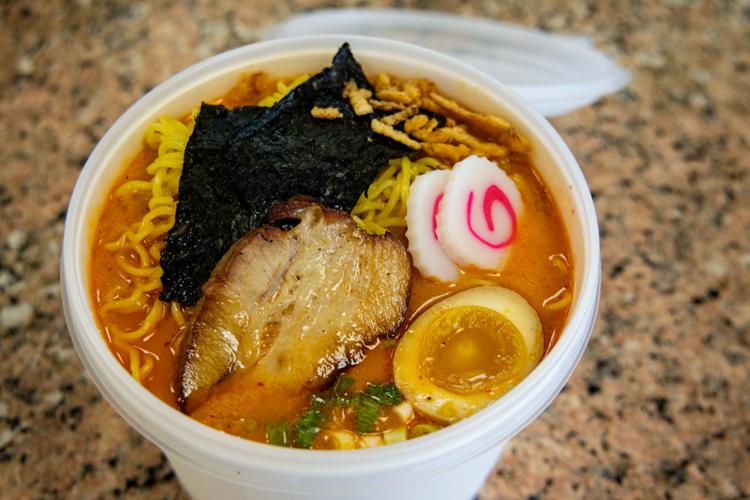 Their spicy miso ramen also had crispy little slivers of fried chicken in it, which would slip into your spoon and give you a surprise crunch. With its soy-glazed egg and plump curly noods, this really is one of the best bowls of ramen in Tucson; Slurping the hot and spicy soup from a takeout container alone on the patio, I was surprised at the find, and how good it made me feel. 
Right now Toss has seven different varieties of ramen, made with different ratios of this pork and chicken broth mixture. (Jake wanted to include chicken broth in his soups as a fusion thing, because American food is all about chicken soup.) The rest of the menu is fried chicken, which you can order by itself, as chicken wings or in a fried chicken sandwich. It's hard to find a menu online right now, so I've posted it here: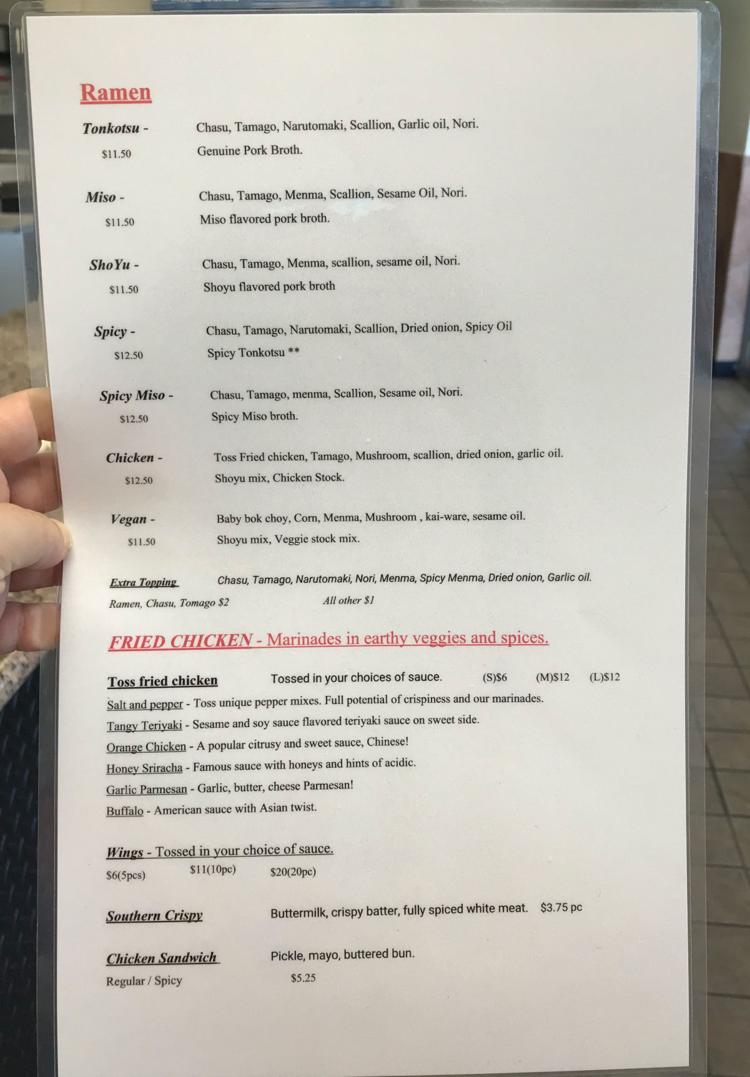 They've got a bunch of interesting chicken flavors, including teriyaki, honey sriracha and garlic parmesan, which are all fried in a hot Asian-style oil with Japanese peppers. The chicken is marinated in spices and cut-up vegetables like carrots, ginger and garlic, but then it's battered in buttermilk, much like Southern fried chicken here.
My spicy chicken sandwich had a creamy flavor to the meat, which I later learned was from the buttermilk. Chicken breasts have a tendency to go dry, so this really helped keep everything moist. There was also a decent layer of spicy shichimi pepper blend on there. Basically, I'd eat this again. Maybe tonight, now that I'm thinking about it. 
Toss Fried Chicken and Ramen is open 11 a.m. to 8 p.m. daily. While they do have a dine-in component, the restaurant seemed to be doing most of their business through takeout. They also plan to have a drive-thru and even do delivery in the future.