Everyone's talking about Owls Club, the swanky Western bar which just opened inside the chapel of the historic Bring Funeral Home. We were there for a soft opening Wednesday evening, where we had the chance to sip whiskey cocktails in booths made out of church pews.
The atmosphere is just as sophisticated as you'd expect from the team at Penca. Low lighting, stained glass windows and lots of dark wood give the room a moody vibe. The theme hearkens back to the golden days of the 1900s Southwest, when Tucson bachelors held lavish parties in expensive estates.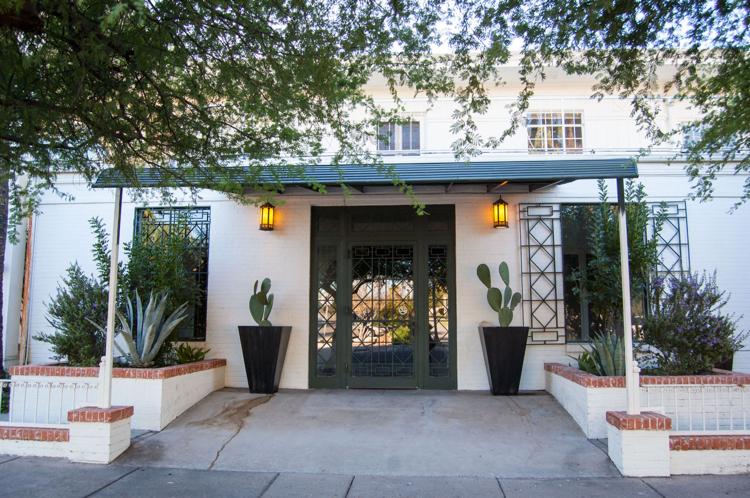 The whiskey list, curated by Penca's bartender Bryan Eichhorst, has nearly 100 selections including a healthy number of single malts as well as hard-to-find rye and bourbons. Prices range from $3 for a shot of Old Overholt to $500 for a pour of the Port Ellen 34-year Scotch. (Do you think I can get the Star to let me expense that one?) 
We ended up drinking from the cocktail list, which is short and sweet with only six drinks at $9 apiece. The bar's signature whiskey drink, the Aspirational West, was sweet like a Boulevardier, but with an herbal absinthe taking the place of the bitter Campari. Very nice indeed, I definitely recommend it.  
My coworker Alicia went the gin route with a Tin Lizzy, a bubbly highball that gets its sweetness from fresh honey and a bit of Yellow Chartreuse. If you're not into that, they also have $2 Rolling Rocks and $3 cans of Dixie, an iconic New Orleans beer.