There are no signs at Irene's Holy Donuts. But lucky for us, a friendly employee was there to help us along our path. 
Backdropped by a cartoon mural of doughnut angels flying through a friendly desert landscape, he walked along the counter and recited the names of every doughnut they had that day: Pistachio cream, liliko'i merengue. Red velvet crumble with a red-velvet fried Oreo in the middle.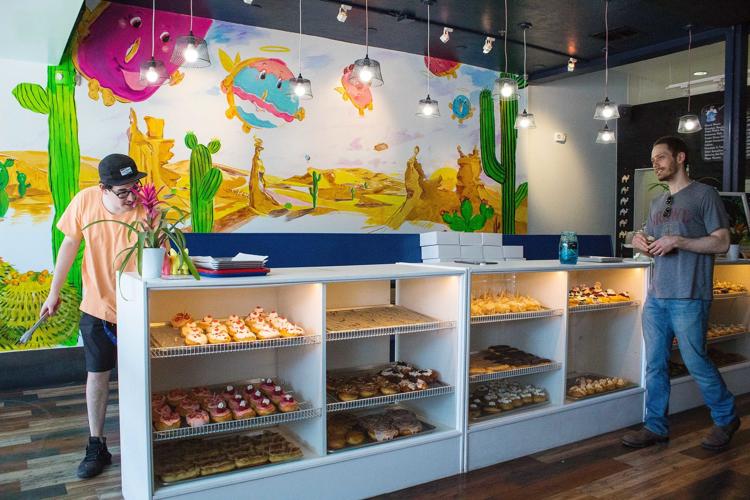 The options were dizzying. Irene's makes more than 200 varieties total and had at least a couple dozen on-hand to choose from. That's not unheard of, but each of these doughnuts had like five different things going on, and were decorated with a rainbow of fruits and glazes and moody sparkles straight from a millennial's manicure. 
The new doughnut shop is a whimsical departure from the previous tenants in this Fourth Avenue space. The storefront and its cavernous back room had become a revolving door of restaurant concepts including the beleaguered US Fries, The Crackhouse and most recently Cans Deli. But Irene's Holy Donuts has a fighting chance at sticking around, because it's got the look ...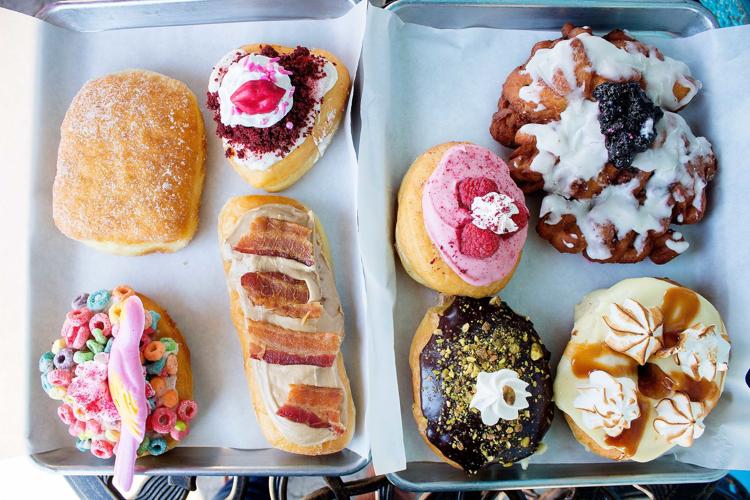 The shop appeals to all sorts of people: It's a little bit nostalgic, a little bit basic and a little bit hipster all at the same time. (We dined out on the front patio next to the smokeshop, which attracted a fourth and very distinct set of clientele.) The doughnuts themselves have an extra cachet of coming from Hawaii, which occupies a mystical place in our collective consciousness. 
This Fourth Avenue location is actually the second outpost of a popular shop owned by Irene Heiman, who recently moved to Tucson from Kailua-Kona on the Big Island. Cathalena E. Burch of the Star quoted her as saying that her doughnuts were a blank canvas that she paints flavors onto. After trying several of them, I realized this statement rang true in that most of the doughnuts started out with the same delicious yeasty dough.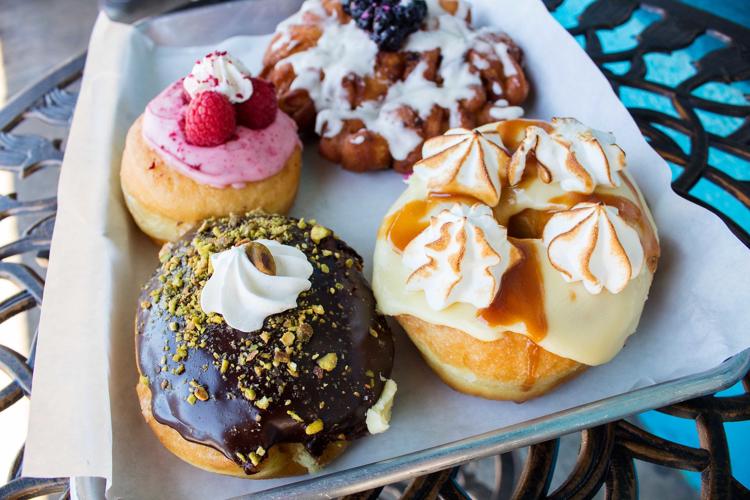 In the diverse world of doughnuts, Irene's seems to have left the cake variety alone in order to perfect the glazed variety. (Of course, the shop just opened a few weeks ago so we'll see how their menu evolves.) Irene's recipe took a year of tinkering, but it is in fact divine. The dough is heftier than your typical airy doughnut, with a slight sweetness to it that reminded us of a Mexican pastry.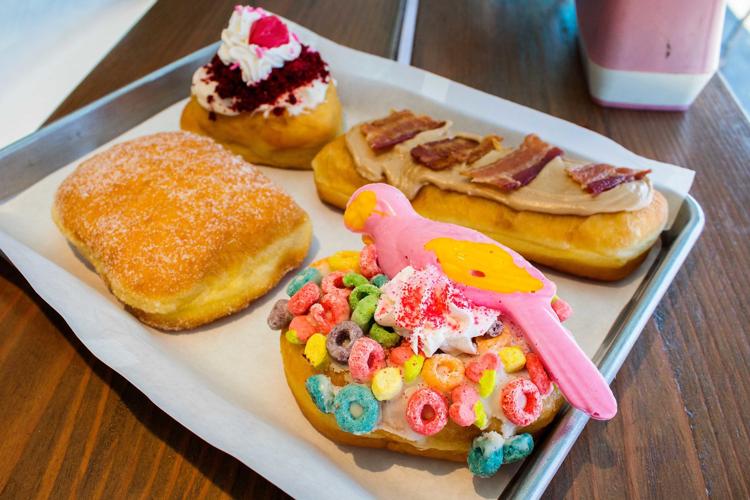 Irene's malasadas are rectangular but plain on the inside, allowing you to focus on the simple sugary dough. We were lucky enough to catch one as it came out of the oven, but be sure to ask if you don't see them. The malasadas are possibly the simplest doughnuts on the menu, but they're also arguably the best. You know, it's like those plain glazed doughnuts at Krispy Kreme. If you didn't get one, did you really go? 
It's not all-too productive to go into detail about the specific flavors we tried, because they might not be there during your visit. But we really enjoyed the fruity glazes like the raspberry icing and the liliko'i (passion fruit), which both had a tanginess to them that balanced the sweetness of the doughnut. Also, if you can find one topped with a milk chocolate parrot, you're having a good day.
Irene's new location still seems to be feeling out a few things like the demand and baking cycle, the live music portion in the back, as well as the kitchen side of savory Hawaiian classics. But for now it's off to a great start! We give it one single "aloha" for hello! And hopefully not for good-bye. 🌺
Irene's Holy Donuts is at 340 N. Fourth Ave. It's open Tuesday through Sunday 6:30 a.m. to 10 p.m. or until they sell out.