Yes, there's more to National Doughnut Day than just free dessert. The holiday was first created as a fundraiser for the Salvation Army in 1938.
The organization held the event to raise money during the Great Depression and to honor the "Lassies" who served doughnuts to World War I soldiers. These morale-boosting volunteers later became known among the men as "Doughnut Dollies."
The doughnut celebration caught on, and National Doughnut Day is now observed each year on the first Friday in June.
But now for the important part — where can you get free doughnuts?
Amy's is giving away a free bag of blueberry cake holes with every half or full dozen of doughnuts purchased.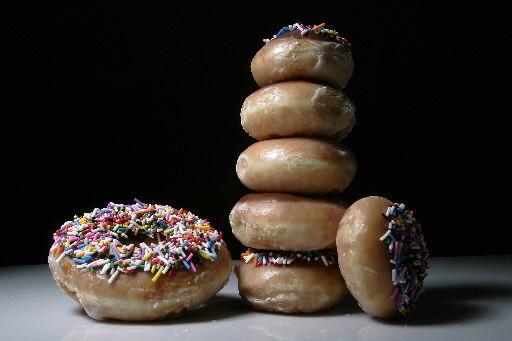 Krispy Kreme is being pretty straightforward with its celebration. All you need to do is stop in at participating locations in the U.S. or Canada, and you can get a free doughnut of any variety. 
Dunkin' Donuts will be giving away a free classic doughnut with any beverage purchase on Friday. The restaurant has also opted to give the doughnuts special names for the occasion, such as the "Party On" (Vanilla Frosted Donut which will have confetti sprinkles and a blue icing) and the Boston Kreme Bash (which will still be the classic Boston Kreme but with blue icing drizzle).
Edible Arrangements is handing out their version of a doughnut — Granny Smith apple rings covered in chocolate — for free at all of their Tucson locations. While supplies last!
Doughnut holes are coming to Papa John's. Get a free order of the chain's new doughnut holes with any online purchase on Friday.
Customers who go into a store and go to the bakery section will get a free glazed doughnuts. Walmart is said to be giving away 1.2 million doughnuts. Participating locations only while supplies last.