This one's for my hoagies. As you may know, I've been eating a lot of sandwiches lately so I can create an ultimate guide to Tucson's best meals between bread. So far I've taken on hot chicken, Vietnamese bánh mì and veggie sandwiches for a cleanse. 
I'm back in gear now, and decided to go whole hog with one of the best sandwiches ever created in the history of the United States: the Italian sandwich! (You didn't think I'd say tuna melt did you?) The basic concept of this series is that I eat some sandwiches, ask readers for more suggestions, eat more sandwiches, and decide which one's I'd eat again and in what order. That's exactly what I did here. But before we get to the winner, let's talk about what we talk about when we talk about Italian sandwiches. 
The rule part: In this context, we don't actually mean Italian sandwiches that one could possibly eat in Italy. That fabulous mozzarella and focaccia square I had at Ceres pasta cafe does not apply. This contest is strictly for grinders, subs, spuckies, hoagies and heroes. These sandwiches were created by Italian American immigrants up in New England around the 20th century. A classic story credits them to Giovanni Amato of the famous Amato's sandwich shop in Portland, Maine. An "Andi" story credits them to Mr. Goodcent's in Mesa, Arizona, but that's besides the point. 
A great Italian sandwich should have a few different types of thinly-sliced cold cuts that play off each other in a symphony of pepper and fat. Then you get an acidic flavor either from banana peppers, gardiniera spread or some plain old Italian dressing. Hit it with some of that Provolone cheese with a little bite to it. Oh last thing, you've gotta have good bread. It's gotta be crunchy and soft, not just one or the other.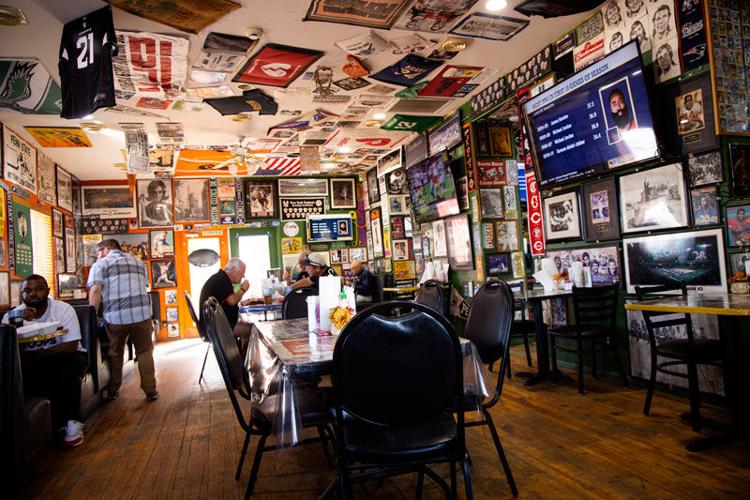 I really enjoyed the "reporting" for this article, because it brought me out to many of the classic sandwich shops that have been part of Tucson's culture for decades. When you go into one of these neighborhood joints and you see all the Chicago stuff on the walls, the New York stuff, the jerseys, the sports posters ... you realize how proud people are to be where they're from. And that's inspiring, wherever you may be. So without further ado, here are my favorite Italian sandwiches in Tucson, from "best" to "least best."  
East Coast Super Subs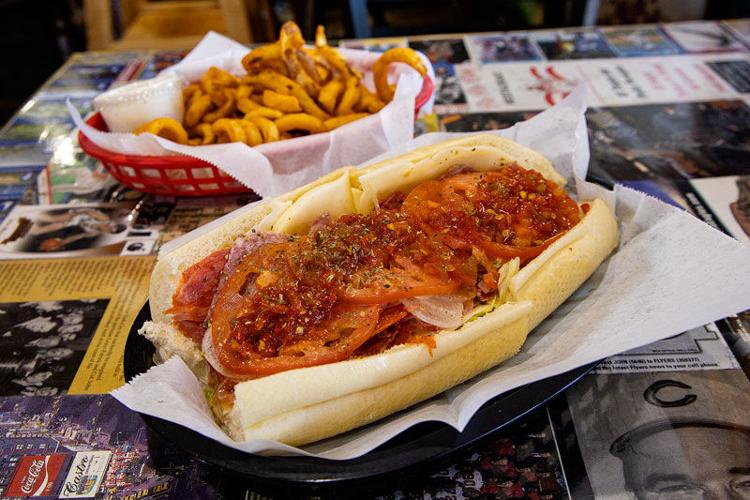 It's a big old adobe building right in the middle of a residential neighborhood. When you enter East Coast Super Subs, it's like walking into The Metropolitan Museum of Art if it were curated by that nerdy sports dude in your office. The place is decked out with stuff, big time. I sat at a table and was instructed by a man who called himself Guch to order the Super Italian Stallion. It was 50 cents more and included extra capicola, pepperoni and Genoa salami. The meats were layered perfectly and sliced a little thinner than the others, which gave them texture so they left a buttery fat on your tongue. But my favorite part about it was that sweet cherry pepper relish. Oh man, can you buy that somewhere? 
Other yummy Italian sandwiches I tried: 
Luke's Italian Beef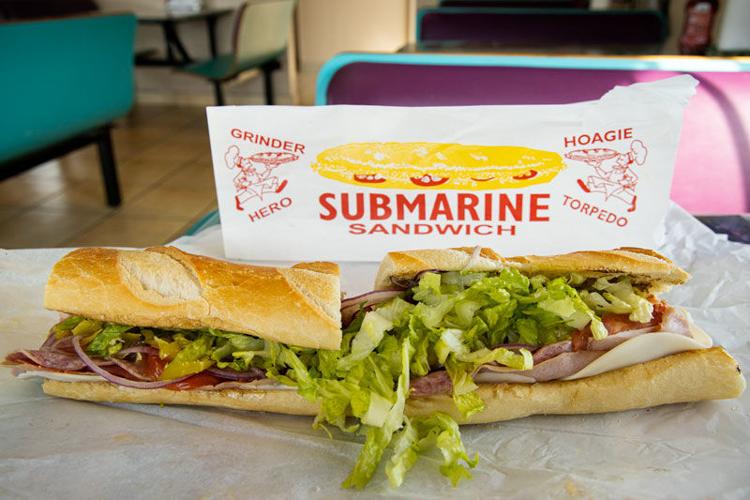 This local chain of Chicago joints has been going strong since the 80s. I visited their oldest location Luke's Italian Beef on 22nd and Alvernon, which is still owned by family patriarch Luke Del Principe. I was surprised at how amazing the bread was here. That's like a loaf you'd find in Europe, not someplace that looks like remodeled Sonic Drive-In. The sub was stuffed with a variety of cold cuts: salami, capicola, ham and mortadella, which gave it a little more depth than some of the others. The only qualm I had here was the large amount of Italian dressing. Maybe it's a personal preference, but I think these sandwiches taste more natural with oil and pepper. 
Hogie House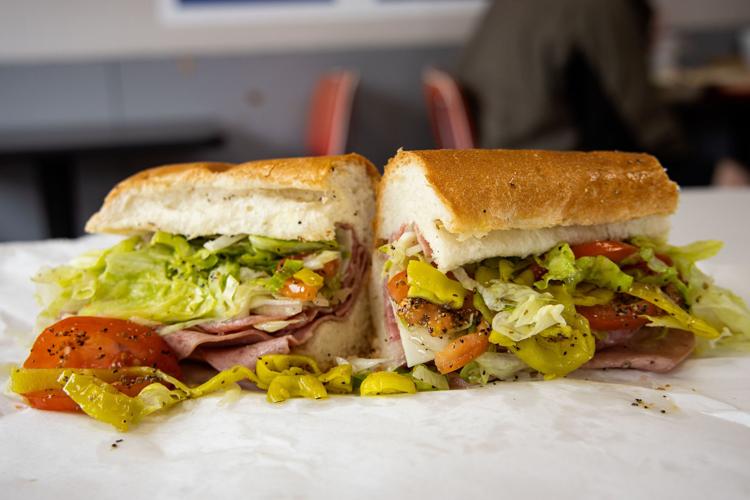 Yeah yeah yeah, the name is spelled wrong. Story goes that the signmaker messed it up, but that was back in 1960 so maybe we can let this go? Hogie House is a local chain that serves Philly sandwiches like the Carmichael and something called a Sack O'Steak (not sure they have that one anymore). Their Original Italian "Hogie" keeps it simple with only two types of meat: the fatty cotto salami and hard salami. But there's a lot of care here, and the ingredients taste fresh and simple. They also get extra points for their giant plastic sub replicas, which are situated all over the restaurant in very long display cases also made of plastic. My lunch partner Samantha thought the pepperoni might have been made of felt? 
Roma Imports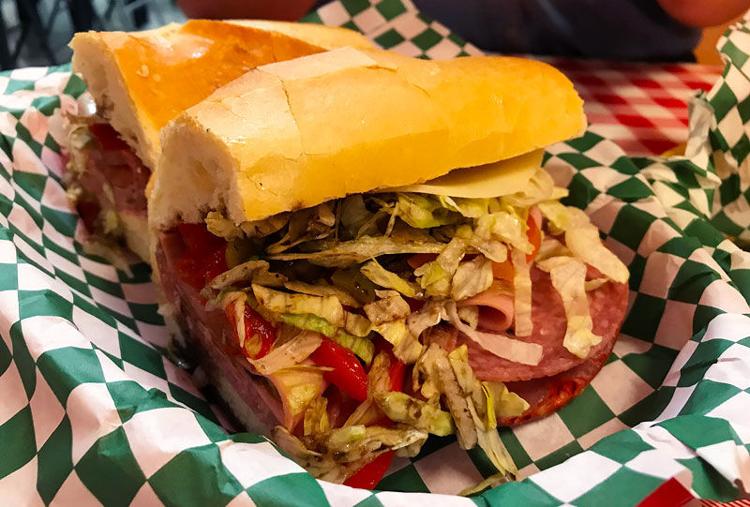 I'll be honest here, I got the idea to do this Italian sandwich list because I was hungry and felt like going to Roma Imports for lunch. (How's that for a recommendation!) It's just such a special place. I love being inside this neighborhood deli and seeing all of the specialty products, buying some stuffed peppers from the deli case and maybe picking up a piece of cheese, who knows! The Ultimate Roma sandwich has a thick layer of capicola, Genoa salami and mortadella. There's a lotta meat in each bite, but the meats were a little too dense for me this time. I miss that eggplant and goat cheese sandwich, why it go bye bye? 
Sausage Deli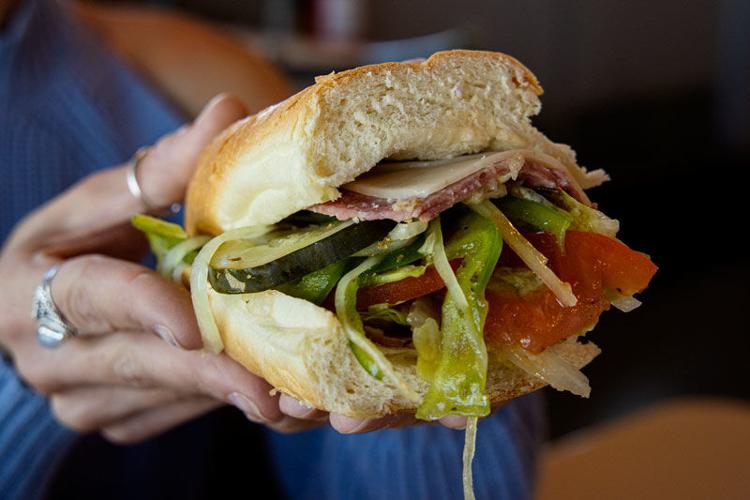 Not to be confused with the Sausage Shop on Prince Road. Sausage Deli has been around since 1970, and is now located in a brick building on Grant and First Avenue. They don't much serve sausages anymore, but we did get to enjoy their sausage and peppers Wednesday special. But that's not what we were there for. We were there for the Famous Italian Grinder. I'm not sure it could make it on the mean streets of Hollywood, but the pickles were really good for midtown Tucson. 
Eegee's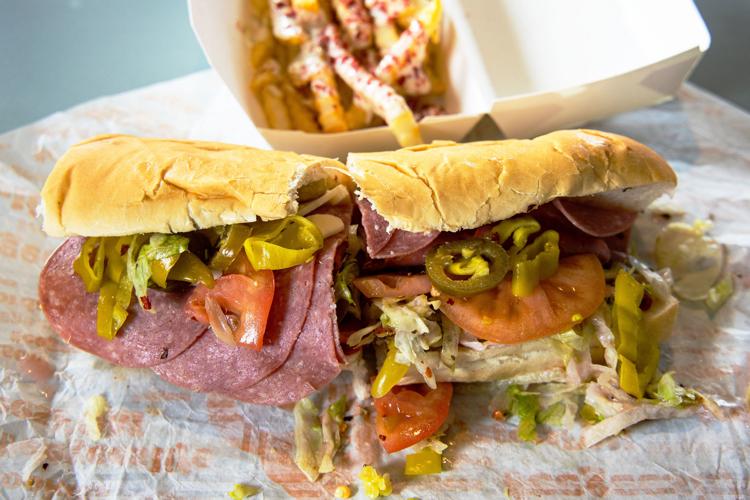 As instructed, we got the spicy grinder, untoasted. Sometimes Eegee's hits it out of the park, but not this time. Samantha described it best when she said the sandwich "belongs in the Eegee's universe" more than the universe of Italian grinders, hoagies, spuckies or heroes. The bread had that artificial fluffiness that can be so alluring, yet so dead inside. But the worst part was the shoddy assembly job. That salami was falling everywhere as soon as we unwrapped the paper. Oh well, ranch fries!