What makes a person essential to our society?
Before coronavirus hit, grocery store workers were largely left out of the spotlight. You wouldn't see them gracing the covers of fancy food magazines, holding their knives like a paint brush or an instrument. That was the chefs' purview. But today as the restaurant world struggles to stay afloat, people are getting their avocado toast from the supermarket ... And chances are, it's been stocked and merchandised and sold to you by someone with a story. 
When I asked followers on my personal Facebook page to nominate their favorite grocery store employee, I received an overwhelming response with 74 different comments: 
"I love the entire crew at Safeway on Grant and Silverbell. So many who are great. Greg, Jenny and the entire staff at Starbucks make this store feel like home to me." — Sharnay Gillespie
"Fry's on First and Roger. There is an amazing cadre of older women that have worked cashier for decades. They are friendly fast and remind me of old time diner waitresses. Sassy 'n smart." — Adam Seibert
"My long haired homie with glasses at the Walgreens on La Cholla and Orange Grove! He's there almost every day and has had to deal with some of the most rude, irrational humans! Everyone at that Walgreens is incredible!! I appreciate them all." — Kat Trujillo
Unfortunately requests for interviews with workers at Basha's, Food City and Whole Foods were denied — the companies said employees are barred from speaking to the media. And many others at other big-box stores simply didn't respond. Whole Foods workers across the country are making their voices heard in other ways this week — by striking for better working conditions.  
Instead, you'll hear from a handful of people who work at the dozens of independent markets, carnicerías and liquor stores that make Tucson's food scene shine. They talked about their lives, their religion, their fighting skills, and the reason they love doing what they do, getting us our groceries. 
Here are their stories ...
Christian Cardenas, Los Amigos Meat Market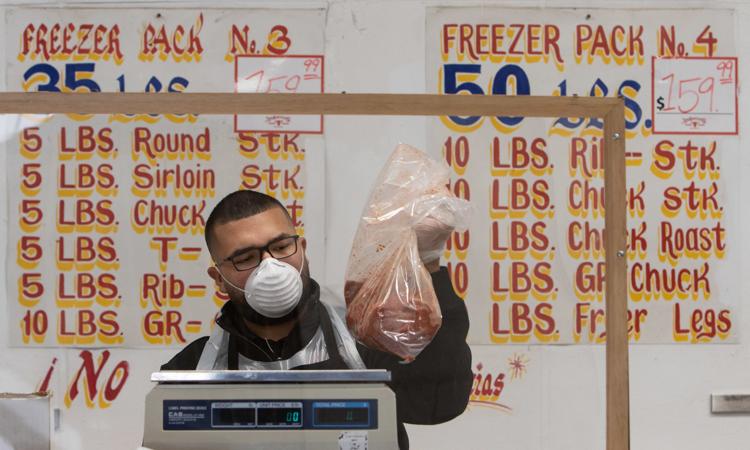 Soft and spicy, savory magic ... chorizo is about different meats coming together. It's so popular at Los Amigos Meat Market that Christian Cardenas makes 700 pounds of it a week, grinding pork parts with a mix of secret spices into a massive steel cart he calls a "dump truck," a process that takes four hours from start to finish.
"This is what our communities have been built off of," says Christian, who at the age of 24 oversees 13 employees at his carnicería, which his grandfather Antonio opened on South Twelfth Avenue in 1978. "(Cooking together) is what keeps our families close, even during what's going on with the coronavirus ... It's bringing back things to where families are spending more time together, making meals at home, keeping their nana's and tata's recipes going." 
Christian is very proud of his grandfather's chorizo, which he thinks is "cleaner" than other carnicerías around town. But while he loves mixing his meats together, he keeps his customers separate. With the pandemic in full force, he's been limiting the number of people in his store to three at a time, creating lines outside that'll stretch further than some of his customers might like.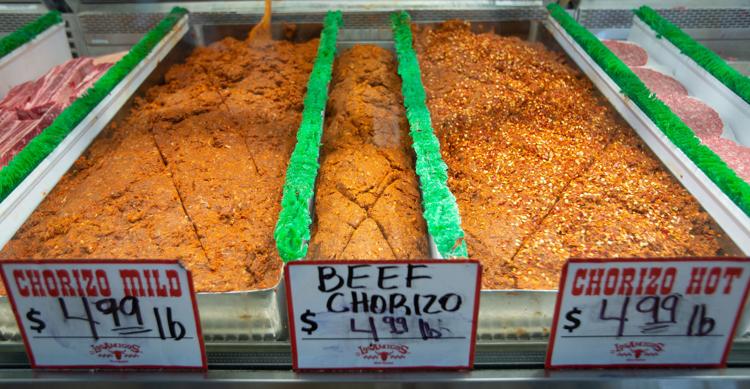 Christian has been steadfast in his rules though, giving his employees masks to wear so that they feel safe and comfortable, as well as providing customers with gloves when they walk in the store. It's all worth it, he says, to maintain the legacy of his family business. When Christian graduated high school in 2014 and started working more at the market, it took a good year for him to learn the craft of butchery. Los Amigos breaks down their meat shipments every day, cutting them fresh into a variety of steaks. 
"When it comes to T-bones, ribeyes, sirloin, you gotta clean it right and cut it. Our customers, they're used to how we've been cutting the meat for over 40 years," he says. "Every piece of meat that comes in, it's always different. Each cut's not always gonna be the perfect piece of meat, you've gotta cut it to make it the perfect piece of meat." 
Over the last several years, Christian has shifted the company's clientele from mainly retail customers to also servicing restaurants, like Rollies Mexican Patio, Mi Nidito, Monster Hot Dogs and more. Although he's seen demand increase since the coronavirus pandemic started, shortages on the national level have caused the price of meat to go through the roof. A cut of meat that went for $2.70 a pound in early March is now up to $4.80 a pound, and Christian doesn't see that letting up anytime soon.
He's trying the best he can to not pass that charge onto his customers, but he has to tell people sometimes, he doesn't set the market. Even as major grocery stores go empty, he's determined to keep his case full and his employees working. 
"So many people, they live a life where they think they're untouchable, they're not vulnerable. But in life, this thing doesn't discriminate," he says. "My store relies on farmworkers to give me produce, on meat packers to bring me meat. All these stores, they're relying on other people to provide the products necessary for people to feed their families."
Jared Strite, Golden Rule Dairy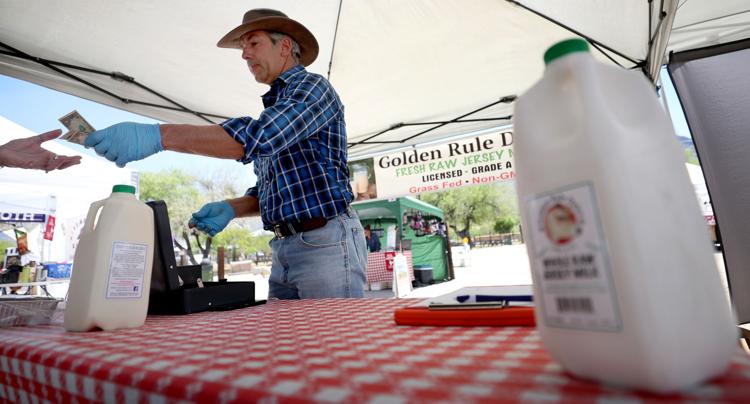 Jared Strite is a health person. The body is like a plant, he says, and if you keep it healthy and strong, bugs won't even touch it. The 53-year-old farmer was brought up that way, just like his dad, who raised him on a dairy farm in Hagerstown, Maryland.
That's why he only sells raw milk, taken directly from his herd of 40 Jersey cows, who graze on his 14-acre property just north of the small farming town of Elfrida. When you're heating and pasteurizing milk, you're getting rid of a lot of the natural bacteria and changing the structures of the healthy sugars and proteins that make milk what it is, he says. "It doesn't have the food value in it ... The body doesn't recognize it as a food." 
Many of Jared's customers at Golden Rule Dairy, the company he owns with his wife Joyce, are technically lactose intolerant. But they can drink his milk. Jared is particularly proud of a recent story he heard from a family with four or five children, who were previously unable to touch any dairy products. 
"They found out that (my milk) helped them instead of hindering them," he said. "They're so excited about it because the family can drink the healthy milk and survive on it." 
Jared is also a family person. He has ten children himself (five daughters and five sons), and loves driving across Southern Arizona to meet with other families to hand deliver their milk. This direct-to-consumer approach has saved him from the fate of many large-scale dairy farms across the country, who are dumping thousands of pounds of milk after losing their restaurant customers. 
Demand for Golden Rule milk has actually spiked over the last couple months, which Jared's not complaining about. But his routine does sound grueling. He and two of his sons Jared and Jesse get up at around 2 or 2:30 in the morning to begin their chores. (His young daughter Jubilee helps with paperwork.) On Mondays, Wednesdays and Fridays when they bottle, they'll be in the barn until 9:30 in the morning. On the three other days, they'll get in the car and drive to Sierra Vista, Safford, Willcox, Bisbee and more, meeting with customers and dropping off bottles at local markets. They might not be done until evening.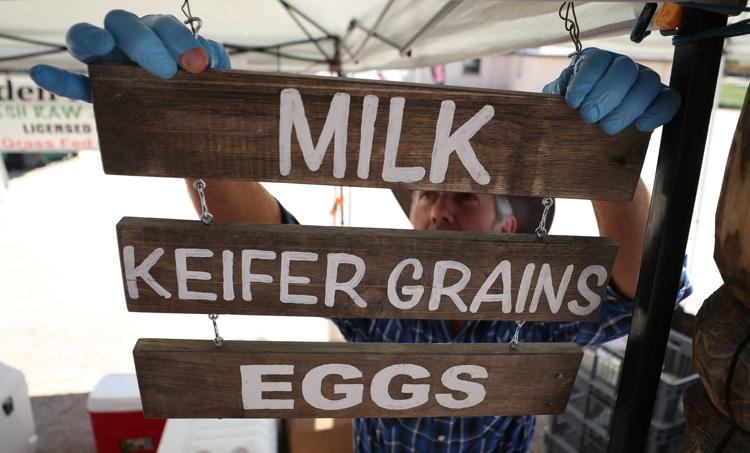 Jared goes to Tucson on Tuesdays, making the rounds to private customers, and then heading to The Food Conspiracy Co-op, Aqua Vita, Tucson CSA, Johnny Gibson's Market and more. You'll also find Jared or one of his sons at the Rincon Valley Farmers Market and the Oro Valley Steam Pump Ranch Farmers Market on Saturdays. 
Despite how many people he sees and comes in contact with, Jared isn't worried about getting sick. 
"I don't like wearing face masks anymore than anybody else does. There's one customer that made some face masks for me. When she comes around, I feel like I need to stick it on quick," he laughs. "Most of our contacts are outside in the open, the breeze is going through, keeping everything clean."
Maen Mdanat, Axis Food Mart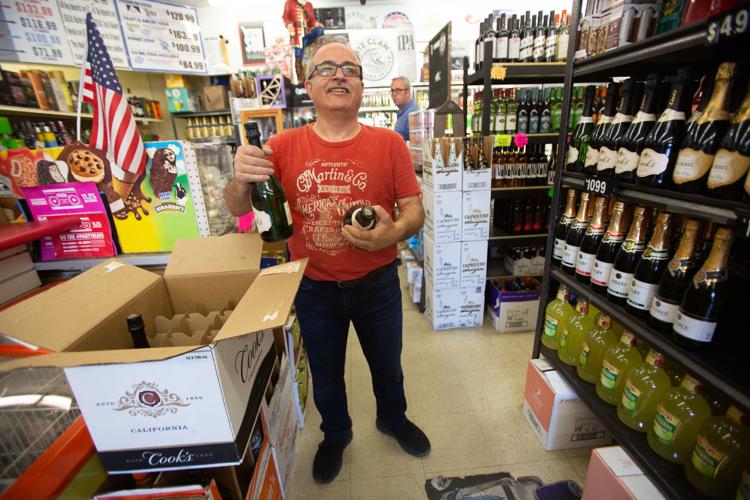 Maen Mdanat spends a good portion of his day sitting in a room lined with Buddhas and empty shooter bottles, watching people on the screen. When a person walks into his store, he can tell immediately whether they're cool, or they're a thief. 
"You have to have knowledge, plus you need to read the people's faces," he says. "You can tell who steals and who doesn't steal. A 70-year-old man comes in, I don't like his face. ... He walks in, buys a bottled water and grabs a gum, not even the $2 one, and puts the gum in his pocket! I said, 'You know man, you are shameless.' You took a gum, a 35-cent gum?!" 
Maen works 15-hour-days most of the time. His store is his life, Axis Food Mart, which he dared to open right next door to a Circle K on Broadway back in 1999. The neighborhood was pretty bad back then, he says, so he offered policemen free sodas and the use of his microwave so they'd hang out there. (That way he always had security.) 
He might not have needed it. Before he came to the U.S., Maen spent eight years training in the special forces with King Hussein of Jordan. And in 2014, Maen became the subject of a viral video that was republished all over the world, making it into the U.K.'s Daily Mail tabloid. The security tape footage shows him chasing a violent Axis customer out into the parking lot and punching him onto the ground with one jab, then keeping him down until he allows him to get up and walk away. 
"I don't want to hurt people, he's somebody's brother, he's somebody's dad and son and mom," he says. "You don't wanna penalize all those people who might love him. You don't wanna hurt anybody, unless it's your life."
But these days, Maen spends his time in the room with the shooters, checking for emails to send to his accountant. Business has been bad over the past couple months, real bad: down 75 to 80 percent. A big part of his clientele are students, and he got hit hard when the University of Arizona canceled classes. But then again he had already lost his Gem Show customers due to massive construction during the Broadway widening process. Despite that, he's keeping all of his seven "kids," AKA his employees, at 40 hours a week. He had a little cushion before, but he's about to go into debt.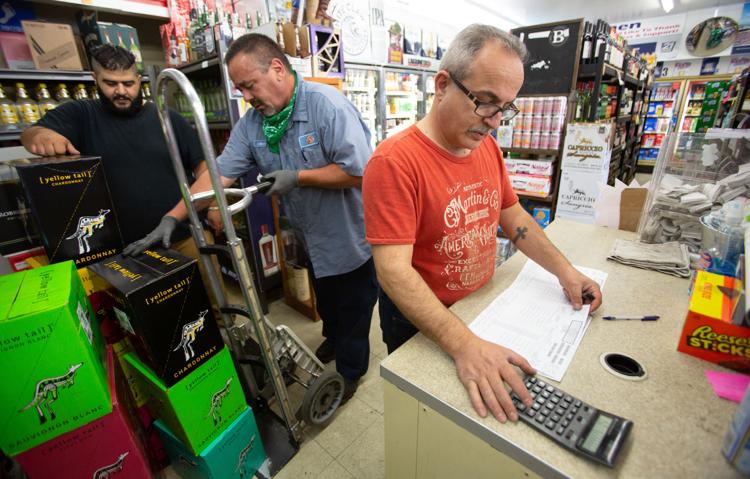 "This guy has three kids and a wife, if I don't give him his 40 hours, who's gonna pay his rent, who's gonna feed his kids?" Maen says. "My worry is not these three months, but the coming three months: June, July and August. If they don't open the school next year, I can't afford to pay these guys, or even my $2,000 electric bill."
He's tried multiple times to get one of the Small Business Administration's Payroll Protection Loans, but like everyone he knows, so far no luck. So he continues to go to work every day, leaving at 9:30 in the morning and coming home as late as midnight or 2:30 a.m., so he can support his real family at home.
His wife and three kids aren't leaving the house for safety reasons, so Maen does the shopping for them too, picking up a bottle of Olive Garden dressing if they need it. After a long day working and shopping, he'll come home, get undressed in the garage, throw his clothes in the laundry and enter the house in his boxer shorts. 
Then he's ready for a drink. 
"Alcohol never helped anybody," he says. "It just puts a patch on the pain, and that's it. You wake up, the next morning and it's the same thing. ... That Corona thing made people drink a lot. But I'm helping them, to calm them down. It's like a painkiller. Can you do surgery without a painkiller?"
Andrea Buttrick, Food Conspiracy Co-op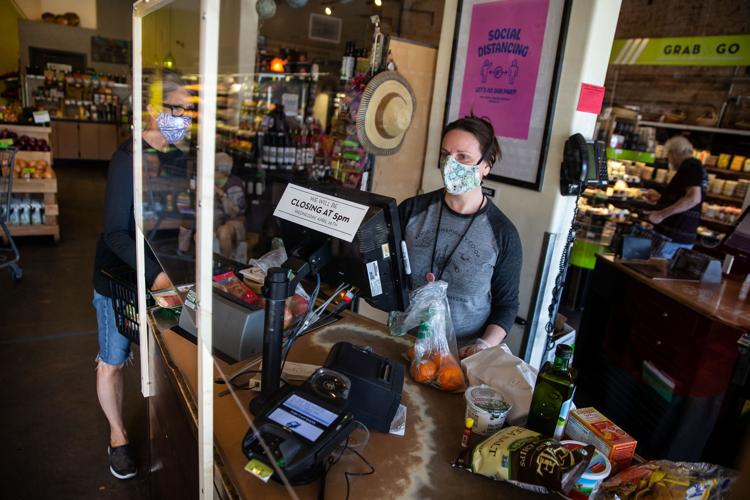 It takes Andrea Buttrick about 45 minutes to be OK. Standing behind a giant plastic barrier ringing up fresh produce, treating members of her tight-knit community like they need to be distanced, there's a huge emotional toll, she says. Every day when she arrives to work at Fourth Avenue's Food Conspiracy Co-op, she starts off angry and panicked, unable to smile ... And then just like that, she adjusts. 
Like many of her colleagues, Andrea wasn't looking for a career as a grocery store employee. She studied human development and social relations at a Quaker liberal arts college in Indiana, and has worked various jobs since coming to Tucson in the early 2000s: bike mechanic, preschool teacher, custom cabinet maker. She worked for almost a decade in early-childhood education, but decided to return to the Co-op a few years ago after she got burnt out and needed a break. 
"I think my 'career' is working with groups of people," she says. "It's kind of funny to me that it's happening in a grocery context ... the fact that I can do that here in an organic grocery store that is collaboratively and collectively owned on Fourth Avenue, I think that's petty freaking awesome." 
Listening to Andrea talk about her job, you get the sense that she's working for a political action committee, fighting for people's rights. One of Andrea's signature achievements as a manager was doing a total revamp of the company's harassment program, listening to women and employees about their stories, and making sure their needs were reflected in a new policy, called The Conspiracy Way. 
"It ended up being such a philosophical process. If you are experiencing (harassment), we trust your intuition. You have the right to never do this alone, you can have backup. You have the right to be believed," she says of the new policy. "We're going to hold the vibrancy of our staff at a higher value than the lost dollar from a lost customer."
During this time, everybody has had something taken away from them. For her, it was the Co-op's storytelling committee, which she chairs. Their collaborative storytelling meetings were temporarily put on hold as the virus amped up and employees dedicated everything they had to keeping the store running. That included closing the bulk department, instituting a policy of gloves and masks, and creating signs that say, "Take what you need and leave something for the next person, because we feed community, not fear."
For Andrea, it's extremely important that the Co-op is there for people, especially an area where markets are hard to come by. Many of her customers would lose their access to fresh food if the Co-op went away. The collective was founded 50 years ago by a group of friends who traded fresh produce from local farms in the back parking lot, changing the definition of food accessibility by sharing together. She wants to keep that spirit alive. 
"Most of us got into retail because it's a break, it's an in-between-job, and you believe in the product. You don't get in it to be a first responder," she says. "We can be an assuring presence in the community, even though we ourselves are scared. We're scared and we're tired. We've reached a different typical or normal right now." 
But Andrea knows, it's the service people that keep a society running. 
"What I'm learning is that unpaid labor and service labor is being magnified right now," she says. "These people who are the servers, they are the stewards of our communities. Right now we're being patted on the head with the hero tale. I'm just hoping we are going to be seen and served differently after this."