How do you write anything when your brain is clouded like tonkotsu pork broth? It's hard to concentrate, or really get anything done other than thinking about how much I love this ramen. 
We met last weekend, as I was driving down Speedway and suddenly saw a glowing box high up in the air. It said Kiwami, but it used to be one of those Jack in the Box signs the chain puts up in the front of their parking lots. Strangely, the Kiwami logo and Japanese characters were the same colors as the Jack in the Box label: red and white with black lettering.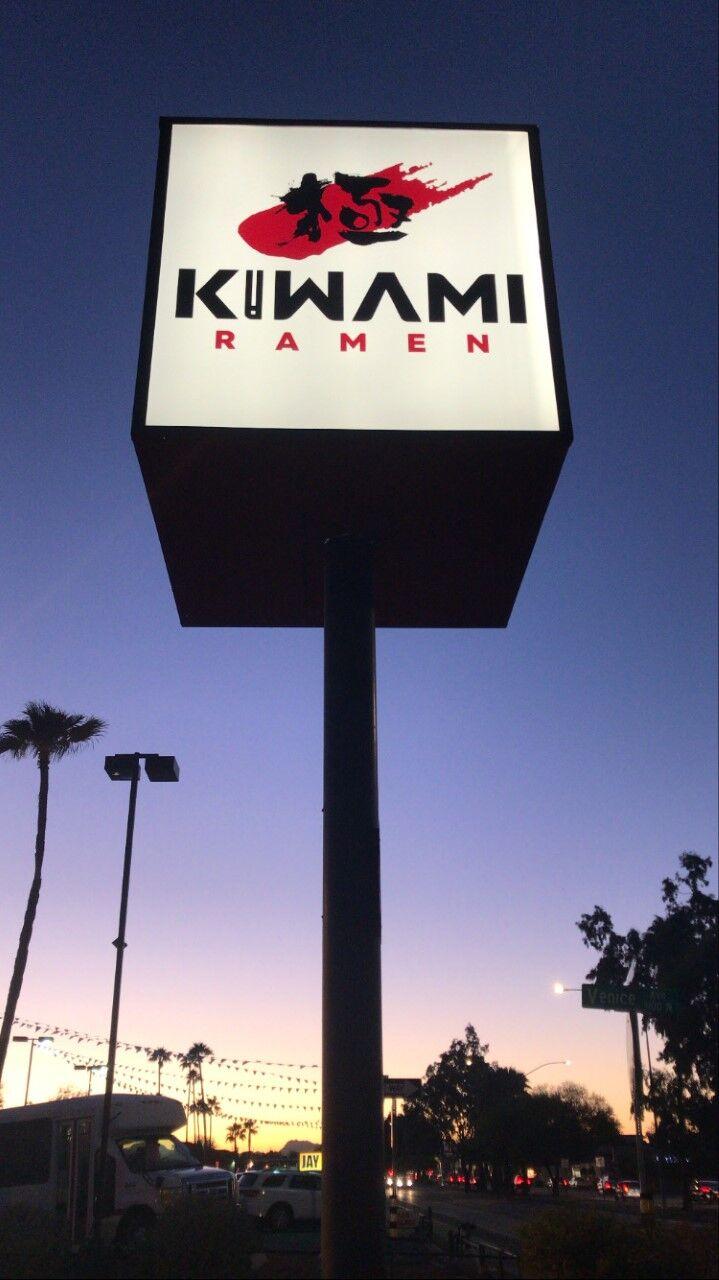 I wasn't looking for anything, but when you see an amazing thing, you take it. So I sat out on the patio and enjoyed a steamy bowl of their signature Kiwami Aka ramen, with velvety chile oil that gave the soup a spicy red shimmer. The juicy pork was sliced very thin, an elegant touch, and the noodles were thin as well. I'm usually into the thicker curly ones, but these noodles were fantastic. The ramen was somehow delicate, even though the milky broth was deep and flavorful. 
But as I got back into my car and drove around the building, I discovered the biggest news hook of this entire article. They have a drive-thru! You can order this ramen, or sushi, or poke bowls, or any of of the other ten types of ramen that they have, without even leaving your car. (The world is so weird right now. I can't believe this is a thing and I'm really into it.)
Owner Amane Shakuchi opened Kiwami Ramen this month in the former Jack in the Box at 4610 E. Speedway. The street has recently become a corridor for ramen spots and Korean food, now that Taegukgi Korean BBQ House is also opening this Sunday a few blocks away. Shakuchi found the location earlier this year before COVID-19 had even started, but decided to keep the drive-thru for safety reasons when the pandemic hit. 
"I was so worried about that because noodles don't normally do drive thrus to-go," she said. "We worked hard to keep a good quality of to-go noodles, using special containers and separating the toppings and the noodles." 
Shakuchi enlisted seasoned ramen chef Tani Takanobu, who has 20 years of experience and formerly ran ramen spots in New York, Houston and Japan. Kiwami's interior feels like a trendy ramen shop in a city like Tokyo, with a minimalist Japanese aesthetic of lush wood panels and a massive bonsai sculpture in the center of the room.  
But since the drive-thru is the thing right now, I went back later in the week to see what it's all about. The wait was slightly longer than your typical fast food establishment, but everything else was pretty much normal. After a few minutes of sitting at the window, a server handed me a large brown bag of various ramen bowls, a salmon poke bowl and one of those taco-like steam buns that was stuffed with softshell crab. 
The bowls of ramen were packaged in large popcorn bowls with a separate partition for the dry ingredients, which sat on top. You pick out the plastic container with the noodles and pour the ingredients into the bottom of the bowl with the broth. The noodles may stick together when you first get them, but after a few good swishes in the broth, they should be fine. 
But! Don't do all of that if you're getting the tsukemen ramen. Kiwami is actually the only place in town that makes this style, which originated in Tokyo in the 1950s. Tsukemen is a dipping ramen, where the noodles and toppings are presented on the side, and you dip them directly into a potent broth that moistens the noodles.
I've been waiting to try this style of ramen for years, and Kiwami's did not disappoint. Theirs was done with a spicy Gyokai broth, which was made with pork bones that were stewed for more than 10 hours. The noodles themselves are flatter and wavier than the ones in the standard ramen, so they really soak up that magnificent broth. 
Kiwami Ramen is at 4610 E. Speedway. Phone: 520-372-2838. It's open Sunday through Thursday 10:30 a.m. to 9 p.m., and Friday and Saturday 10:30 a.m. to 9:30 p.m.