If you've never had an onigiri rice ball before, we don't blame you. These triangular treats may have been a Japanese staple since the Nara Period, but they just arrived in Tucson for the first time this week. 
Kukai opened quietly at the Mercado Annex the other day, making it the second food vendor in the westside shopping area after Beaut Burger. You may recognize the familiar face of Setsuko Mochizuki inside the shipping container kitchen. Her husband Kazuo Senda is the owner of Samurai on Oracle Road, which has been Tucson's go-to rice bowl joint for more than 30 years.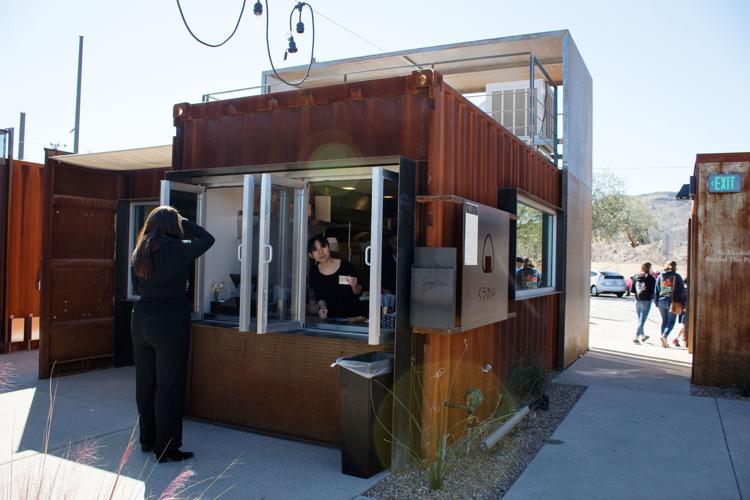 Kazuo is partnering with his son-in-law Michael McCormack at Kukai, crafting a menu that feels like Samurai meets Instagram. Michael assured me they're still working on the menu and changing it up before their grand opening Feb. 28. But right now the small space is making everything from ramen to those takoyaki octopus balls you may have lined up for at Tucson Meet Yourself.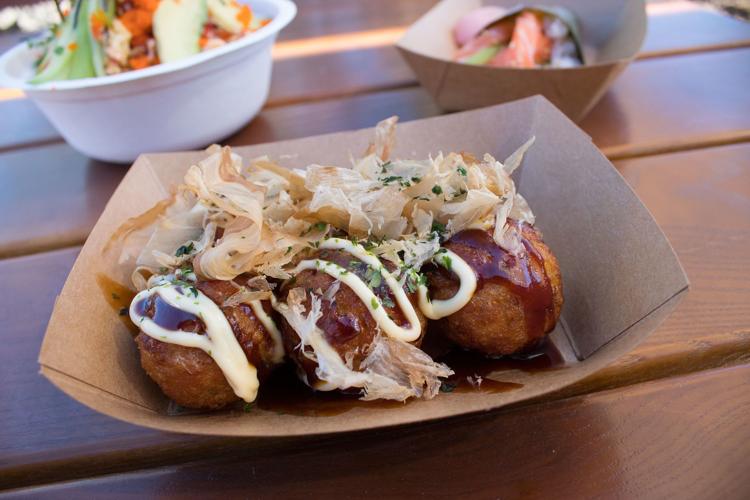 We stopped by for a quick lunch yesterday and shared a few things on the small but eclectic menu. Michael had also worked at Raijin and was very proud about his pork-based Hakata ramen ... but unfortunately was still in the process of simmering his latest batch while we arrived for lunch. (I'm definitely coming back to try it soon.) 
But no problem, that allowed us to really get into the onigiri. To put it lightly, this was a special moment for me. These utilitarian triangles of rice and pickled vegetables or fish are known for their convenience and portability. They're popular all over Japan because they're simple and cheap and can be eaten on the run.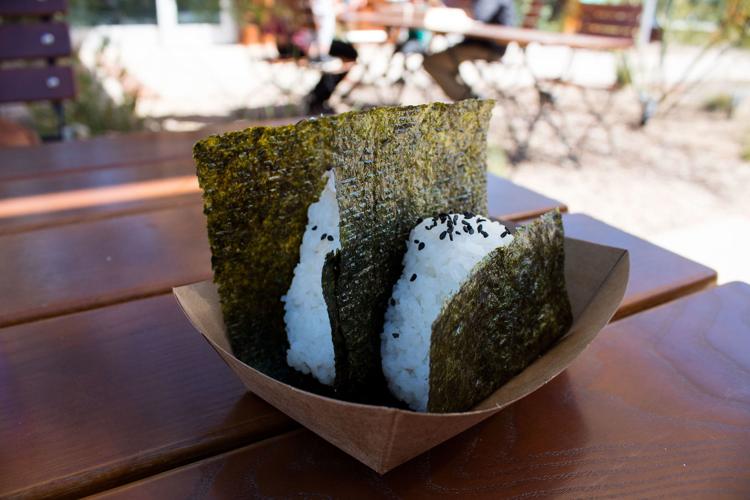 I made them a regular part of my diet while I was living in the Bay Area, picking them up at the grocery store and unwrapping the delicate plastic covering when I was ready for lunch. Needless to say, the onigiri at Kukai are worlds better than the grocery store variety: the rice is fresh and warm, and the seaweed wrapper retained its snap. 
Unlike sushi, onigiri are often made with salty pickled vegetables that preserve the triangle from the inside. So Kukai has a lot of vegetarian options on the menu. We tried the umeboshi salted plum, which was cut into bright purple little slivers that were nestled in the center of the rice. We also tried the tuna mayo, which was a little richer and more substantial if you eat fish. Right now they also have a pork belly and an unagi freshwater eel option for the rice balls, which range from $3.50 to $4.50 apiece.
Kukai's handrolls are also much better than your average teriyaki joint, as evidenced by the buttery salmon roll we enjoyed yesterday. And if you're going to get a rice bowl, Setsuko recommended the Mt. Fuji Don, which was basically a spicy tuna volcano bowl. Like everything here, it really hit the spot. 
Kukai is having its grand opening at the MSA Annex (the shipping container shopping area just south of the Mercado San Agustin) Feb. 28 with live music and special beer pairings from Westbound next door. For now it's open 12:30-2:30 p.m. and 5-8 p.m. every day. Find it at 267 S. Avenida del Convento, suite 11.