After months of anticipation and setbacks, Phoenix-based Angry Crab Shack & BBQ finally opened in Tucson. The restaurant at 1365 W. Grant Road held its grand opening on Friday, more than a year after the company announced plans to enter the Tucson market in spring 2016.
It's in an offbeat location at the Hampton Inn hotel west of the freeway, but that's part of the charm. Despite its humble exterior, Angry Crab has a festive atmosphere, fit for birthdays parties and large gatherings.  
The seafood comes out to you in plastic bags, which you pour straight onto the table. (It's messy, but so fun!) On a recent visit, we split a pound of snow crab, $19, and a pound of shrimp, $14. Insider's tip: Get the Andouille sausage add-on, at only $2 for four plump pieces. You can also get red potatoes straight in your bag, but we opted for the beer-battered fries instead. It was nice to have something dry on the table. 😊😊😊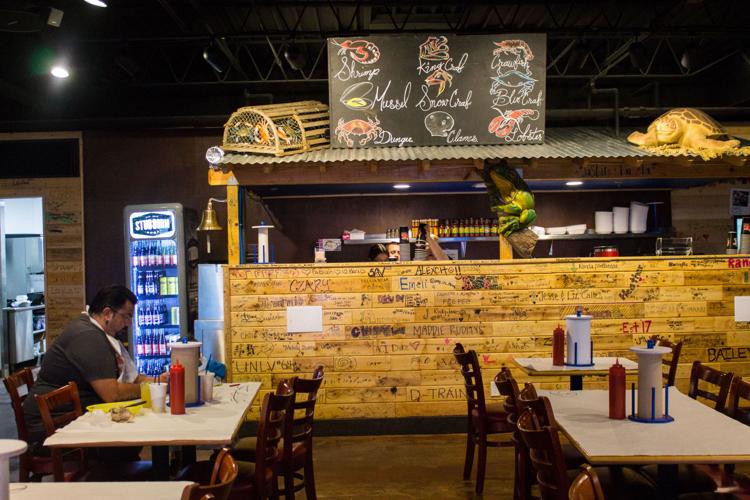 You also choose your own sauce and heat level (ranging from "me no likey spice" 0 to "Grim Reaper" 6). We got the Trifecta sauce with Cajun, garlic and lemon pepper. We were wussies and got the mild heat level, but asked for a side of Grim Reaper, made with Egyptian chiles. One bite didn't kill me — it was actually more of a front burn than a whole-mouth burn — but I couldn't imagine that coating the entire bag. 
You can also get fish deep-fried, our oysters on the half-shell and everything from pulled pork and brisket to an authentic-y po'boy made the traditional New Orleans Cajun style with oysters and shrimp or land-locked with chicken or andouille sausage.
Tucson's Angry Crab Shack is open from 11 a.m. to 10 p.m. Sundays through Thursdays and until 11 p.m. Fridays and Saturdays. Click here for the menu.