The first storm rolled in on Aug. 3, 2020, with driving rain and wind-propelled hail the size of nickels that battered and bruised Todd Bostock's vineyards in Sonoita.
"We were like ground zero" for the storm, Diefenderfer recalled. "It was kind of like a sand blaster; it shredded all the grapes and the leaves. We've lost a significant amount of vines, 20 to 35%."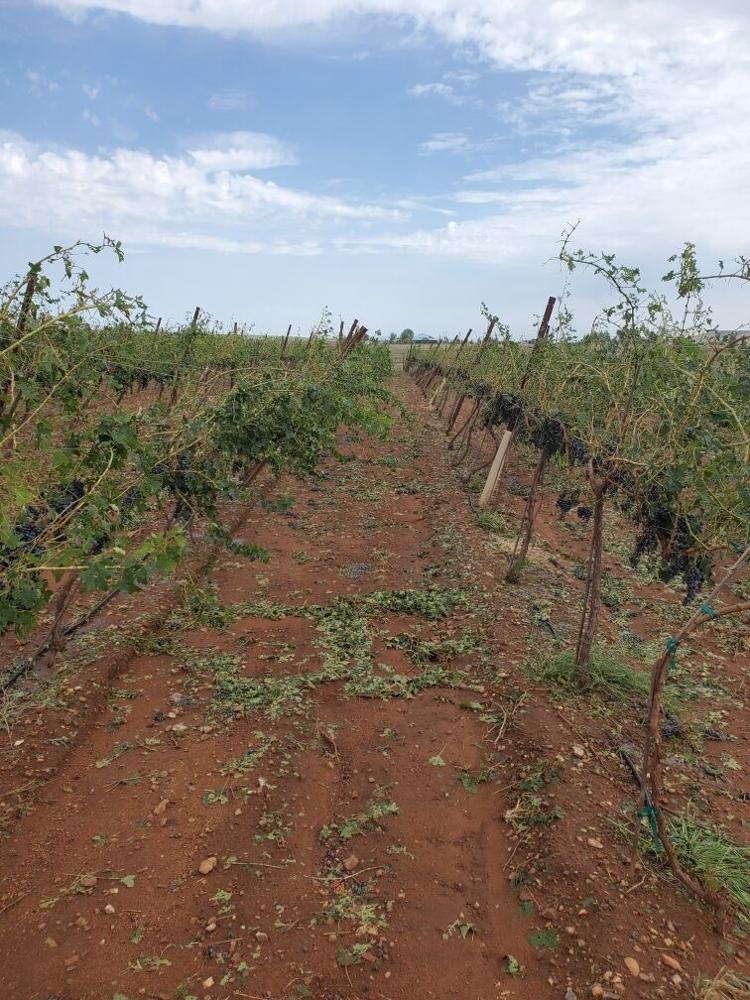 A week later, a second hail storm crashed into the wine-growing region, taking out a lot of what the first had left standing. And before vineyard operators like Kent Callaghan, a 31-year veteran of the Sonoita-Elgin winegrowing region and its weather rollercoasters, could catch their breath, an early freeze in October completed what he calls "the perfect storm."
"If we get 5 tons of fruit this year I will be surprised," said Callaghan, whose 25-acre Callaghan Vineyards at 336 Elgin Road normally produces 50 to 60 tons of fruit.
"I would not be surprised if we lost 90%" of the upcoming harvest, said Karyl Wilhelm, who with her husband Kevin runs the 20-acre Wilhelm Family Vineyards at 21 Mountain Ranch Drive in Elgin. "The only thing I was able to harvest was the whites and rosés. All of the reds got blasted."
The twin hail storms early last August and the October freeze have left Sonoita/Elgin wineries scrambling for fruit. Vines that should be leafy green and breaking buds this time of year are ghostly stick figures against the region's wind-swept grasslands. Winegrowers say it could be a year or more before the vines regenerate and start producing fruit.
By harvest time in September, many expect they will have little to no fruit for the 2021 vintages that they had hoped to barrel this fall.
"We're not counting on anything from Sonoita this year," Bostock said of his 15-acre vineyard at 3248 Highway 82.
Bostock said he hasn't had the stomach to look too closely at the vineyard to see how many vines were destroyed, although "we lost a fairly significant amount." He has identified two acres that he plans to redevelop this year and a couple more that he will tackle next year.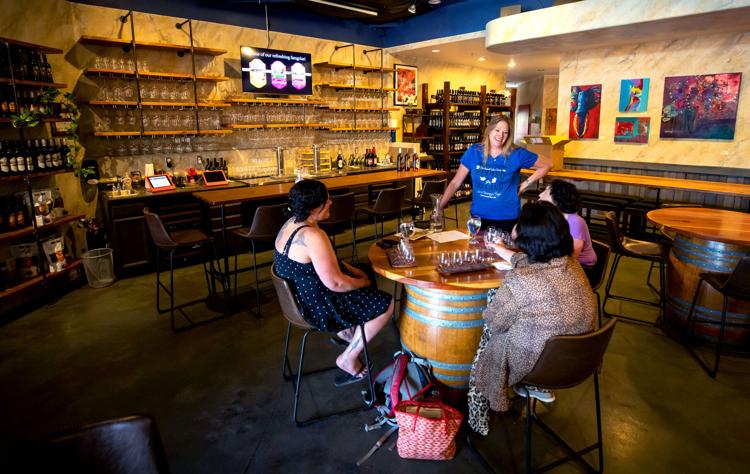 But Bostock, who has owned the 26-year-old winery since 2006, said he is one of the lucky ones. His 2019 harvest was far larger than he anticipated and he expects a great harvest from his 37 acres under vine in Willcox, which was not impacted by the 2020 weather events.
Bostock plans to sell some of his fruit to other winemakers, but there will be less fruit to sell since he has to make up for the loss of the Sonoita harvest, he said.
Callaghan said he has long-term relationships with Willcox growers, which will help him salvage his 2021 vintages, but sisters Shannon Zouzoulas and Megan Haller have so far come up empty in their quest to find fruit to supplement the harvest from their 6-acre Arizona Hops & Vines vineyard at 3420 Highway 82.
Zouzoulas said the 10-year-old vineyards suffered little to no damage in last summer's storms, but their biggest challenge is competing with more well-established wineries for fruit from Willcox-area growers.
"We are all competing for a limited amount of fruit and we don't even know how people's harvests are going to turn out," Zouzoulas said. "If this summer we get some hail storms or crazy weather, it's going to be a terrible year."
Wilhelm estimated that her harvest will be down at least 75%, so she is working with a grower in California to get additional fruit. Wilhelm Family Vineyards, which has a Tucson tasting room and restaurant at 5425 N. Kolb Road, specializes in Spanish and French varietals that thrive in Sonoita's unique soil and climate but are not as popular with regional growers.
"It's awfully hard to make wine with no fruit," she said. "All of us in the Sonoita/Elgin area are in that boat. There is only so much fruit being produced."