What makes the food of the Sonoran desert different than, say, hipster tacos you can get in Brooklyn?
For this article, we go beyond Tucson's old-school margarita joints like Rosa's and Mi Nidito. (Although they are awesome.) If you wanna show someone what Mexican food looks like here, go to a little taqueria on the south side with a simple salsa bar, flour tortillas and a carne asada grill.
Here are some of our favorites:
Tacos Apson
3501 S. 12th Ave., 520-670-1248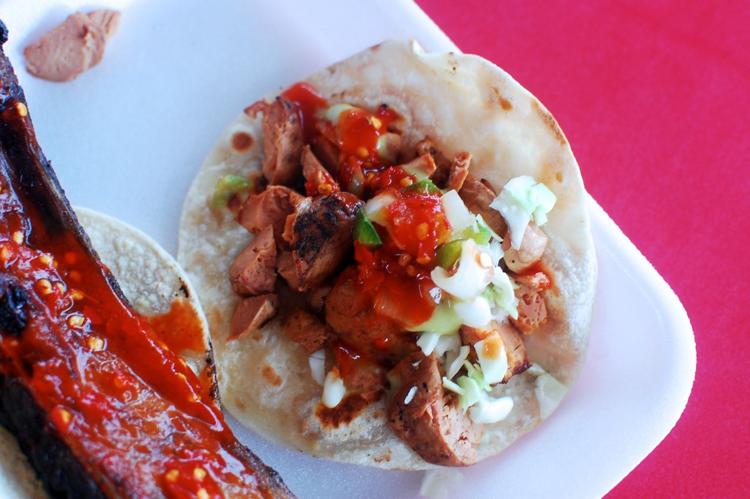 While recording a podcast for his show The Feed, Chicago journalist Steve Dolinsky was wowed by the smoky beef offerings at Tacos Apson. (I saw that light in his eye, when he ate them.) The ribs and carne asada come straight off the mesquite grill, with no seasonings but salt, and a distinctive char that varnishes the fatty meat. Apson's owner Francisco J. Durazo is from Agua Prieta, Sonora, and serves some "unique" specialties like the huevo becerro criadillas, or calf's testicles. Steve didn't try that one ...    
Anita Street Market
849 N. Anita Ave., 520-882-5280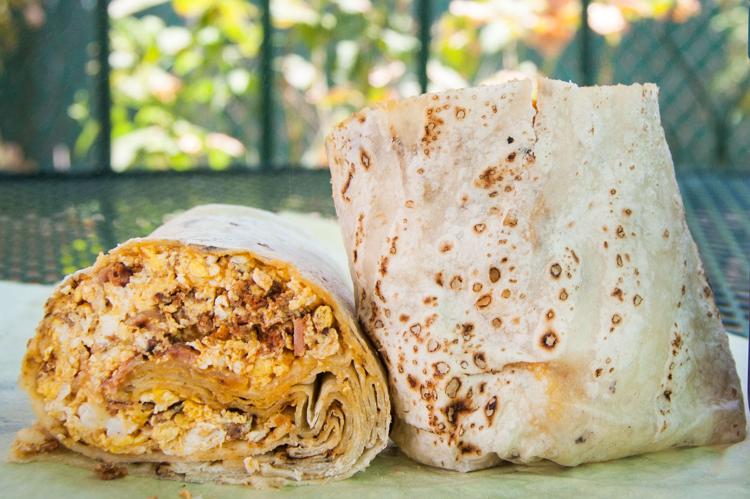 I sincerely believe these are the best burritos in town. But the place is so charming, I might have been swayed. Anita Street Market is tucked into the quaint Barrio Anita neighborhood that straddles the I-10 freeway. They sell incredible flour tortillas that they make every day in the back. That's why their burritos are so good. They're small, so each bite has that perfect floury goodness you can only get right here in the Sonoran Desert.  
Breakfast burritos at Barista del Barrio
1002 N. Grande Ave., 520-244-5285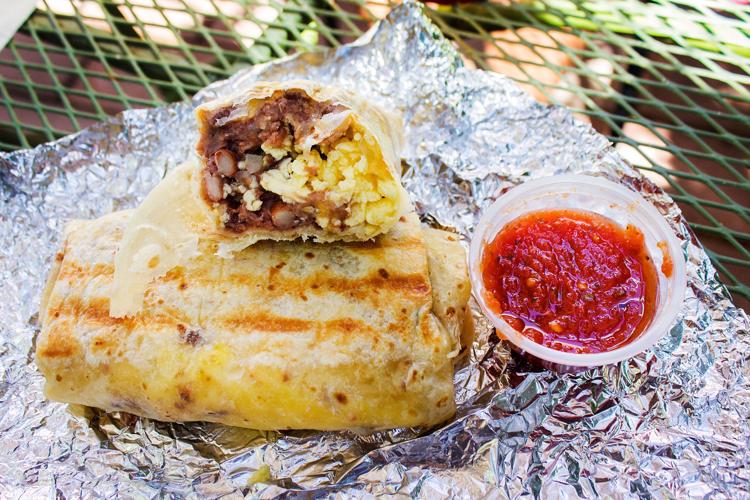 Made with local tortillas from Tortillas de Harina Linda, you've gotta try the breakfast burritos at this westside coffee shop. They're filled with a fluffy scramble, beans and your choice of meat and then toasted on a panini press to give them crispy little ridges. They're less greasy than your takeout variety and come with an awesome blended salsa with a spicy oregano flavor.
Aqui con El Nene
4415 N. Flowing Wells Road and 65 W. Valencia Road, 520-312-1666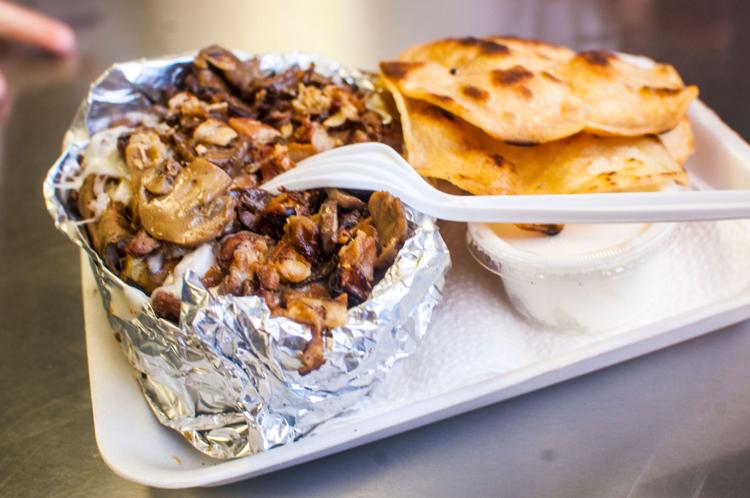 This west-side food truck won Best Tacos in Tucson at the Mero Mero Taquero competition, and if you've ever had the green chile-strewn Taco Yaqui you can see why. Another menu highlight is the baked potato Papancha stuffed with melty cheese, mushrooms and carne asada. These Mexican baked potatoes are a big deal down in Ciudad Obregon, Sonora, where owner Salvador Gastelum is from. 
WhataBurro
4860 S. 12th Ave and 522 N. Fourth Ave., 520-272-5490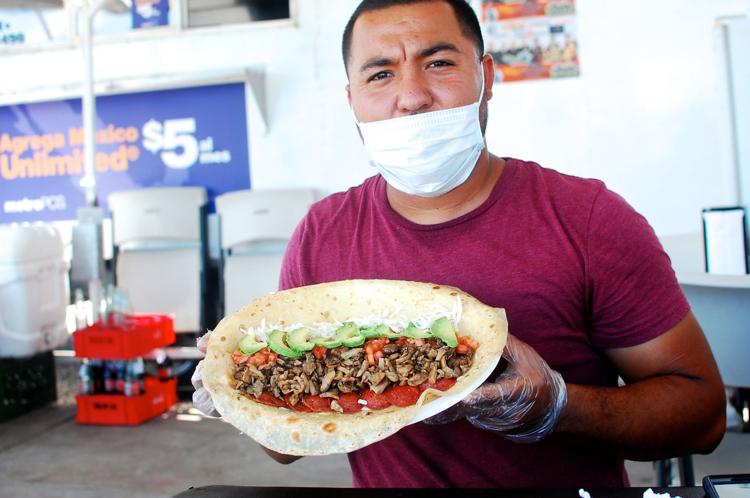 These guys broke the Internet with their absurdly delicious bacon-wrapped burrito. But really, you can't go wrong when you're at this southside food truck WhataBurro. Sonoran dogs are great, with a bready bolillo bun ... The tacos, are outstanding. Try the Hermosillo specialty the Percheron, a massive carne asada taco with green chile and fresh avocado slices. It's named after the Mexican version of a Clydesdale, if that helps.   
Raspados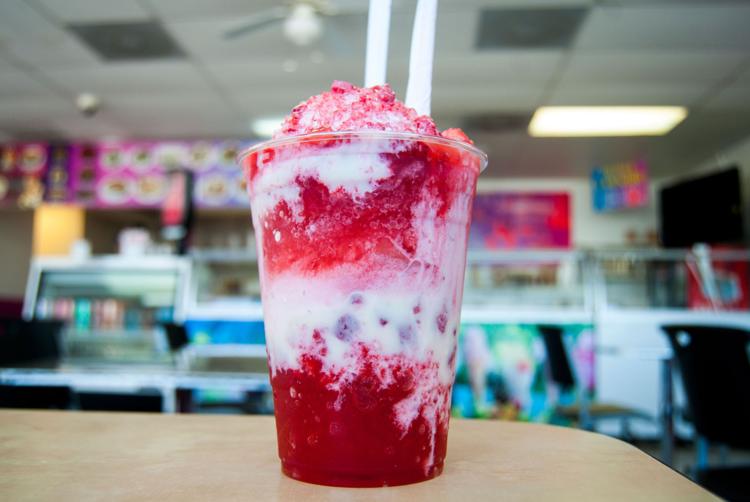 Raspados really are from several parts of Mexico, but I was surprised when my pal Steve told me he'd never seen them before. (I mean, it makes sense. Who wants a shaved ice when they're walking around Chicago in January?) Everyone here has their favorite shop, so I'm not gonna preach to you. But I will say, I'm pretty addicted to the strawberry one at Michoacán Taquería Raspados, 3235 N. Flowing Wells Road. They sell Tostilocos too, but Steve was well familiar with the bulging bags of sticky chips. In Chicago, they call them "Walking Tacos."