Everyone remembers their first time.
I was a teenager looking for a place to hang out with friends under minimal adult supervision, when we came across a cafe offering Vietnamese coffees. The drink — its rich burnt sienna color, slightly more viscous texture, bitter edge tenderized with a heavy punch of sugar — hit like a Mack truck.
My nerves vibrated brilliantly from the core of my brain stem over the entire surface of my brain. Did I mention Vietnamese robusta coffee grounds have a higher caffeine content than the Arabica beans more common in the States?
As I've gotten older, my appetite for the ultimate, cloying sweetness of condensed milk has wavered. While I still crave the bittersweet flavor of the drink, I'm careful to find restaurants and cafes that are conscious of the heft packed by our favorite creamer. In Tucson, that place is Eleven Cafē.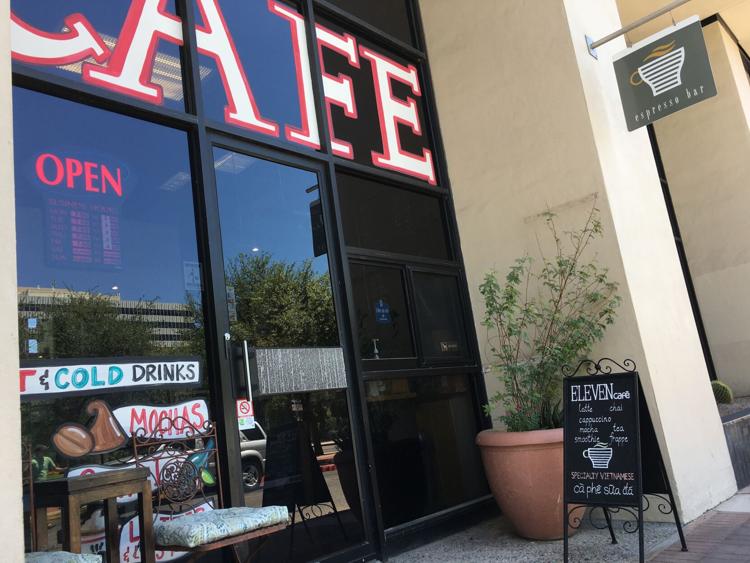 Eleven Cafē, 33 N. Stone Ave., is principally a coffee stop for city and county employees who work in the headquarters downtown. If you arrive at rush hour, before 9 a.m., you'll be in a queue of customers in business attire. Dung "Q" Hoang, the owner, makes each cup by hand and knows every regular — and most customers are regulars — by name.
"How are you doing, Rick?" he greeted a customer. "Hi Mark! What's new, Mark?" "Amy!" They embark in mutual conversations about anything, from monsoon-disrupted gardening routines and newly neutered puppies to shifting job prospects and the burden placed on public defense attorneys. In the anonymous days of DoorDash, I was shocked by the easy candor of these relationships.
"Peter, I'm sorry, we're out of skim milk today," he said as a bespectacled clerk came through the door. If Q remembers your name, he remembers your order, too.
Q himself likes to keep a low profile. I made sure to get his permission before writing this article. The caveat was he didn't want a picture taken of his face. "It's my pet peeve," he said. "Not even my family has many pictures of me. They know I was there. Why do they need a picture?" 
The cafe is named Eleven after Q's birth order: he's the eleventh child of eleven.  Other than his shop, and his dogs, his family is his life. He has a black ring of mourning tattooed around his left forearm. The band is broken to write his late father's signature.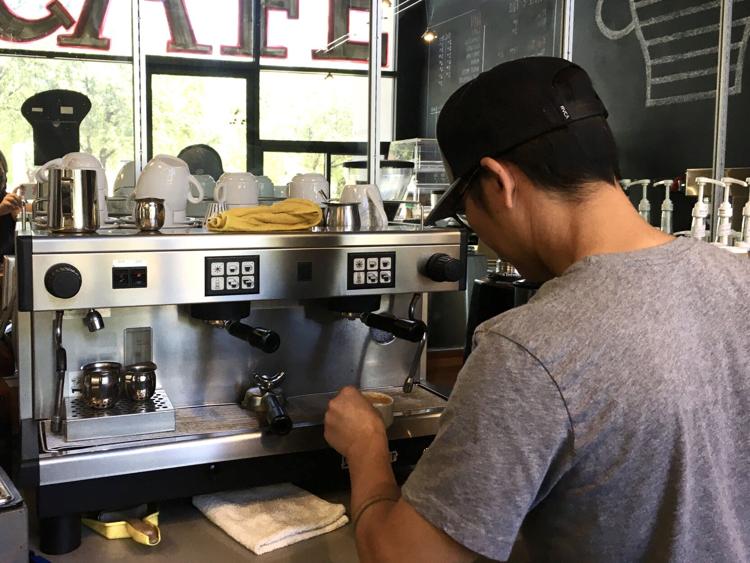 While the location of the cafe all but guarantees steady business — it shares a building with county offices, and is across the street from the courthouse and other governmental buildings — the place is excellent because of Q. He is meticulous about his habits: cleaning his equipment, ordering beans fresh every week, measuring ratios of water to beans.
A mechanic in his spare time, he renovated the entire cafe into its current, modern, design on his own. "The only thing I got help with was a friend of mine cut the granite for my counter," he said.
What inspires loyalty, though, is his warmth. Eleven Cafē is the kind of place a courthouse employee can spend his lunch break, chilling with Q. Before the virus, I can imagine the cafe's suede couches got regular use.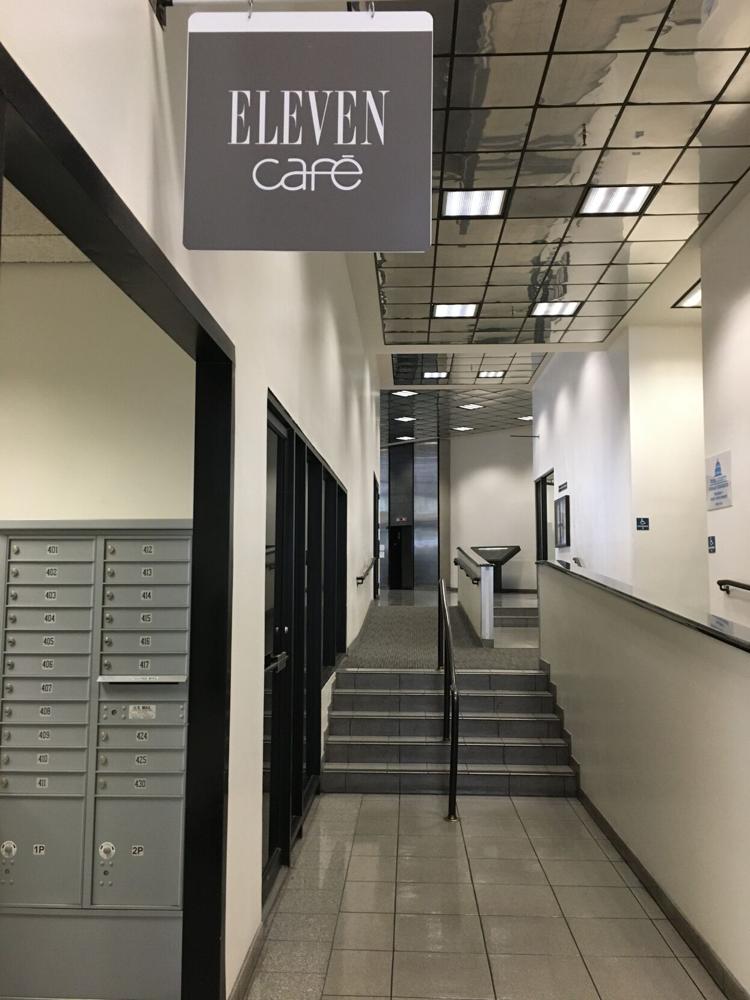 Each customer in line had a loyalty stamp card, which they handed over with the euphoria and seriousness of a baptism. One customer had a pocket full of these cards, each with half its boxes inked.
While many of these employees are after a quick caffeine fix, the star of the menu are Q's cà phê sữa đá — iced Vietnamese slow-drip.
The drink starts as Q titrates a small portion of condensed milk into the bottom of a glass. He then carefully meters out the imported robusta ground before wetting them with a little bit of boiling water, then tamping down the grounds and pouring a full serving of boiling water over what looks like the water chamber in a mokka pot. The apparatus is placed over the clear cup with condensed milk. The coffee drips leisurely for 10 to 15 minutes, until the glass looks like it's dressed as an inverted Catholic priest — white collar on the bottom.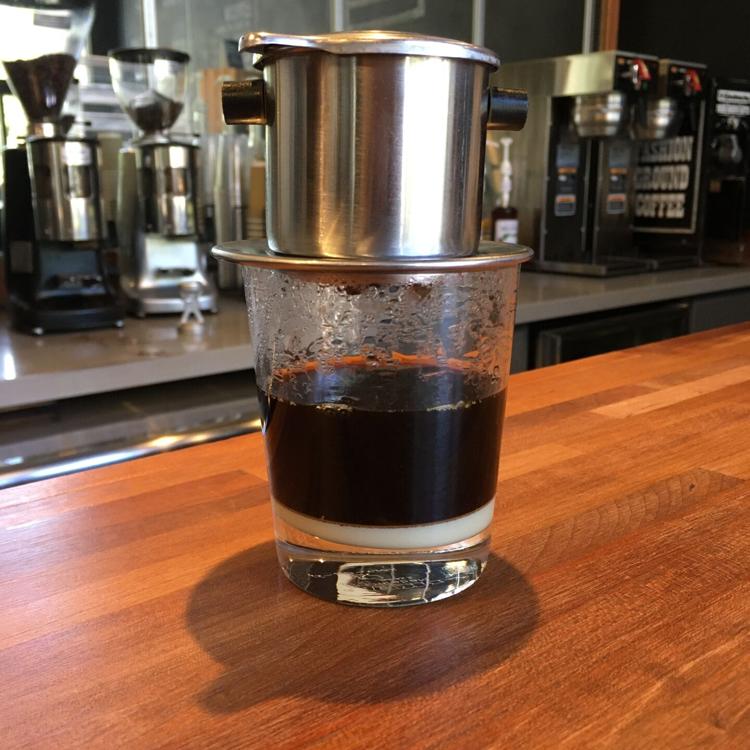 Q stirs the liquids together until they've reached your preferred level of sweetness — the lighter the shade, the stronger the condensed milk. The drink then gets poured over ice. You take a sip and the condensed milk brings out the nuttiness of the coffee rather than defanging its flavor. The crisp coldness adds yet another heightened indulgence for the senses. Your serotonin levels have not been this high since before COVID.
Q's cà phê sữa đá is the kind of drink that reminds me to keep a short quota on the number of times I use the superlative "perfection." I need to conserve the word's power for moments like this.
Please keep in mind that, as a commuter cafe, Eleven is only open Mondays through Fridays, from 7 a.m. to 2 p.m.