When Donna Francis finishes her day serving blueberry mojitos at Harvest, she goes home to her "mad laboratory" of cocktail experiments. The former nightclub bartender has fallen hard for the trendy world of molecular mixology, where people utilize chemistry to make crazy things like cocktail marshmallows and boozy cotton candy. 
Donna got into it while she was taking science classes in San Diego, where she grew up. The self-described "beach girl" comes from a service-industry family and worked her way through glitzy nightclubs and high-end restaurants as a wine sommelier. 
Donna's So-Cal upbringing was the inspiration behind her award-winning cocktail the Sea La Vie. The iced lowball features fresh pear juice and crushed almonds to evoke the bounty of Southern California produce. 
In December, Francis took the breezy rum drink to Las Vegas, where she took home first place in the Southwest leg of the Bacardi Legacy competition. She was asked to prepare her drink in front of a panel of judges, explaining the technique and inspiration behind it. (Those lazy days on the beach spent "snacking on fresh pears, munching on California almonds, vanilla softly punctuating the sea air.")
"I marched right into Vegas with my little bag and I'm like, 'Yeah, I'm from Tucson. What's up, I'm here!" she says. 
By beating out 11 other bartenders, Donna became the only woman on the West Coast to compete in the national finals in Miami. (Bartenders Darnell Holguin and Ryan Wainwright shared the top prize at nationals, and will head to Berlin in May for the global finals.)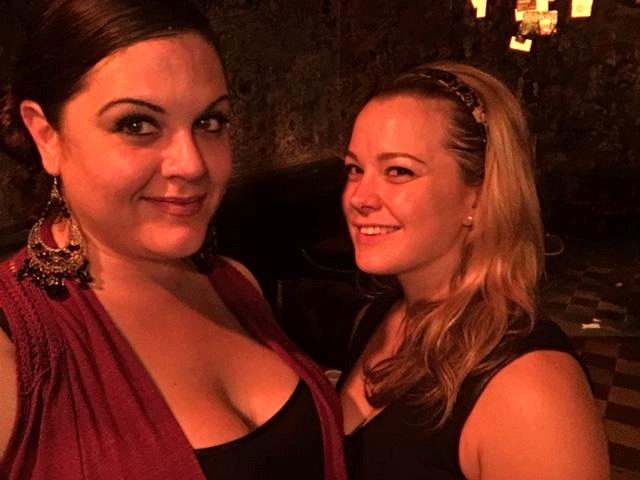 Traveling with Bacardi introduced Donna to kickass ladies from all over the country, reminding her why it's important to support each other. Aside from giving newbies career advice, she's also out to make #girlbartendersrock a movement. 
"I've always been, obviously, a woman and a bartender," she says. "... The more I've traveled and been a part of this process, it really is a novelty. To be not only a female bartender, but to be a good female bartender that's not trying to hide the fact that she's a woman ... and a dope bartender."
On practicing cocktail chemistry:
"I have my own little mad laboratory set up in my house and my backyard. (I'm using) all sorts of liquid nitrogen to spherification, working with different acids and additives. ... I'm really focused on aromatics and texture right now, so there have been some really fun successes and some really not-so-fun successes. ... Sometimes you get a new result or something that hasn't been seen, and that's exciting."
The importance of technique: 
"I can tell you 10 different ways to juice a lemon and you'll get a completely different juice ... Handsqueezing it, using tools, using a macerating juicer, there's all sorts of ways to do it."
How to stock your bar:  
"Tucson has some amazing produce that's available most of the year. I try to source local as possible, not only in my personal life but in my buying choices for the bar. That can be somewhat of a challenge, but there are so many great options: The citrus here is amazing, the different greens, Arbuckle has really great tea and coffee ..."
On the generational gap: 
"There's definitely a generation that remembers when women couldn't be bartenders. It wasn't legal or socially acceptable, let alone being culturally acceptable. So that generation can sometimes be a little less than welcoming. But on the flip side, I take that as personal challenge. ... So I can try and turn that around, and subtly demonstrate to them that yes, you may not like that I'm a female bartender, but I'm still going to create an amazing experience for you. That's my life outlook. I try and go into things with an open heart, open mind."
Why she loves her job: 
"Being a bartender, it's a dope job. I get to hang out with my friends every day. I get to make a real impact in people's days in a really short amount of time. If you think about it, if you have a really crappy day, and you go and you sit at a bar and you have a smiling bartender that brings you water and a menu and is super welcoming without being pushy, you can take a breath … Having that kind of power, to make or break someone's day in less than 10 minutes. That's huge, and that's a huge responsibility."
Sea la Vie cocktail
1 1/2 ounces Bacardi 8 años
1/2 ounce apple brandy
2 ounces fresh pear juice
1/2 ounce vanilla-infused honey 
1/8 ounce fresh lemon juice
2 teaspoons crushed raw almonds
Shake all ingredients in shaker and strain over ice. Garnish with a side of fresh pear.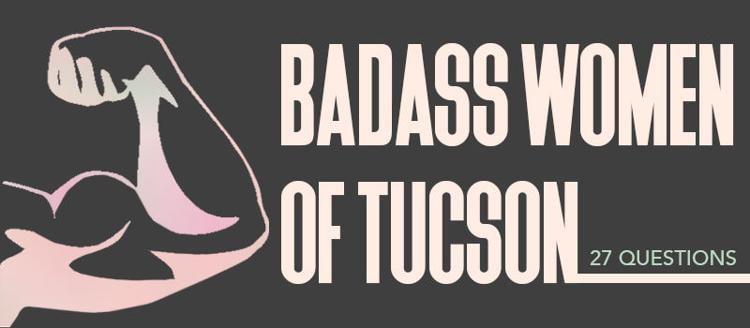 32 Questions with Donna Francis
Your name, age, occupation 
I'm on a mission to _______________________. 
Be the best version of me while being an active part of my community.
What's your astrology sign? Does it fit you? 
Describe yourself in three words ... 
Intelligent, charismatic, curious.
💃🏻🌴😎😈🤓 (this was really difficult!)
I was a working student at a hunter/jumper barn in San Diego
How long have you lived in Tucson? 
Who and/or what inspires you? 
I draw inspiration from the people, places, and all six senses of my world. This is also why I ALWAYS carry my Book of Secrets to be able to jot down an inspiration, idea, question, etc.
The secret to coping with stress is ________________. 
Knowing what makes you happy and doing it. Love hot wings and Netflix? Do it. So many times we get caught up in the stresses of life and forget to take a beat to be kind to ourself.
Your favorite Tucson spot? 
How can I pick a favorite child?! From the patio at Danny's Baboquivari with the fire roaring to the Botanical Gardens with a book and the dogs to shenanigans downtown. I have a list as long as my arm of favorites!
What are your favorite three songs and why? 
"24K Magic" — Bruno Mars (it's fun! And it just makes me happy), "Fat Bottomed Girls" — Queen (all things Queen are my favorite! But this song just gets me!), and all songs Michael Jackson!! His music is timeless and have a message but are still fun.
Your go-to order at your favorite Tucson restaurant? 
What's your favorite Tucson-only thing? 
You know you're a Tucsonan when _____________. 
I have no idea!! The resiliency to this heat? When it's 105 and no one blinks. I'm from the beach, they cancel school where I'm from. Seriously.
What constitutes your morning getting-ready routine and how long does it take? 
I have several different routines. All begin with a quick walk for the dogs (aka The Hooligans), coffee and a light snack... Then the level of hair, makeup, and clothing selection determines how long the rest takes. I can be ready in 12 minutes to 4+ hours.
Favorite app at the moment? 
Give us a two-sentence pep talk. 
You and I know both you're going to smash this! You know it too, your fear of your own potential greatness.
What would you tell your teenage self? 
What's a quality you got from your mama? 
And one you hope to pass on to the next generation? 
Kindness. Smart is beautiful.
The last great book you read? 
"Don Quixote" & "The New Jim Crow."
The last great movie you watched? 
"13th", knowledge is power. And "La Strada," Fellini. I always come back around to Fellini, I love just about all of them!
People would be surprised to hear you're actually a(n) ______________ expert. 
Shoes? I mean I do have 200+ pairs ... Horse? I spend almost half my life at the barn, competing, and training.
Is there something you've always wanted to learn, but haven't had the time? 
Tennis & racquetball, and to knit!!
Anything you've always wondered about Tucson? 
Why aren't sidewalks a thing here?
Favorite ice cream flavor? 
Harvest's Birthday Cake Ice Cream. Without a shadow of doubt or question!!
Where can our readers follow you on social media? 
Is there something you REALLY nerd out about? 
I'm a card carrying nerd. So this list includes all things chemistry, exploring new places/cultures, and food!!
What's your spirit animal? 
A dolphin! The ocean is my heartsong. Dolphins strike the balance between fierce intelligence and social butterflies. They're playful with a sense of humor but also know how to get right down to business!
Which fictional character (from TV, movies, books, etc.) just gets you? 
Andy Sachs from "The Devil Wears Prada."
What makes you feel the most confident? 
Words of Affirmation. And a hot pair of sky-high heels!
The best piece of advice you ever received? 
What you allow is what will continue.