There's not much of a sign, so you may wander into Fonda la Hermanita through the parking lot. There's a short breezeway and suddenly you're in a striking Spanish-style courtyard, all white-washed adobe and leafy green citrus trees.
The quaint cafe is tucked back behind the chic bistro The Coronet, which recently moved into the historic Cushing Street building near the Tucson Convention Center. The rustic adobe dates back to the 1860s, and boasts a leafy patio that was once used as a residential backyard. Named after the family-run "fonda" restaurants of Mexico City, Fonda la Hermanita feels almost like a European sidewalk cafe; a place to leisurely sip some espresso and enjoy a fancy pastry.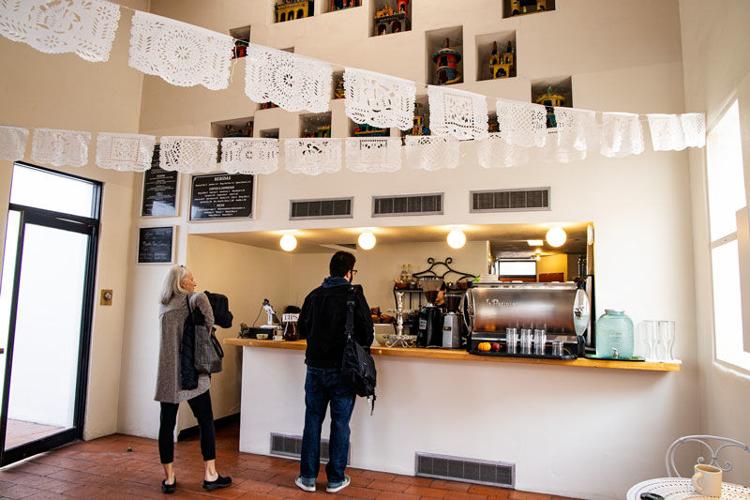 Chef Erika Bostick has created a small but colorful menu that showcases the fresh produce of Southern Arizona. Since the tiny kitchen doesn't have a flattop, she craftily prepares scrambled eggs using a sous vide machine and serves an array of "platos" like fresh corn masa gorditas with baby greens and black bean spread. 
Her dishes are essentially Mexican, but there's one thing on the menu that feels like a bit of a hybrid. It's called the "caldo de pollo con chochoyotes," a long name with a direct but delicious intention. It's basically Jewish matzah ball soup, but made with corn masa dumplings instead of matzo meal dumplings made from unleavened bread.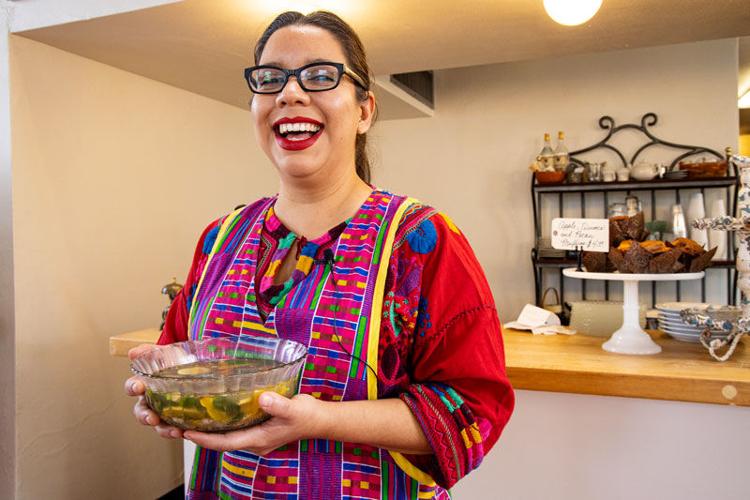 Bostick said she got the idea while traveling through the Southwestern Mexican state of Oaxaca, where she encountered a corn masa dumpling called the chochoyote. The classic Oaxacan dish "Mole Amarillito con Chochoyotes" includes these chochoyote balls in a tomato-based mole paired with chicken. Each ball has a dimple in the center almost like a thumbprint cookie, which helps the dumpling pick up the rich mole sauce.   
"(The dent) provides an even cook for the dumpling so that it's completely cooked on the outside and on the inside at the same time. And it's a really sweet whimsical shape," Bostick said. 
For her dumplings, Bostick uses a time-honored secret of Jewish grandmas across the world: chicken schmaltz. This rendered fat gives the dumplings that characteristic buttery flavor and loose texture of the original matzah ball. Even though they're made from fresh corn masa, you get that same sensation of pure, pillowy bliss. It's kind of surreal, actually.
As for the soup, Bostick may just one-up your grandma. She prepares her broth from scratch using free-range chicken and fresh garlic supplied by Pivot Produce's network of local farms. Traditional matzah ball soup recipes include celery and carrots, but Bostick uses a full medley of colorful vegetables including puprle potatoes, delicata squash and fresh chard. Because she uses high-quality chicken, the broth tastes clean but also more complex in flavor than your typical boxed or even homemade variety. 
Now that all of Tucson's Jewish delis have closed down, it's gotten a lot harder to get a hot bowl of matzah ball soup, even during Hanukkah. But Jewish people have always been good at adapting to our surroundings. So this holiday season, may I suggest a new proverb: When life gives you corn, make masa ball soup! 
Fonda la Hermanita is at 198 W. Cushing St. It's open Wednesdays through Sundays from 8 a.m. to 2 p.m.