Nothing says "I love you mom" like a plate of eggs and a mimosa to wash it down. You don't need a fancy carving station or a three-course meal with paired beverages. Just spend some time together at one of these brunch restaurants to show you care! 
In honor of Mother's Day, here's a little list of Tucson brunch spots, in case you're wondering where to go. Also, get her a card ... it's not that hard.
Bisbee Breakfast Club
2936 E. Broadway, 4131 W. Ina Road, 4811 E. Sunrise Drive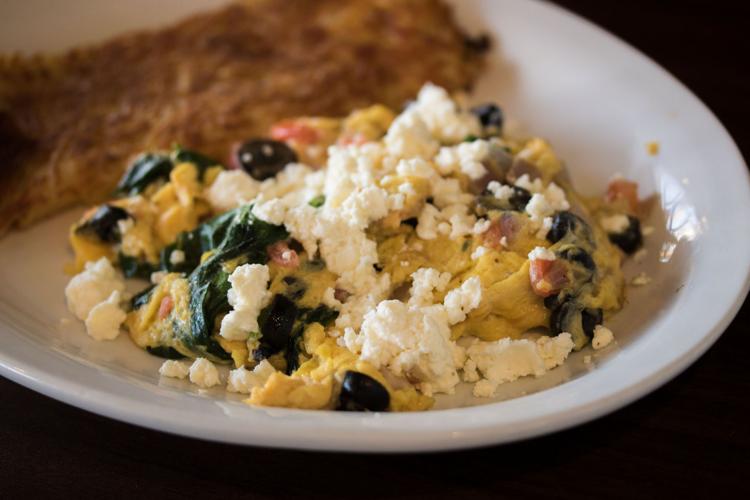 This Bisbee transplant is blowing up like an Arnold movie, with three locations in Tucson alone. I prefer the airy diner at the historic Broadway Village, which was packed on a recent midweek afternoon. Lighter options include baked oatmeal and the scrambled Eggs Zorba, $9.39, with spinach and Feta cheese. I went whole hog with the Copper Queen Skillet, above, featuring bacon, ham and sausage smothered with a blanket of rich gravy.   
Brunch hours: 6 a.m. to 2:05 p.m. seven days a week
Prep & Pastry
3073 N. Campbell Ave. and 6450 E. Grant Road
"Welcome to Prep & Pastry, where our food is locally sourced and our brunches have booze," claims the website. Good to know! It's also important to note that Prep has two locations now, which makes it way easier for Alton Brown get a table. I always get the poblano pepper-stuffed A.M. Relleno, $9.50, but I hear the S'mores French toast with graham cracker brioche is pretty good too. 
Brunch hours: Saturday and Sunday 7 a.m. to 3 p.m. Regular breakfast menu available 7-11 a.m. Monday through Friday. 
The Parish
Uber-talented chef Travis Peters does brunch now, and our mornings will thank him. (Take a look at the pictures and you'll see what I mean.) The Southern fusion restaurant excels in the meat department, and you'll want to try the Braised "Bacon and Eggs," $11, with poached egg and a mustard seed caviar sitting on a fat slab of glistening pork belly.
Brunch hours: 10 a.m. to 3 p.m. Sundays
Welcome Diner
Welcome Diner has an interesting mix of Mexican and Southern dishes on the menu. Sometimes they're even on the same plate. For example, check out the pork posole rojo, $13, with mole spiced black pudding and shaved radish. I also really enjoyed my Andouille scramble, pictured above. Legit.  
Brunch hours: 9 a.m. to 3 p.m. seven days a week
Five Points Market & Restaurant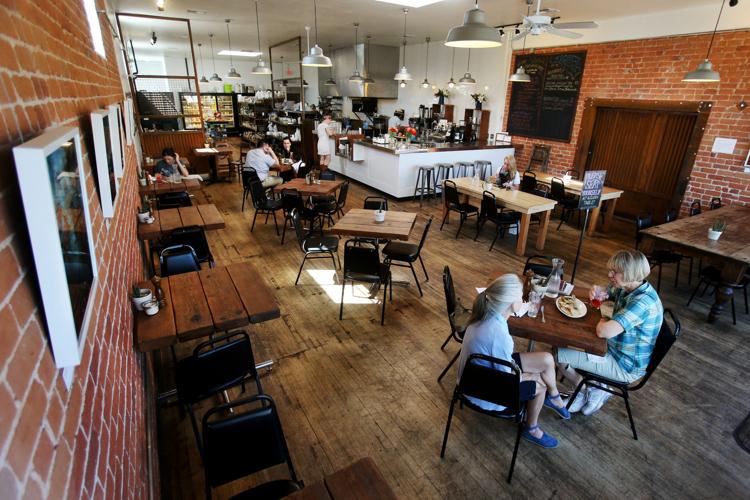 No omelets on the menu here (although there is a frittata now!), but that's because you're ordering the sunny huevos rancheros with splendor of well-placed sauces, all for $9. I don't know how they keep it so cheap at Five Points, considering how gourmet the breakfast options are. But that's Tucson I guess. Someday I'll get around to trying that Chia Pudding ... 
Brunch hours: 7 a.m. to 3 p.m. seven days a week