Down at the Battery Outlet auto shop on Ajo Way, the line for sushi got so long that the man behind the window was quoting an hour wait.
On Wednesdays, the food truck SushiSon runs a popular promotion, "3 sushis por solo $20 dollars." People would pull up in their cars, walk up to the window and get handed a giant plastic bag of Styrofoam containers, then leave without so much as an "arigato."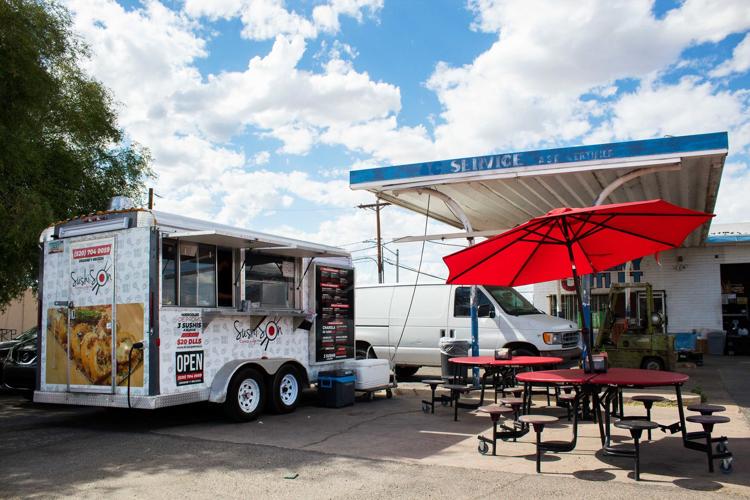 It seemed like the game here was to call ahead. The sushi chef Laz even looked a little surprised when I opened my boxes right there on the parking lot patio table, unloading a slurry of spicy sushi rolls covered in chipotle cream cheese and bacon bits. At this moment everything I thought had understood about sushi came into question. 
The "Sonorita" looked like any deep-fried roll you'd get at your local sushi joint, with the exception of the bacon on top. But inside it was filled with carne asada, avocado and cream cheese. These ingredients together with the rice gave me the distinct sensation that I was eating a Chipotle burrito.
But instead of a tortilla there was seaweed. And instead of salsa, they gave you the standard trio of sauces that I saw over and over again this week: sticky eel sauce, chipotle mayo and a light soy mixed with artificial lime juice.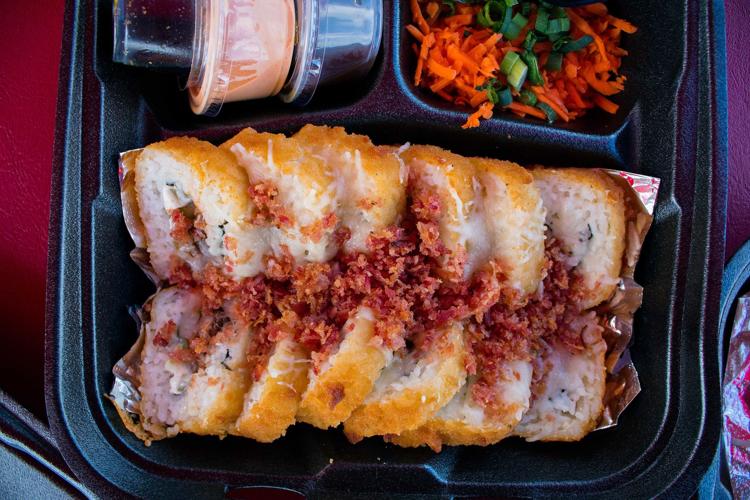 Spots like SushiSon are part of an emerging trend that's receiving a lot of love, and a lot of hate lately. Late last month, national website Eater published an article about Tucson's Mexican sushi scene in its series The United States of Mexican Food. In the article, James Beard award-winning journalist Bill Esparza delves into the history of Sonoran sushi and visits South Twelfth Avenue, which now boasts not one but four separate sushi spots. 
But even if you can't get behind deep-fried carne asada rolls, you can accept the fact that Sonoran sushi is now a thing. Tucson and Phoenix have the largest concentrations of this fusion cuisine outside of Mexico, so I decided to visit some local spots and separate the bueno from the malo.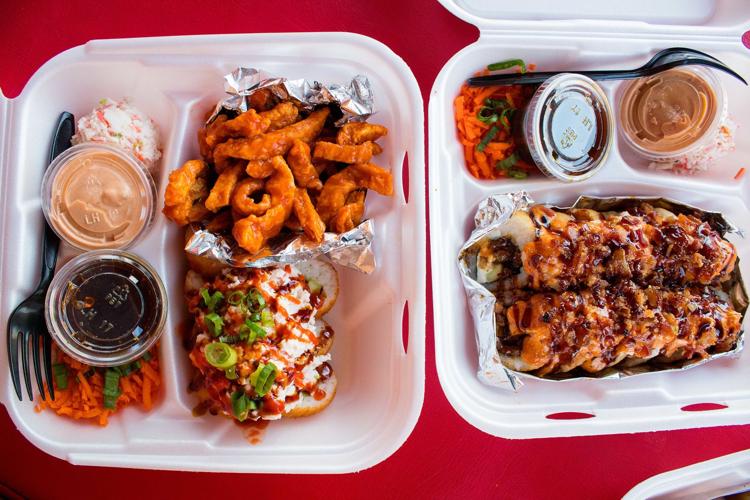 My favorite of the bunch was the food truck Sushi-Lito, located a block or two away from Sonoran hot dog pioneers BK Carne Asada and El Güero Canelo. Sonoran hot dogs have something in common with the sushi: They're both hybrid foods that were invented in Mexico and then further popularized in the United States. 
The young chefs at Sushi-Lito told me that Sonoran sushi comes from Caborca, Sonora, where their truck is also from. But official accounts say it was invented in the neighboring state Sinaloa by sushi chefs who had previously worked in the United States. It later spread throughout Sonora, where local chefs added their own ingredients like the boneless buffalo wings, which Sonorans just call "boneless." (A quick Google search of Nogales yields about a dozen sushi restaurants.)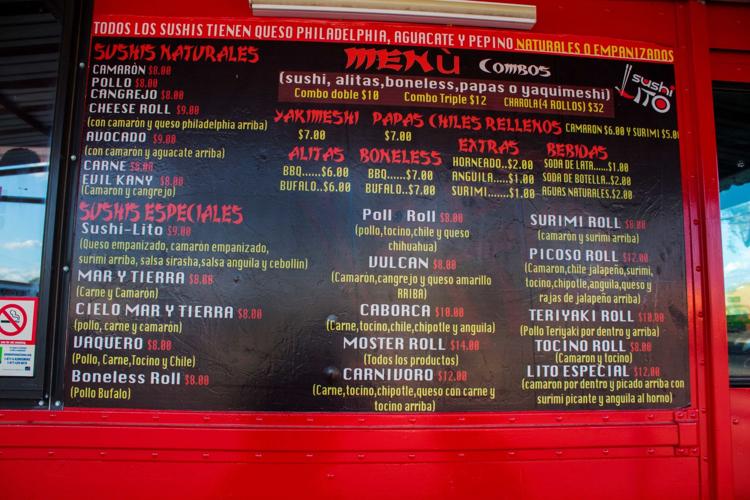 Unlike other southside sushi spots, Sushi-Lito prides itself on serving not only boneless buffalo wings, but bone-in "alitas" as well. Their menu sports different combo plates with a small sushi roll, choice of wings, cheese fries or fried rice "yakimeshi." (Unfortunately they were out of the fries that day.) I got a combo plate with boneless and the Sushi-Lito roll, which had fried cheese and shrimp inside, and was topped with the ubiquitous fake crab salad they call "tampico." 
Sonoran sushi spots have three basic types of rolls: cold "naturales" rolls in the traditional style of Japanese maki, baked "horneados" rolls and breaded and fried "empanizados" rolls, which this one was. Sushi-Lito is at its best with the baked rolls. For an extra $2, they top any roll with melty chipotle sauce, queso mozzarella and bacon and put it under the broiler.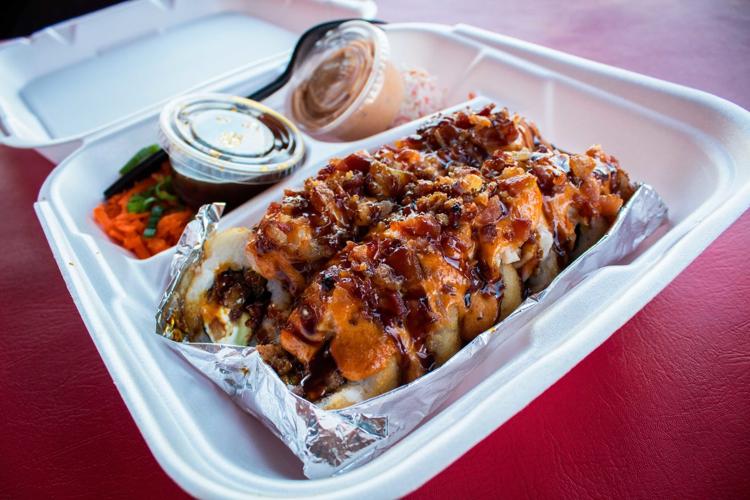 At that point, the individual ingredients lose their importance and become part of the larger vehicle of fried chimichanga sushi madness. Or at least that's what it felt like. There was spicy, there was sweet and there was salty somewhere in there, although I couldn't tell you what was what. Someone said it was like eating a log that was slowly forming in your stomach. My dinner partner and I both agreed this place would do well on Fourth Avenue. 
Over at the nearby truck El Sushi de Papa the next day, I tried something even more heinous and beautiful. It was a big fried sushi dome they called La Bomba. Sounds dangerous but it was actually extremely well-executed. Someone basically filled a mold with sushi rice and tucked in carne asada, chicken and shrimp plus a hefty dose of cream cheese in the center.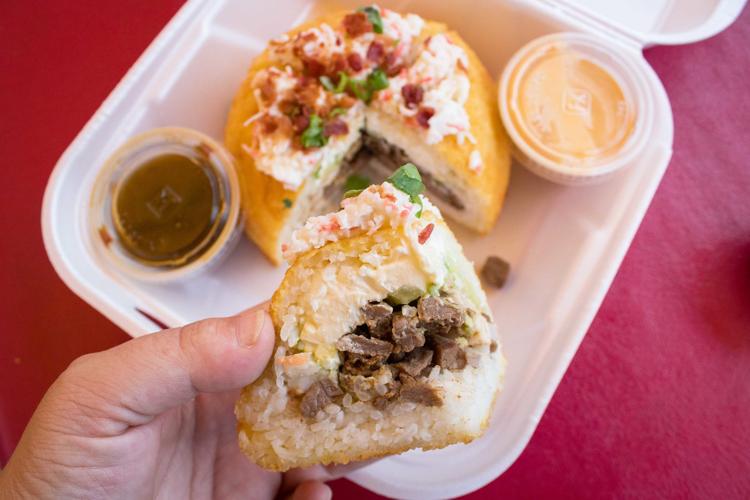 Then they fried the whole thing until the outside developed the characteristic crust of most Mexican sushis, before topping the thing with more of that crab salad and bacon.
Bite for bite, La Bamba was the most memorable creation I tried all week. I could see someone making a bunch of these at a dinner party and people crowding around to feverishly Instagram them. The other thing I liked about El Sushi de Papa is that they used real soy sauce, rather than that off-putting citrus mixture at the other trucks. 
I was also attracted to this truck because some of the rolls actually had raw fish in them, as opposed to cooked shrimp or beef. But unfortunately, the salmon in their Florencias roll proved my hypothesis about Mexican sushi: the uncooked rolls are not where it's at.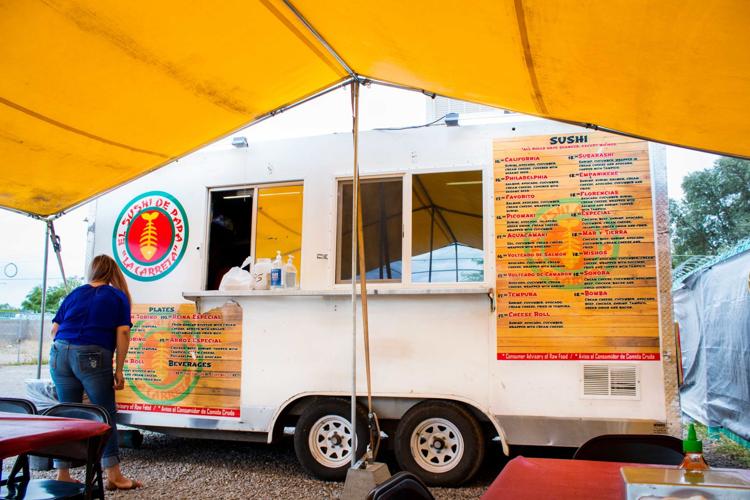 Unlike in Tokyo, you don't have to spend years training to become a Mexican sushi master. You don't even have to dream of sushi! All you need is "practice," according to the kid working the line at Sushi de Papa. When you fry or bake the rolls, it hides all of your mistakes and shortcuts. When the rolls aren't cooked, you start to notice that the fish isn't of the highest quality, and that there's so so so much cream cheese in there!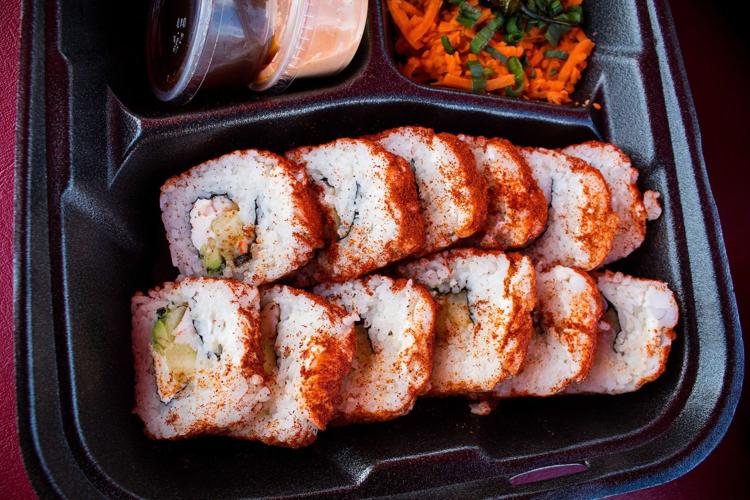 Even at SushiSon, I much preferred the delicious fried Sonorita roll to cold Aguachile and Picante Camaron rolls. Both of the latter were riffs on the shrimp tempura roll, but were topped with a sweet chipotle cream cheese or rubbed in dried red pepper.
I couldn't finish them at the auto shop, so I took my boxes back to the office to see what my coworkers thought. Samantha had one bite of the dried pepper roll and summed up my entire sushi odyssey in one sentence: "This would be better with mango." 
Sonoran sushi spots: 
SushiSon, 332 W. Ajo Way, Phone: 520-704-0059, Hours: Sunday, Monday, Wednesday and Thursday noon to 9 p.m., Friday and Saturday noon to 9:30 p.m., closed Tuesday 
Sushi Kito, 5650 S. 12th Ave., Phone: 520-294-8888, Hours: Monday through Saturday 11 a.m. to 11 p.m., Sunday 11 a.m. to 10:30 p.m.
Sushi-Lito, 5420 S. 12th Ave., Phone: 520-639-4863, Hours: Tuesday through Saturday 3-10 p.m., Sunday 3-9 p.m., closed Monday
El Sushi de Papa, 4762 S. 12th Ave., Phone: 520-368-8591, Hours: noon to 9 p.m. daily