For decades, Gee's Garden had been a focal point in Tucson's Chinese community — a large dim sum house where families would gather on the weekends and share cups of jasmine tea and meaty dumplings. But that's now a thing of the past, and not just because of the coronavirus pandemic. 
Gee's Garden is now permanently closed after its landlord put a forcible detainer on the building for unpaid rent and breach of contract. A notice posted on the front of the door at 1145 N. Alvernon Way states that the landlord is owed $189,378 "plus other accruing charges." 
"Anyone entering the premises or removing any items from the premises will be prosecuted for grand theft, breaking and entering, trespassing and any other infractions to the full extent of the law," reads the sign, dated June 11.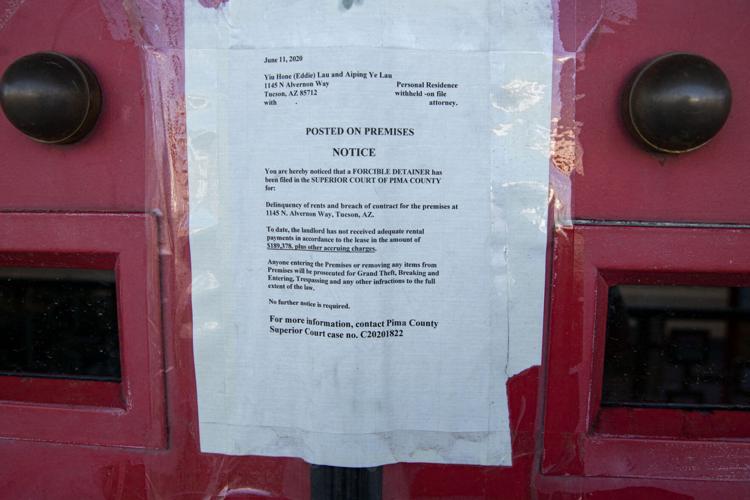 The interior of the building appears to still have furniture in it, but there is a notice outside stating the building is for lease. Realtor David Lee, who is putting the building on the market, said that the restaurant's new owner Eddie Lau had been behind on rent for more than a year. 
"The landlord had tried to work with him and gave him forgiveness and discounted rents, but he just kept getting further and further behind," he said. "He was having a hard time way before COVID." 
The building is owned by the original Gee's Garden owners Dudley and Joan Gee, who had been renting the restaurant out to Lau since 2015. Dudley passed away May 29 of this year at the age of 84. The couple had owned several retail businesses in Tucson including a grocery store, according to his obituary. 
Eddie Lau said Gee's passing was when the problems really started for him. The two had been operating under verbal contracts for the past year, allowing Lau to pay what he was able to. Mr. Gee thought the business was important for the community, and wanted to keep the doors open above all else, he said. 
"He said you can still run it, it doesn't matter how much you pay me," Lau said. "As long as you keep the doors open, I'm happy." 
But when Gee was gone, the landlord insisted on going by the original contract, which Lau couldn't honor. The pandemic had already cost him more than a hundred thousand dollars, as several major parties had canceled due to social distancing orders. In addition, his regular customers stopped coming, because the communal aspect of dim sum just didn't fly in the age of coronavirus.
Lau also said that he was asked to cover several major repairs on the aging building, like a broken air conditioning system and problems with the roof. Those repairs alone were in the tens of thousands of dollars, he said. In addition, he was locked into a 10-year-lease. 
"I'm a victim of this kind of situation," he said. "Never take the word from the landlord verbal. The landlord, all they want is their money. They don't care what you do. Be careful when you sign a contract. Be very, very careful."
With its traditional Hong Kong style dim sum service, including rolling carts, Gee's played an important role in Tucson's Chinese restaurant scene. When it opened in 1975, it was the first Chinese buffet in the state of Arizona, Joan Gee said. People would line up around the building for the $1.99 all-you-can-eat lunch buffet. 
In 1994, the Gees decided to shut down for an entire year of remodeling, and reopened as a dim sum restaurant in 1995. The restaurant has been an icon in the community, although it had been plagued by several negative health inspections over the past few years. Gee's Garden was temporarily shut down August 27 when health inspectors deemed it a health hazard due to problems with the sewage. 
Lee said he thinks the building would work well as an event space, or perhaps a ghost kitchen for various food truck operators or delivery services. Joan Gee said she'd like to see it reopen as it was, so someone can carry on the dim sum tradition. 
"I would love that, but then whoever wants to buy the building, it's okay. I would really like to see that, because Tucson can use a nice dim sum restaurant."
While Gee's Garden was the most popular dim sum spot, all is not lost. Northside staple China Phoenix is still doing dim sum for takeout and limited dine-in service. Their dim sum service is Saturday and Sunday from 10 a.m. to 3 p.m. at 7090 N. Oracle Road.