Is tableside guacamole the Shakespeare of 2019? We've settled the question of "to be or not to be," but the pure theatricality of smashing an avocado at your table until it becomes a buttery ambrosia in vintage plateware? That's the stuff our society runs on. 
Especially when it's not guacamole at all, but super guacamole! Charrovida's tour de force is a "healthyish" hybrid they call tableside avocado hummus. The server brings over a tray of silver ramekins filled with fun little things like olive oil and harissa, and then mashes them all up with a big blob of hummus and avocado halves.
It seems like a superfluous pairing, but the avocado hummus is actually kinda emblematic of what Charrovida is doing here. The restaurant specializes in Mexican food, but with a Mediterranean aesthetic that values health and clean eating. You might start your meal off with some warmed olives and marcona almonds, share a few tapas-style plates and finish off with a dish of enchiladas the color of the Mexican flag.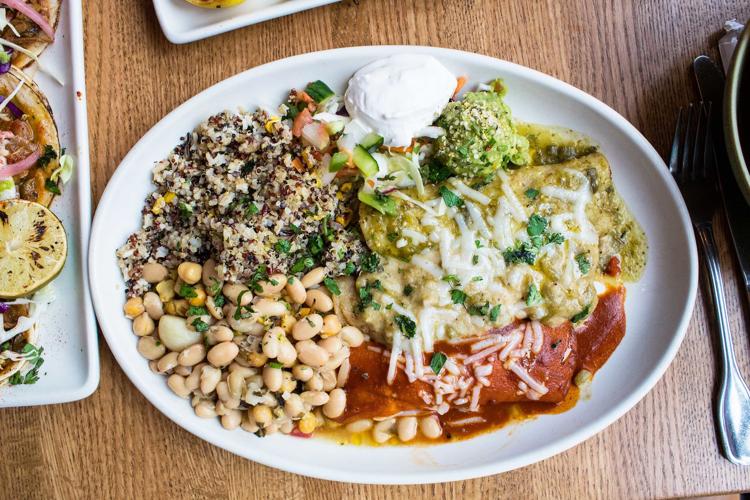 You can't be the oldest continuously operating Mexican restaurant in the United States without being keen about what the people want. Over the past three years, El Charro Café owners the Flores family have diversified their offerings by launching gourmet concepts like the Sonoran steakhouse Charro Steak and the seafood bistro Charro del Rey. This is the third installment in their growing empire, and it's all about health and plant-based foods.
Despite its traditional Mexican restaurant vibe, the original El Charro has long been a haven for vegan eaters. It even has a separate vegan menu that attracts people like my friends from Chicago, who always insist on going when they're in Tucson.
At Charrovida, family matriarch Carlotta Flores enlisted the company's executive chef Gary Hickey to create a Mexican fusion menu that touches all of these bases: vegetarian, 100 percent plant-based and "gluten-friendly." (With every dish on the menu marked accordingly.) They also boast separate grills for meats and plant-based dishes.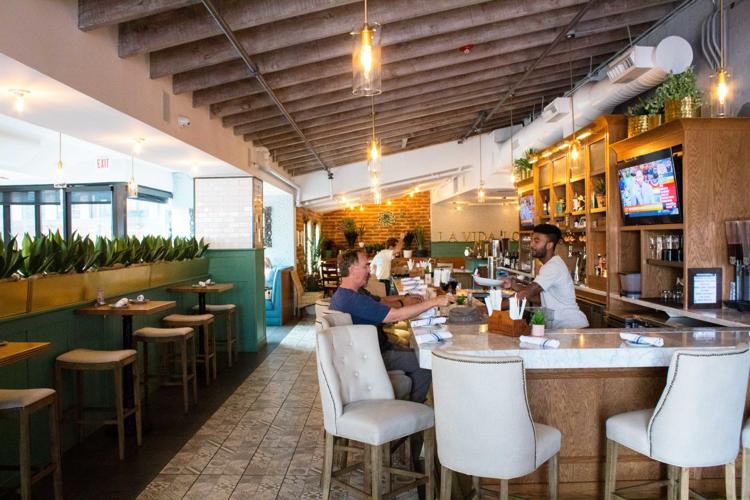 The atmosphere here is cleverly designed to evoke a clean refreshing feeling with high ceilings, lots of natural light and breezy minty tones on the walls and the uniforms. It's a safe bet for Casas Adobes Plaza, anchored by the Whole Foods. Maybe it'll work better than the other several concepts that have gone through that space in the last few years. 
And yes, the place was packed during our recent lunch visit. We let Hickey take the reins and give us a tour of the menu. After eating our way through much of it, I've realized that you're going to approach this differently depending on your dietary decisions.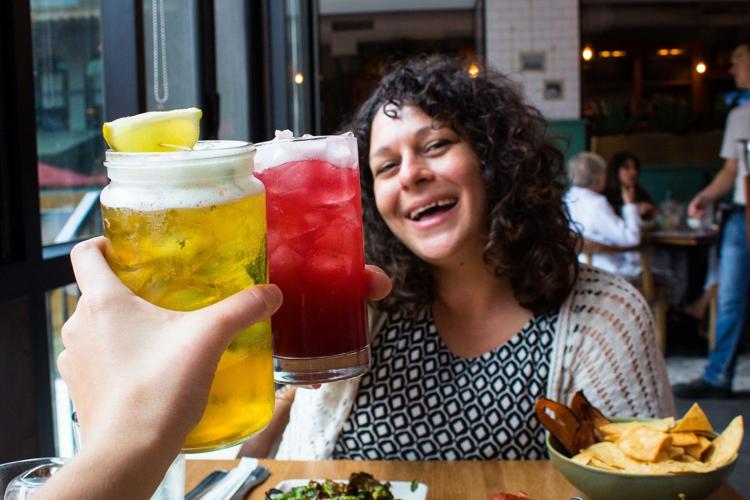 If you're a vegan, you'll probably go for the plant-based entrees like the bandera enchiladas I mentioned before, which are stuffed with calabacitas and vegan chorizo, etc. Because where else are you gonna get stuff like that?! (I hear you Tumerico fans, but you can only go once a day!)  
If you're like me though and eat whatever the heck you want, you'd probably be the more satisfied sticking to the small plates. They're much less expensive for one. And sharing little things is twice as exciting as eating your way through a solitary entree of slightly overcooked sunflower chicken in a pipian rojo sauce.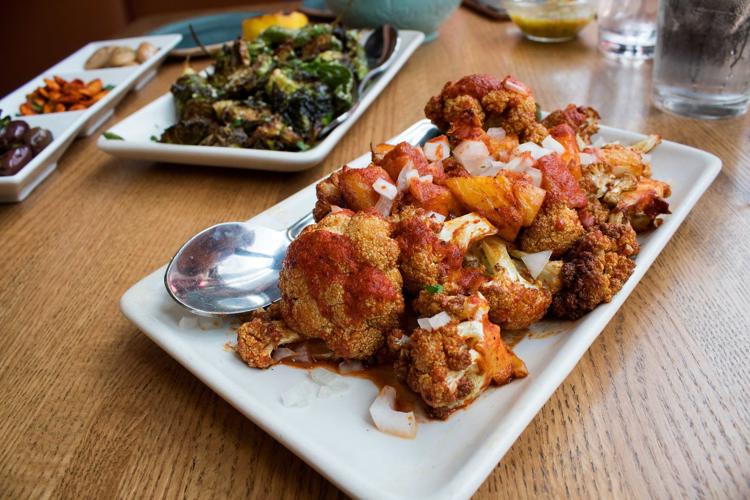 My advice: Get the avocado hummus and then split some of the vegetarian small plates like the cauliflower al pastor, pictured above. Pair it with some wine and call it a day! After the (hopefully temporary) departure of Casa Vicente, Tucson is in serious need of more tapas and wine places.
Even if the tapas is mostly vegetables, and vaguely Spanish ... For example, one of the interesting dishes we tried was called El Padrón. It's basically Brussels sprouts mixed with those delicate padrón peppers, like they belong together. 
Is this necessary, or is it purely for the showmanship, for the idea of the restaurant itself? I don't pretend to know the answer, so I'll seek Shakespearean wisdom from the forgotten master: "This above all, to thine own self be true."