Details are emerging about what the upcoming school year could look like when classes resume in Tucson's largest school district amid a global pandemic.
With school slated to start Aug. 6, a TUSD task force presented recommendations to the governing board on Tuesday, June 16, designed to attempt to limit the spread of the coronavirus.
The considerations focused only on operations and logistics. A separate presentation on teaching, learning and instructional models is planned for June 23.
The recommendations have been formed in alignment with guidance from the Arizona Department of Education, the World Health Organization, the Centers for Disease Control, the Arizona Department of Health Services and the Pima County Health Department.
Input from employee groups, students and families was also taken into consideration as was the need for fiscal responsibility.
Final recommendations are expected to be made to the Governing Board in July. Mandatory training for teachers and staff would follow.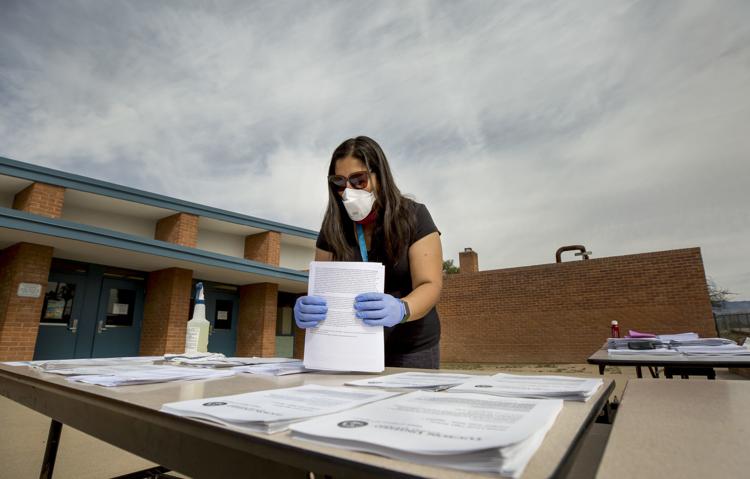 To mask or not to mask
One of the big questions has been whether students will be required to wear masks on campus. 
The Tucson Unified task force has called for that decision to be left up to parents for children in grades kindergarten through fifth.
"They do not wear face coverings because they're children," said Nikki Stefan, director of TUSD's health services. "They have difficulty wearing face coverings. They have them just about anywhere but on their face and the whole idea of a face covering is to cover the face, so if they're touching their face the entire time, we're defeating the purpose."
That's not to say that some young children can't be taught to properly wear a mask, Stefan said.
"We're not discouraging it, but we're not mandating it at this time," she said.
Those in grades six through 12 would be required to wear face coverings — staff would be on hand to monitor usage and verify identities with student ID cards. Those who refuse to wear face coverings would be enrolled in online learning off campus, the task force recommended.
TUSD Superintendent Gabriel Trujillo noted that before any transfer occurs, schools would work to determine if the student is simply testing boundaries — or possibly looking to get out of a test — in which case, the situation could be remedied, or if it's a bona fide belief that would call for a change in the learning environment.
All staff would be mandated to wear face coverings when they aren't able to physically distance. The same would be true for parents and campus visitors.
Schools would have face coverings on hand for those who don't have one, but the expectation is that students and staff have their own reusable masks as district supplies are limited. 
In the case of teachers and specialists needing to enunciate while working on speech, language and literacy, the use of face shields may be more appropriate. 
A parent survey conducted in May that accounted for about 17,000 TUSD students, found that 39% of responding parents would require their children to wear masks to school. Fourteen percent said they would not and 47% said they would only if the county health department required it.
"It's a community standard and I think that we can ... take that responsibility," Stefan said.
Switching up the morning routine
The task force did not recommend daily temperature checks on campus. Instead, families would be expected to conduct daily health screenings at home using a standard set of questions provided by the district before sending a child to school.
"It is not feasible for us to be able to do (temperature checks)," Stefan said. "It is in many places a community standard, however, it's a feel-good standard — the research isn't substantiating that this is an effective practice so we have decided not to do that."
A "yes" response to any of the five screener questions calls for a child to be kept home.
For staffers heading to work, the district is considering an online screener that would provide entrance or denial to a campus based on an employee's daily responses.
Off to school and home again
Bus riders, regardless of age, would be required to wear a mask as they are seated two to a bench with all rows utilized, the task force recommended.
Before boarding and upon disembarking, students would use hand sanitizer. And loading and offloading would be done strategically to reduce passing in close quarters.
For parents who pick up their children at school, rather than waiting on campus, the district would ask that they remain in their vehicles instead.
On campus
Upon arriving, K-5 students would be sent directly to the classroom or a designated area like a courtyard or portion of the playground to allow for physical distancing between classroom populations.
Older students would socially distance until classes begin.
In some form, those same daily health checks being conducted at home would be reiterated at school, though the details haven't been worked out.
Lessons on hygiene and ways to reduce the spread of the coronavirus are also anticipated. Brain breaks are encouraged for young children every two hours, with handwashing happening during that time. Students would also be given individual supply kits, rather than sharing glue sticks and scissors and pencils.
Desks would be separated to create distance, facing forward rather than grouped in a way that fosters collaboration, said TUSD Assistant Superintendent Richard Sanchez.
At the lower levels, cooperative learning centers, reading rugs and bean bags that are a staple of many classrooms will have to go.
"For us to really maintain the health and safety of the students and make sure that each room is disinfected each and every single night, unfortunately, the classroom configuration is going to have to change," Sanchez said. "The fewer excess furniture that we have in a room, the better it's going to be."
In hallways, on the way to lunch and during other transitions at the lower grade levels, staffers will direct traffic and distancing between students. Signage and markers will help in that effort.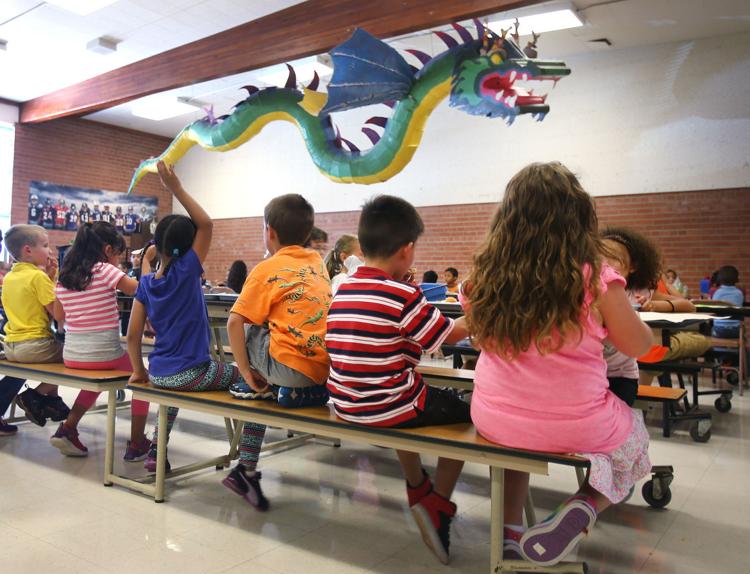 Lunches would be staggered by grade levels even further with some students possibly eating first and playing second or vice versa.
At recess, classes may be assigned specific play areas.
Older students will be expected to follow directional markings and not linger during passing periods. Fewer transitions throughout the day could be accomplished with block scheduling.
There's also a recommendation to limit the number of students in bathrooms at any given time.
A trip to the nurse's office
Students showing signs of the coronavirus will be sent to the health office, as is the case for any other illness. 
They'll be screened and sent home if they exhibit symptoms, unable to return until they are symptom-free for 72 hours — up from the traditional 24-hour period.
Despite not conducting daily temperature checks at school, the district plans to purchase no-contact infrared thermometers for use when needed.
If a situation is severe, the child could be isolated in a designated room stocked with specialized personal protective equipment for both the student and staffer until a parent arrives.
Suspected cases of COVID-19 would be reported to the Pima County Health Department.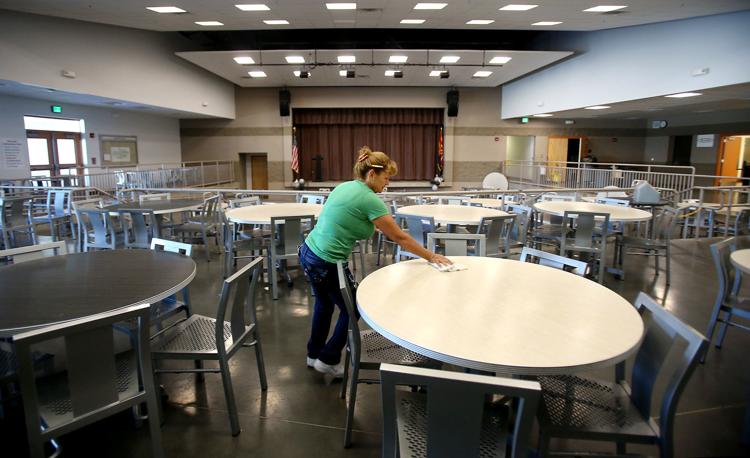 Sanitation
The recommendations call for school bathrooms to be cleaned hourly, buses to be cleaned twice daily, and the creation of disinfecting schedules that would be monitored with school staff trained on proper disinfecting procedures.
Disinfecting mist systems that cover large areas have been purchased for each site with the intent of using them on every school bus and campus common areas.
To improve indoor air quality, air filters are being replaced and outside air dampers and fresh air intake systems are being evaluated.
In discussions with students from TUSD's 10 traditional high schools, Trujillo says the teens voiced concern over the existing state of campuses, questioning the likelihood that bathrooms would be cleaned at that level when they are not clean to begin with. They also shared a desire for visible safety efforts, expressing worry about the possibility of being asymptomatic and taking the virus home to family members. 
Similarly, a survey that garnered responses from more than half of the district's 8,000-person staff found that the majority were not confident at all that social distancing could be enforced or supported on buses, in bathrooms, classrooms, the lunch room, hallways or on the playground. Roughly a third said they were confident it could be done.
To implement the kind of changes recommended on such a large scale, a substantial budget increase will be proposed to the Governing Board on spending in operations on personnel and supplies, Trujillo said.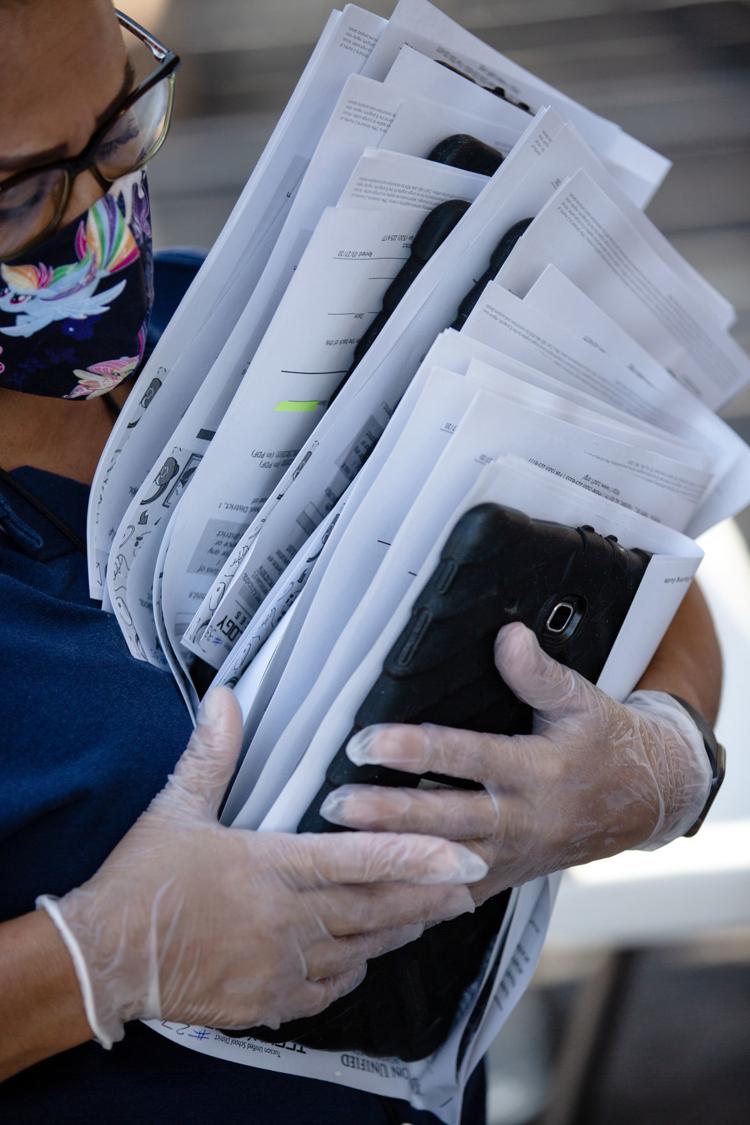 Alternative to on-campus learning
While Tucson-area school districts have been contemplating ways to give families the option of online instruction, Arizona's school funding structure isn't set up for that. Instead it's based on classroom instructional time and daily attendance.
Trujillo says there are rumors that the Arizona Legislature will reconvene for a special session in the coming weeks to consider giving schools the flexibility to widely offer online or hybrid programming.
That flexibility is key not only to accommodate families' needs and wishes, but also to keep class sizes down to allow for physical distancing on campuses.
If schools are unable to offer that flexibility, space will be limited and additional measures, like face coverings for all, including younger children, would need to be considered, Trujillo said.