It's open enrollment time for Tucson area school districts.
So, if you're thinking of enrolling into a district other than the one you're assigned to, check out this list highlighting some of the special programming each district offers. 
Two of Marana's elementary schools — Quail Run and Gladden Farms — are computer science immersion schools, meaning computer science is integrated throughout the whole curriculum. Teaching methods include programming and game design so kids can learn how to create with technology.  
DeGrazia, Estes, Quail Run, Roadrunner, Thornydale Elementary and Marana Middle School are 21st century grant schools meaning they offer a variety of before- and after-school academic, enrichment and tutoring activities including cooking, robotics, gardening, STEM, drama, art, music, crafts, adult classes and more. 
"Engineering is Elementary" program, developed by the Museum of Science in Boston is taught at all elementary schools. Kids learn about the environment, the universe, energy sources and apply math to real world situations. 
STEM education is offered at all levels.
Innovation Academy, a K-5 STEM school (specializing in science, technology, engineering and mathematics) is currently in the works and will be open August 10 for the 2017-18 school year. It will have collaborative project spaces, state of the art media center, music, art and PE facilities as well as performance and presentation spaces. 
Keeling, Nash, Prince and Rio Vista elementary schools are No Excuses University schools which actively promote college readiness to all students. The schools' belief is that all kids deserve to be successful no matter what obstacles they face. 
Art and music are offered at all levels. Classes include band, jazz band, show choir, drama, dance, orchestra, AP music theory, 3D art, graphic design, filmmaking and more. 
Canyon del Oro High School offers the International Baccalaureate Program for students interested in an international curriculum. 
Amphitheater High School offers Cambridge Academy, an advance college prep curriculum. Sophomores who pass necessary board exams can earn the Grand Canyon High School diploma which enables them to enter community college or continue in high school taking AP classes. 
---
Try our new tool to help you find the perfect Tucson school
Click or tap the image below to give it a try. It's still being tested so let us know if you have issues by sending us a note.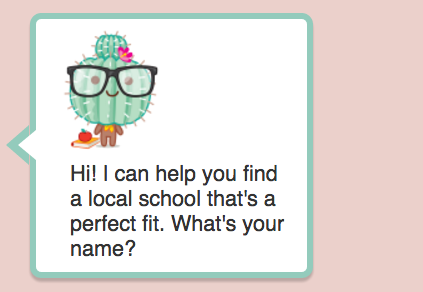 ---
Magnet programs allow students to go to schools that focus on what they're interested in. Holladay Elementary, Carrillo K-5, Utterback Middle, Tucson High and Pueblo High are all Fine, Performing and Communication Arts magnet schools. STEM magnet schools include Booth Fickett, Borton Elementary, Mansfield Middle, Palo Verde High and Tucson High. 
Davis and Roskruge are Bilingual magnet schools. 
Bloom, Elementary, Davis, Grijalva, Mission View, Hollinger, McCorkle Academy of Excellence, Van Buskirk, White, Pistor Middle and Pueblo High School are Dual Language/Spanish Immersion schools, which means students are immersed in Spanish starting in kindergarten. Kids will develop bi-literacy in both English and Spanish by fifth grade.
Safford K-8 and Cholla High are International Baccalaureate magnet schools.
Mesquite Elementary is a Chinese Immersion school. Students will be immersed in Chinese and English and will be biliterate. Instruction will be delivered in half English and half Chinese. 
Vail Academy and High School, Sycamore Elementary and Andrada Polytechnic High Schools all offer STEM programming.
Ocotillo Ridge Elementary offers arts, band, music and strings, gifted education and project-based learning. 
Sycamore Elementary offers band, orchestra and chorus.
Civano offers theater and project based learning. 
Sunrise Drive is a Mandarin Chinese Immersion school. 
Ventana Vista is a Spanish Immersion school.
Robotics programs are taught for all students at grades K-5.
Visual and performing arts are taught at all schools.
Technology courses are taught K-12. 
Project Lead the Way Engineering program with dual enrollment at the University of Arizona at Catalina Foothills High School.
Summer abroad electives are available in high school including Spanish Immersion in Costa Rica and Chinese Immersion in China.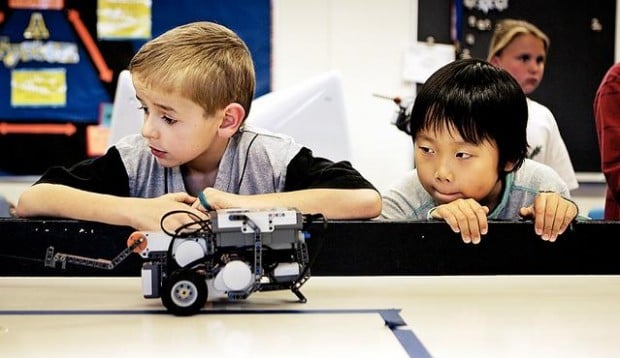 Both of Tanque Verde's elementary schools teach from the Capturing Kids Hearts curriculum which is designed to teach character education. It uses pillars of character like loyalty and honesty to support the schools' teaching. 
The elementary schools also have music, art and motor labs as well as a dedicatated science lab. 
In junior high and high school, kids can take theater, musical theater and theater tech at high school and junior high. 
Sahuarita schools all have a traditional, back-to-basic curriculum with project based learning, as well as music and gifted education. 
STEM programming, arts and music are offered as well. 
Sunnyside has committed to keeping art, music and counselors at all of its schools. Several of its middle schools offer extended fine arts like drama, folklorico and mariachi.
Its academy schools offer specialty courses such as Law and Public Safety that prepare students who wish to go into emergency response careers; Medical and Allied Health which provides dual credit opportunities with Pima College and the UA; and iSTEM Precision Manufacturing where students receive embedded credit for math and science as well as achievement of industry certifications and local industry paid internships as seniors. 
All elementary and middle schools have after-school tutoring and enrichment classes. 
STEM programming is offered at Flowing Wells elementary schools.
In addition, Douglas Elementary offers music and technology.
Hendricks Elementary offers arts, music and gifted education.
Centennial Elementary offers arts, music, gifted education, P.E., after school sports, technology and band/orchestra.
Richardson Elementary offers music, gifted education, project-based learning and 21st Century after-school skills program, which provides enrichment activities to help students meet standards in core academic subjects such as reading and math.