When times are tough, Tucson families can turn to their school district's food and clothing banks for a little help with the necessities.
But, the districts need help filling the need. 
Volunteers for the Amphi Foundation, which runs Amphitheater Public Schools' clothing bank, have distributed more than 10,000 items of clothing since August, said Leah Noreng, executive director of the foundation.
Since July 1, TUSD's five resource centers have already served nearly 2,000 people. 
For the Sunnyside district, the food bank is especially important this time of year, says spokeswoman, Mary Veres. 
Many Sunnyside students' main source of food is free breakfast and lunch at school, so the food bank is working extra hard to build up its supplies in order to give the kids food over the two week winter break where there is no free breakfast or lunch, Veres said.
"Our main goal is to take away any barriers that keep kids from going to school," said Jackie Franco, coordinator of the Flowing Wells Resource Center. That means providing food, clothing and school supplies, if needed.
In order to offer these services, the school districts rely heavily on donations from the community, so if you're looking for places to donate this season, consider one of the following:
Amphitheater Public Schools
Needs: New underwear in all sizes, new socks, especially in small elementary aged sizes, new or gently used pants, especially boys kinder through sixth grade, laundry detergent and hygiene items. Monetary donations are also accepted to purchase new underwear and laundry soap. Click here to donate. 
Where: Donations can be dropped off at the district office, 701 W. Wetmore, or any of the 20 schools in the district. You can also take donations to one of the upcoming Stuff the Amphi Bus events. The first one is from 3-7 p.m. at Amphi High School, 125 W. Yavapai Road. 
More info: Click here for school locations.
Flowing Wells
Needs: The Flowing Wells Resource Center operates a clothing bank and a food pantry for families with kids in the Flowing Wells school district. It is always accepting donations of food, both perishables and non-perishables, as food boxes go out daily.
The clothing bank is currently taking donations of brand new clothing, especially winter items for its angel holiday bag program. Kids in the district, ages 12 and under can apply for the program. Once chosen, the resource center puts their wishes on an angel and a community member shops for them. Each child is given a toy, a book and a new pair of shoes through the Northwest Fire Department's holiday help program.
During the rest of the year, donations of new and gently used clothing, hygiene items, household items, school supplies and backpacks are accepted. 
Monetary donations are also accepted.
Where: Call the resource center at 696-8614 to set up donation drop-off.
Marana Unified School District
Needs: There's a food and clothing bank for families with children in the district. They need new and gently used clothing for kids size 5 and up, toiletries and nonperishable foods. Monetary donations are also accepted. 
Where: Contact Vicki Lantpo, who runs the food and clothing bank at 579-4566, to arrange donation drop-off.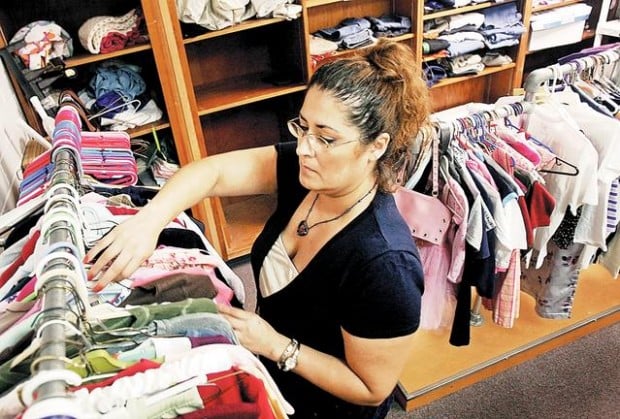 Sunnyside
Needs: Food, especially proteins like tuna, peanut butter and canned chicken, cereals, beans and soups, coats, blankets, hoodies, clothing for kids ages five to 14, especially jeans for boys and men and polo shirts for school uniforms in white, black, grey and navy blue. 
Where: Los Ranchitos Resource Center, 2054 E. Ginter Road from 8 a.m. to 4 p.m. Monday through Friday
More info: Call Mayra Rodriguez at 545-3460
Needs: There's always a need for few underwear, school appropriate shoes and clothing for elementary aged children. You can also donate money, which will be used to buy new socks and underwear for the clothing bank. Or, you can donate your time and volunteer at one of the resource centers. 
Where: There are five different clothing banks. Call 232-8684 to find the resource center nearest you. 
Vail Unified School District
Needs: Clothing for boys and girls K-12
Where: Vail doesn't have specific resource centers, but keeps clothing on hand at each school for kids in need. If you want to donate, you can drop off items at the school of your choice. Click here for schools.