Tucson's largest school district is considering flexible learning options and safety precautions as parents and educators voice concerns about returning to campus while the coronavirus is still active.
TUSD classes are slated to resume Aug. 6, but many parents are telling the district they want choices when it comes to sending their kids back to school, and some educators say they are nervous about returning in the absence of a vaccine, expressing a desire to work from home.
The feedback is from Tucson Unified parent and employee surveys asking about preferences for the 2020-21 school year. The district is also conducting student and parent forums.
"We are headed into an environment this new school year where we would want to be the district that offers choice and options for parents who feel more comfortable remaining with distance learning, as well as parents feeling more comfortable sending their students back for traditional instruction," said Superintendent Gabriel Trujillo. "We want to be able to be a fully comprehensive school district that does offer those options for parents and students and community members, but we're going to need flexibility."
To provide that level of service, the district needs a state funding model that fully finances online instruction, allows schools the flexibility to offer parents and students a choice between online learning and traditional instruction, and flexibility with school calendars and alternative scheduling, Trujillo said.
Arizona's model funds schools and districts based on students being physically in the classroom. A funding system that accounts for students who are learning remotely would take a change by the state legislature.
However, Gov. Doug Ducey announced Thursday that schools would reopen later this summer, despite a recent uptick in the percentage of COVID-19 tests that are coming back positive.
Distance learning will be provided for students and teachers who are "at risk," Dr. Cara Christ, the state health director, said Thursday, adding that smaller class sizes would be key to reopening.
Arizona schools have larger class sizes than most other states, making such a requirement costly and complicated in the face of an ongoing teacher shortage.
Add to that the fact that some TUSD employees say they would only be comfortable returning to brick-and-mortar classrooms if they have plenty of gloves and masks, Trujillo said.
Schools need personal protective equipment as well as a strong testing infrastructure for all employees, Trujillo says. School district superintendents expressed the need for PPE during a roundtable with Ducey, as well as during a recent meeting with Tucson Mayor Regina Romero.
"We need one centralized location facilitated by the county health department that has one process and one procedure to navigate for any employee across the city to get tested if they're showing symptoms in any of our schools," Trujillo said. "It should be a very easy process for our employees to go get testing at no cost."
Covering costs of Coronavirus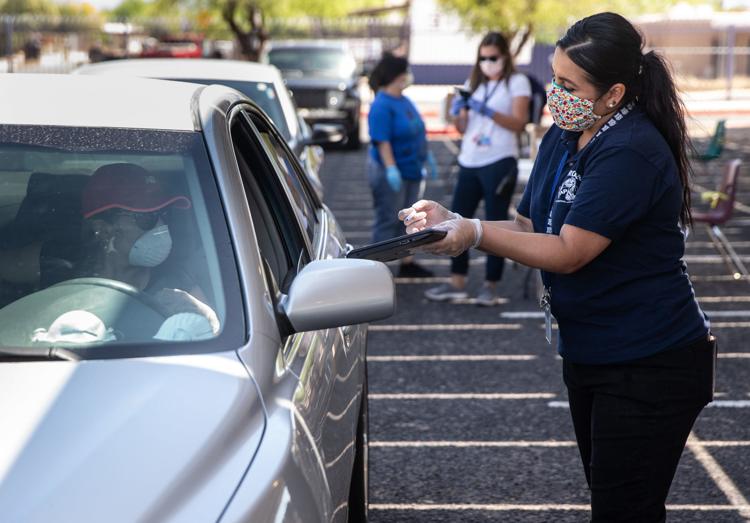 Nearly $250 million in stimulus funds from the Coronavirus Aid, Relief and Economic Security Act are headed to Arizona school districts, with the Department of Education announcing Friday how the federal dollars would be allocated.
The funds are allocated to school districts based on the number of students served from low-income families. TUSD's portion is $18.6 million, 9% of which will go to nonprofit private schools inside the district's boundaries, following guidance from the U.S. Department of Education, Trujillo said.
One concern is that CARES Act funding appropriated for schools throughout the state could become "a potential funding source the legislature might want to consider balancing their budget with," Trujillo said — a sentiment shared by other superintendents and education leaders.
Rather than adding the federal relief funds to what is already budgeted for the upcoming school year, education leaders worry the stimulus money would instead replace dollars the state allocated for schools in next fiscal year's budget.
That scenario is possible, says Morgan Dick, spokeswoman with the Arizona Department of Education. The CARES Act doesn't prohibit supplanting K-12 dollars this way as long as the state funds schools at the same levels as previous recent years. To make that kind of budgetary change, however, the governor would need to call a special session for the legislature to come back and enact a budget revision to what was passed earlier this year.
The governor's spokesman, Patrick Ptak, said they are working closely with Arizona Schools Chief Kathy Hoffman, superintendents and school leaders from around the state to determine the best uses for those dollars and will have more announcements soon.
TUSD alone estimated in April up to $8.5 million in costs and losses associated with food service for students during the closures, remote learning infrastructure and child care for front-line workers.
And going into next school year, TUSD is relying on CARES Act stimulus funds to cover the unexpected costs of making the district compliant with guidelines from the Centers for Disease Control, Trujillo says.
This includes increased spending on sanitation supplies, personal protective equipment and a stronger technology infrastructure for remote learning options.
With the funding decision in the hands of the governor and state lawmakers, Trujillo is hopeful the stimulus money will supplement existing school funding rather than replace it.
"Though the governor wouldn't come out and make any commitments, he seemed very, very supportive of the distribution of CARES Act monies remaining with schools," Trujillo said.
TUSD will discuss its comprehensive plan to open schools during a June 16 governing board meeting. The district is also constructing a webpage that will have the latest information on reopening.