Families and community members are invited to attend public forums this week to learn more about the four finalists for Tucson Unified School District's next leader.  
Each candidate will have the chance to address concerns and answer questions in his or her own two-hour public forum. Community members will also have the opportunity to offer feedback to TUSD.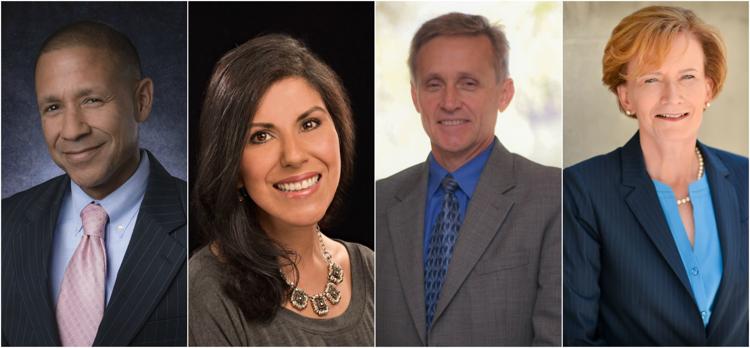 Stephen Trejo
During his 13 years as principal of TUSD's C.E. Rose K-8 School, he turned the formerly failing campus into a nationally recognized school. 
Trejo says, if chosen, he plans to take the same approach that helped him succeed as C.E. Rose's principal and apply it to all TUSD schools.
That means offering principals the same kind of support that past superintendents offered him – from setting up mentoring opportunities for struggling principals, to providing the technological tools teachers and students need to stay ahead of the curve, to simply listening to principals' and teachers' concerns.
Maria Marin
The native Tucsonan has a long history at TUSD, most recently as director of elementary and preK-8 schools, but previously as principal of John B. Wright Elementary, Roskruge Bilingual K-8 Magnet School and Carrillo Magnet School. Before that, she was a teacher at several TUSD schools.
Marin says one of the first things she wants to focus on, if chosen, is the district's discipline policy, which she describes as "neither too strict, not too lax, but needs to be utilized properly."
She also says TUSD needs to tackle Arizona's teacher shortage and one way to do that is to explore utilizing the new law that allows principals to hire uncertified teachers who have relevant work experience in the subject they wish to teach.
When: 7-9 p.m. Tuesday, Aug. 15
Gabriel Trujillo
Trujillo has been the interim superintendent since March and has since conducted listening tours and visited all of TUSD's 89 schools and has set a series of goals for the district. 
If chosen, Trujillo's immediate goal will be to focus on recruitment and retention of kids. He also sees a need to tighten the district's curricular focus and ensure standards being taught align with the state's standards and standardized testing.
In order to improve the district's scores on standardized tests, Trujillo wants to focus on middle and high school students, who are not performing as well as elementary students, and implement academic interventions to help students who are falling behind.
When: 7-9 p.m. Wednesday, Aug. 16
Donna Hargens
Hargens has never worked in TUSD. However, she served as a permanent superintendent of Jefferson County Public Schools in Louisville Kentucky, for the last six years.
Under her leadership, schools saw improved graduation rates and increased student performance on standardized tests. Prior to that, she was an administrator, principal and teacher in North Carolina. 
The key to improving test scores is to create high expectations and to provide the support to meet or beat those expectations, Hargens said.
To ensure students get a good education, schools need to recruit and retain high quality teachers, Hargens said. In lieu of having the ability to offer nationally competitive wages, the school district needs to focus on empowering teachers to make a difference in students' lives.
When: 7-9 p.m. Thursday, Aug. 17
---
Candidate info was taken from this story by Hank Stephenson that originally ran on Tucson.com Aug. 12.