Tucson's public schools have been forced to make a huge effort to narrow the digital divide among students since campuses across Arizona were ordered shut during the pandemic — and are doing so with nearly no help from the state.
The Tucson Unified School District, the largest in the city, began the closures with 10% to 15% of its families lacking home internet service and far more lacking online devices like desktop computers and laptops. By next week, TUSD will have distributed over 19,000 devices, which includes laptops, Chromebooks and tablets, to students who lacked access to online learning.
The digital divide in TUSD was pronounced, said Blaine Young, the district's chief technology officer. The district had been working on addressing that disparity in the classroom, earning grants that provided Chromebooks with mobile hot spots to some grades at a few underprivileged schools. But the pandemic forced a quick response from TUSD to address digital inequity in the home.
"We're built to serve brick-and-mortar schools," Young said. "We've had to adjust to serve, instead of 86 schools, 27,000 households."
The district invested $3.5 million in Chromebooks, emptied schools of laptops and tablets collecting dust in vacant classrooms, and walked many families through accessing free and affordable internet, which companies like Cox and Comcast are offering during school closures.
TUSD bought 12,000 Chromebooks, of which it anticipates distributing half.
It is also distributing about 10,200 laptops from its existing inventory for older students and 3,000 tablets for kindergartners and first-graders.
To afford the Chromebooks, TUSD put some plans it had for next year on hold, said Superintendent Gabriel Trujillo.
Those plans included school parking lot improvements; adding more librarians in middle schools and music teachers in elementary schools; refurbishing music, band and sports equipment; and more.
The district also added five employees to its information technology service team. Still, the bigger 15-member team is not enough to serve 27,000 households in TUSD, which has required teachers and principals to help get families online.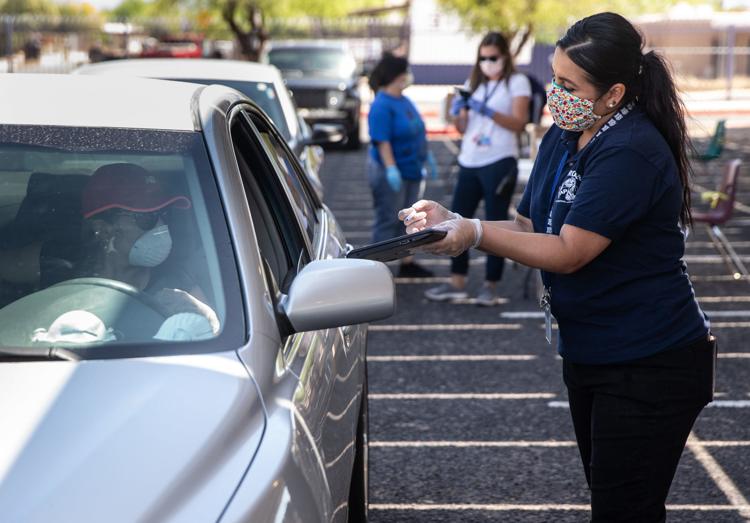 Only a couple of Amy Singletary's 26 kindergartners had both internet service and devices. The Wright Elementary kindergarten teacher, who doubles as the school's IT czar, worked 14-hour days for two weeks laying the groundwork for staff and families to make the transition to online learning.
Wright is a Title I school, meaning the majority of students are low-income. Principal Deanna Campos estimates about 20% of students had access to online learning at home.
And it wasn't just access the families lacked, but basic knowledge on how to navigate the platforms that had suddenly become a critical part of their children's daily lives.
Getting online isn't just important for academics but to keep kids connected with their school community and daily routines, Singletary said.
"So they don't feel so isolated. They feel like they're still having that connection, not only with their teacher but with their friends. We still have a lot of the same familiar expectations that we would have in the classroom, but we're doing them online," she said.
After distributing devices and information about low-cost internet, nearly her entire class has been able to get online, Singletary said. Between posting YouTube videos for her class and being introduced, virtually, to her young students' pets, she fields calls with families who need help figuring out the online learning platforms.
A handful of Wright staff members spent Wednesday at the school, wearing protective masks and handing out devices to excited families. Teachers called the parents, reminding them to come pick up a computer.
And for the families who lack transportation, the district's Dropout Prevention Team plans to deliver devices to possibly hundreds of homes across TUSD.
"If you want access, you can get it," Campos, Wright's principal, said. "I'm actually really proud of what TUSD has done. They've gone beyond what is expected, considering the circumstances."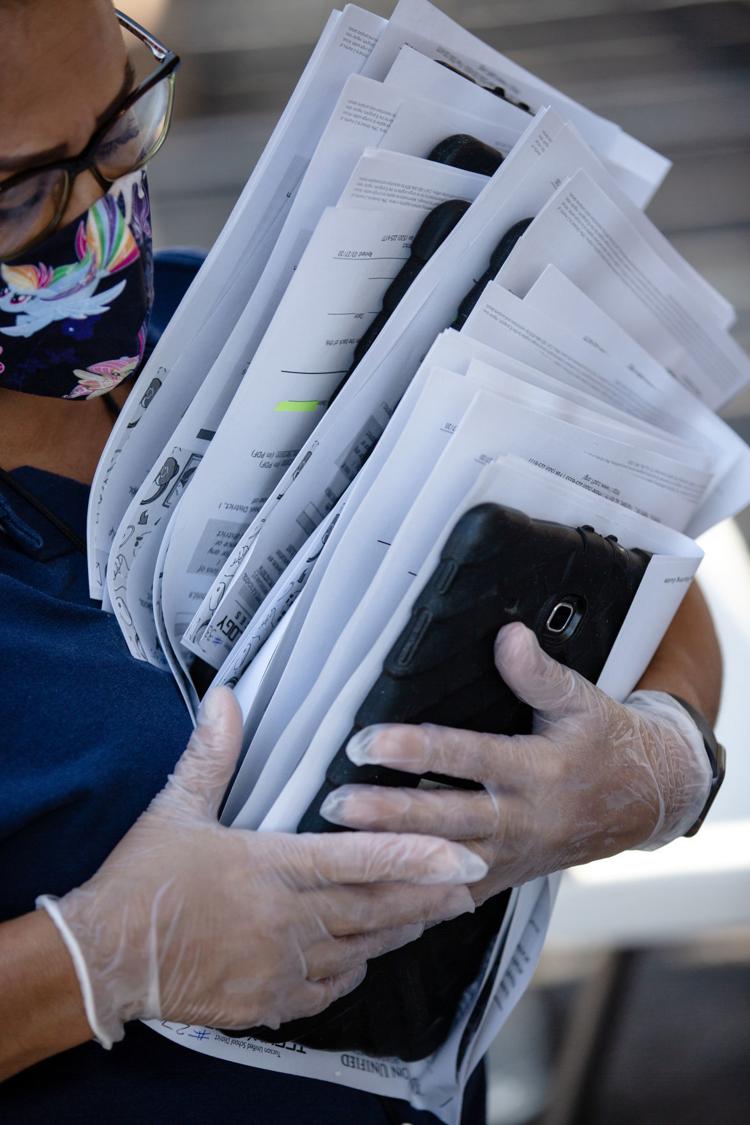 Sunnyside deploys mobile hot spots
The Sunnyside Unified School District, Tucson's second-largest and one of the poorest in the area, was better prepared for online learning than some other districts here. That's because Sunnyside began investing in laptops in 2011, when district voters approved a bond that provided $27 million for every fourth- through 12th-grade student to get a personal laptop.
Since the closure of schools, the district began using school buses as hot spots, parking at various schools so students could get online from outside the school and download assignments.
For its lower grades, Sunnyside is distributing about 1,100 laptops that were coming to the end of their service life but are still in working order, said Chief Information Officer Javier Baca.
Irene Gastelum said her first-grader, Jace, was very excited to get a laptop just for himself. Gastelum was also excited. The social worker, working at home, was juggling two laptops between herself and her three children.
With his own computer, Jace has been able to settle into a stable routine, Gastelum said. He is able to check his own assignments, watch YouTube videos his teacher posts and regularly interacts with his teacher and classmates.
"With this remote learning, I think he really misses that engagement," she said. "The laptop has provided that opportunity to still communicate with teachers and classmates, which he really enjoys."
Digital gap still remains
Like Sunnyside, the Marana Unified School District was able to get mobile devices for students through a voter-approved bond several years ago.
The Vail School District already had a one-to-one program for its older students. And many other districts, including Sahuarita, Tanque Verde and Flowing Wells, have lent Chromebooks to families who indicated they needed one, although some districts had to prioritize them for higher grades due to the demand.
Despite all these efforts, a digital gap remains, which most districts have yet to quantify.
The state began a mobile hot spot donation drive, delivering 200 hot spots to students in rural and remote areas and asking partners in the nonprofit and private sectors to step up as well. Arizona schools chief Kathy Hoffman said the first round was just a drop in the bucket in terms of need.
"The need for hot spots across the state is incredibly immense, and we have a long way to go in terms of ensuring that kids have access to the internet and to devices," she said.