Colorful post-it notes are handed out to the nine Changemaker High School students gathered in the conference room of their school for a weekly "Be Kind Online" meeting.
They're writing kind notes to leave around campus to brighten someone's day.
Messages like "True beauty is on the inside," "You are brilliant" and "You are amazing" are carefully scrawled on the pink and purple squares. 
This is just one way the students are promoting kindness. They're also posting stories of kindness on Facebook, Twitter and Instagram, collaborating with peers in Japan, creating an app, a website and promotional brochures with advice, affirmations and information on how to prevent bullying and what to do if you see it happening in real life and online.
The idea is that if they spread kindness in real life it will translate to online and end cyber bullying. 
"We're focusing on online, but to get it started we have to focus on being kind in real life," said Jasmine Angulo a 15-year-old sophomore. "So my goal is to have a kinder campus, which will lead to kindness online."
Everybody knows cyberbullying happens, said Sabrina Rojas, a 17-year-old senior, but people don't give it enough attention, she says. 
Jared Russo, a 17-year-old senior thinks part of the problem is the fact that people are not spending time outdoors.
"The gap between the physical and virtual world is getting close," Jared said. "Because of that cyberbullying is happening more. So I want to get people outdoors."
Ultimately, students want the internet to be a kind place.
"Some teens feel the real world is not safe so they go online and play games and then they have people abusing them there like in real life," said Mohamud Muhina, an 18-year-old senior. "So I hope people can be safe online and in the real world."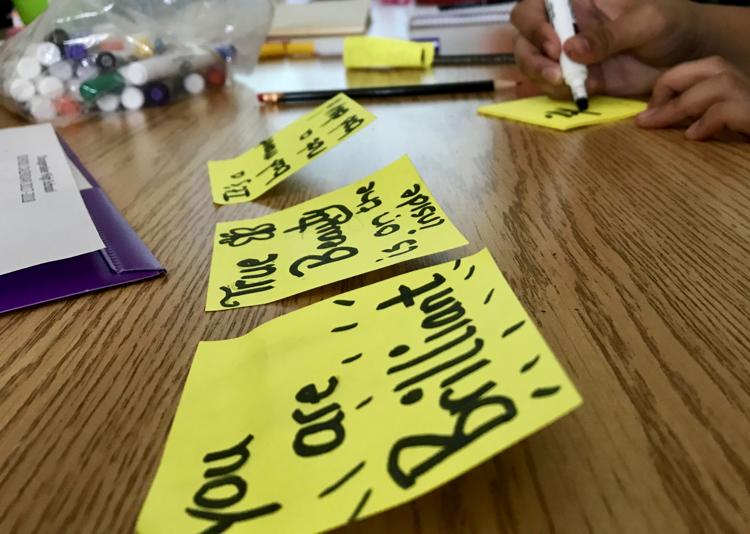 As part of a collaboration with the University of Arizona and Ben's Bells, the Changemaker students are working with UA grad students and other teens in Japan to tackle these issues. They meet monthly via video conference to talk about online behaviors.
"Through collaborating with Changemaker High School's Be Kind Online initiative, Japan's high school student teams will identify some of the common issues underlying schools across cultures. Cyberbullying is one," said Kaito Abe, master's candidate in education at Osaka University of Education and coordinator of the project. "I am hoping that by recognizing the presence of urgent issues in common, youth from two countries will devise educational products to reduce cyberbullying, such as videos, brochures, guidelines and kick off a movement of young people's international collaboration."
Working with kids from another culture to solve a problem will help them become more culturally aware and sensitive to the fact that everything isn't how we do it here, said Sheri Bauman, professor of counseling at the UA and one of the project's coordinators. 
"We bully kids who are different in some way or bully kids based on race and size and nationality and gender expression and sexual orientation," Bauman said. "And certainly Japan and us are different in so many ways that being able to form relationships and collaborate with a different culture will provide skills and examples on how to solve problems together despite differences, so I'm hopeful, but this is initial stage."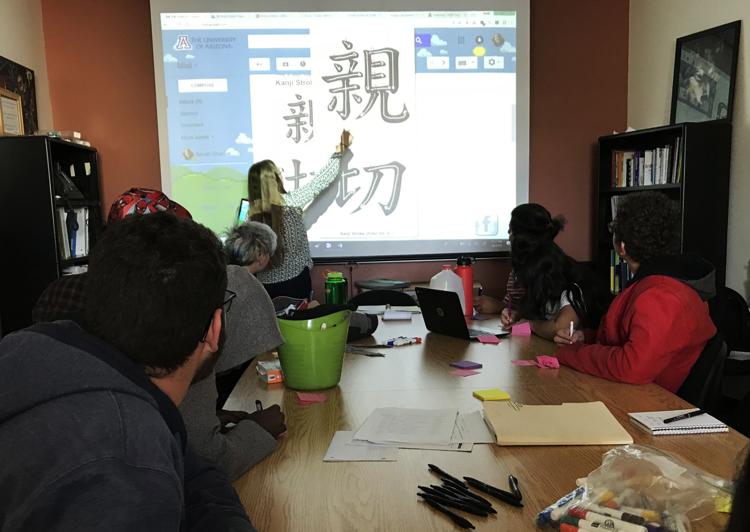 The perspectives of the Japanese students is a valuable aspect to the project, said Jared Russo.
"Americans and Japanese are different, so if we combine both perspectives, we can have a more complete outcome," Jared said. 
Bauman, who co-edited the book "Reducing Cyberbullying in Schools: International Evidence-Based Practices", says the problem of cyberbullying is huge. And not just for youth.
"We see very nasty and cruel posts and comments on news stories as adults," Bauman said. "So the behavior isn't confined to youth and adolescence. But, I think it's a major problem and it's diminishing the amount of civility and kindness in us."
Oscar Medina, an instructor at Changemaker High School, said he hopes the project will bring transformation in the students and the way they conduct themselves on social media.
"I believe this project will have a domino effect as students will influence their peers in practicing kindness on social media platforms," Medina said. "Students have taken their ideas and turned them into action. They came into this project with so many ideas and are creatively problem solving the issue of cyberbullying."
The students will meet in person when they travel to Japan this summer. 
While in Japan, the Tucson students will attend the Smartphone Summit, an annual program that brings young people together to discuss risky online behaviors and possible solutions. 
The project is supported in part by a grant from the U.S. Department of State to Osaka Kyoiku University in Japan, which is working with the Japanese students.
The Tucson students are raising donations to cover the cost of travel through a GoFundMe page, as well as doing car washes and events in the community. 
The Japanese students will visit Tucson in August where they will attend a kindness-centered event organized by Ben's Bells and will be part of an event for the community to describe their project and what they're attempting to do.
The hope is that the visits will inspire empathy and community building across cultures.
"Students at Changemaker's community-based practical idealism and entrepreneurial spirit will inspire Japanese students to innovate in community building that will tackle a wide range of issues, including, but not limited to, cyberbullying," Abe said. "In addition, students will be much more aware of their stance in the global community and will be a active agents of change when it comes to international problems as they grow into adults. Japanese students will also become more aware of their own cultural heritage through trying to share their cultures to Changemaker students, who have a lot of good questions. This last change has already been seen through teleconferences."