As summer break keeps ticking away, one of the biggest questions weighing on parents is what the school year will look like for their children. 
Districts and schools are still working to finalize their plans for remote learning and make preparations for the eventual reopening of in-person classrooms or some combination of both formats. Last week, Arizona Gov. Doug Ducey delayed the start of in-person classes until Aug. 17. 
And parents, who are weighing concerns about safety and quality of education and managing both their work and their child's school schedules, are exploring their options by turning to different groups to get more information about homeschooling. 
"The most common thing that we're seeing in the requests in our Facebook groups or emails or phone messages that are being left for our group is really just (parents) expressing that they are looking at the option of homeschooling because the other option they were using or anticipating either is not going to work, or they have a medically compromised child, or they are looking at what the situation is going to be in schools this year and just feel like 'I think we'll sit this one out and see how things shake out,' says Cindy Duell, a long-time home educator, who is on the board for Arizona Familes for Home Education, a faith-based statewide homeschool advocacy organization.
Pima County School Superintendent Dustin Williams also says "the phone calls for homeschool information have been noticeably increased." He estimates that his office is receiving around 15 calls per week from parents who want to know more about how to homeschool their children.
The number of homeschool families in Pima County usually falls between 3,500 to 4,000 per year. At the start of July the number was around 3,600, so still within the usual range, Williams says.
While the office offers resources and information to parents about homeschooling, Williams suggests that parents who already have a child enrolled in a district, charter or private school wait to see exactly what type of instruction their school will be offering and do their research before making the decision to try something else. 
"What we're saying is, with the remote learning option, your son and daughter...may already have an opportunity that you might want to take advantage of first if that school is going to give that 100 percent online learning option...," he says. "That's the first option we think parents should explore before just jumping right into homeschool." 
We spoke with three parents about their homeschool experiences and asked for some insight on how to get started. None of these parents ever anticipated educating their children from home (sound familiar?) and all made the decision to homeschool for different reasons. There is no right way or one way to homeschool. Each parent expressed that every family's homeschooling methods are unique and tailored to what works best for their children and family life. But here are a few basics for the homeschool curious.
What you need to do
In Arizona, all children ages 6-16 must attend either a public, private, charter or homeschool. The documentation and requirements for homeschooling differ in each state, but in Arizona, things are pretty simple.
If you decide to homeschool, you have to fill out an affidavit of intent (a really short form) with some basic information about your child, have that notarized, include a copy of your child's birth certificate and submit that to the Pima County School Superintendent's Office. Because of the pandemic, the superintendent's office is accepting these materials by mail. 
As part of the affidavit and homeschool requirements, you must agree to teach your child five core subjects: Reading, grammar, math, science and social studies. The methods and curriculum you use to teach those are entirely up to you. In Arizona, homeschool students do not need to participate in standardized testing.
Some things you should consider doing
Pima County Schoool Superintendent Dustin Williams says that given the circumstances and the amount of planning and budgeting schools are doing to prepare for reopening, it's a good practice to notify your child's current school to let them know you will be homeschooling your child and whether you anticipate re-enrolling them in school later in the school year. Although that's not required. 
"The more you can communicate, the better," he says. 
Homeschool students are still able to participate in some activities and services offered by public or charter schools like sports and special education services, and Williams advises checking with your district to see what they offer. 
Finding a support person or community
Whether you've fully committed to homeschooling or just want to get the inside scoop from experienced homeschool parents, connecting with a community or at least one other support person is key to homeschool success. 
"Really connecting with a local network or support group... I feel like it's vitally important. You can get a lot of information (on the internet) and our website is loaded with resources on how to get started, how to find a curriculum...," says Cindy Duell, board member with the American Families for Home Education advocacy organization.  "Beyond information, you need support and you need connection, and so we always recommend that you link arms with other people who are already living in that space and who can empathize with the experience of getting started."
Duell, who has 20 years experience homeschooling her six children, says AFHE has been fielding lots of inquiries from parents considering homeschooling. In response, the organization is connecting curious parents with veteran homeschooling parents so they can ask questions and hear their personal experiences. 
When Tucson parent Amber Martin was thinking of homeschooling her three children last May, the first place she turned was a friend who was already homeschooling. She also used Facebook to connect with homeschool families and build her own support network and a social network for her children. She joined the T.E.A.C.H Homeschool Co-Op, a weekly meet-up of homeschool families who lead classes on different subjects for different age groups, and Sonoran Desert Homeschoolers which meets up for park days. 
"They host events that you miss out on when you do homeschool, like Valentine's Day card exchanges, summer events, fall festivals, sharing tables where you can bring your old curriculum or whatever you have to swap, so it's its really nice to have those," Martin says.
If there isn't someone you know personally you can ask about homeschooling, you can try reaching out to a homeschooling support group in your area or joining its Facebook group, where you'll find many posts about different types of curriculum, schedules, how-tos and activity ideas.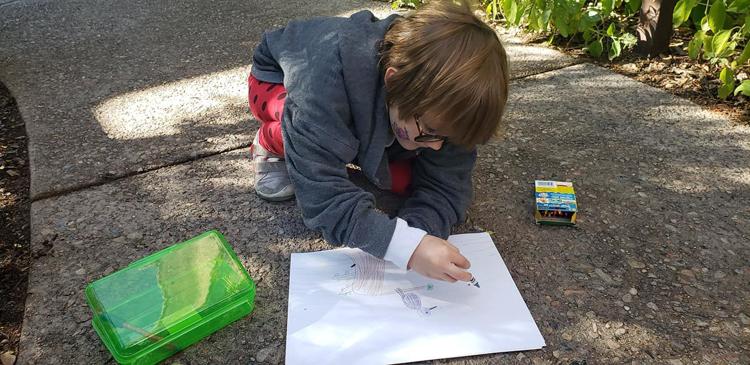 Choosing a curriculum
A Google search will yield tons of faith-based and secular curricula covering all subjects and grade levels, and it's not one size fits all. 
"It's 100 percent trial and error," says Nichole Burke, who homeschools her three children. "Unfortunately there's not one thing that will work for every kid and family." 
Burke's children, who are entering second and fifth grade, work at different grade levels in different subjects so their curriculum is a combination of different workbooks and online programs from different publishers with each child working on subjects at their own pace.
"You never really know until you try it, and it either really works or it really doesn't and I think you learn relatively quickly, because if you're finishing math and someone's in tears, then that is not the program for you," she says. 
Finding the right curriculum for her children is something that has taken time and experimentation, but there are some things she suggests to help make the process smoother. 
The first is identifying what type of learning style suits your child best: Auditory, visual or kinesthetic. If your child is a visual learner, for example, that means you'll want to look for curriculum that has colorful images and graphics instead of text-heavy black and white materials, she says.
Burke also suggests learning about love languages and to which one your child responds best. Knowing this will help you know how best to motivate and praise your child when learning is challenging, she says. 
There are also a variety of homeschooling methods and philosophies to consider which will inform the way you teach your children and what curriculum to look for. Burke describes her family's method as relaxed and eclectic, or a mix of different styles. 
AFHE typically hosts an annual homeschool convention in Phoenix, bringing together tons of homeschool curriculum publishers and educators for workshops and vendor fairs where parents can speak directly to publishers about their offerings, but the organization had to cancel this year's event due to the pandemic.
In lieu of that in-person experience, Duell says you can still get an idea of different curriculum options by visiting publisher's websites which have sample pages for workbooks and teacher's manuals available. You'll likely be able to see the table of contents, and find assessment tests to help gauge which level your child should be using in a particular curriculum. She says that publishers tend to be pretty responsive and will offer guidance about choosing a curriculum or answer questions via live chat or email. 
For parents who are only considering homeschooling short-term, Duell says finding an all-in-one curriculum, or a kit with all subjects geared toward your child's grade level, might be the best and easiest route if you want to try to keep their learning similar to what their peers are doing in school. She also suggests starting off with one or two core subjects and then adding in others as you become more comfortable homeschooling.
You can also reference the Arizona K-12 academic standards to identify the concepts and skills your child should be learning at each grade level, if staying "on track" and being prepared to transition back to a public, private, or charter school is a consideration. 
Scheduling
One of the characteristics parents we spoke with valued most about homeschooling is the flexibility it gives their families and children in how they spend their day.
Homeschool families decide how many hours to spend on school, which days of the week they work on lessons and when the school year starts and ends. 
"I think a lot of people still think that it takes a whole day, like you need to wake up and started at eight o'clock and finish at four o'clock and that is so beyond not even close," Burke says.
She estimates that she spends no more than two hours a day in direct instruction with her three children which includes group activities and one-on-one instruction. They usually work five days a week, but the days vary based on her husband's work schedule which changes frequently. If his days off are Monday and Tuesday, then her kids have those days off and do schoolwork Wednesday through Sunday, for example. When one of her daughters had major surgery this year, everyone took a month-long break from schoolwork and just continued their learning into the summer.
When they're not doing schoolwork, Burke's kids are playing. Sometimes they play learning games together, but most often they're playing outside or on their tablets. While the kids are playing, Burke is working either on her own business designing websites, or for the online retail company she puts in between 25 to 40 hours per week, or trying to keep her blog, Homeschool Family Stuff updated. Lots of work also happens after the kids are in bed, she says.
Martin says her kids' day starts around 10 a.m. with breakfast and chores, then they play for a bit, have lunch and then start schoolwork. All of the kids read independently and she pulls each one aside to work one-on-one with them on whatever subject they're learning that day. In the evening, when her husband finishes work he helps with math and they all work together on science a couple times a week.
Pre-pandemic her family spent lots of time outside the house on different field trips multiple times a week, taking lessons, meeting with their co-op and park days. While those trips are on hold, Martin says that she and other homeschooling families have benefited from the abundance of new virtual tours and resources that organizations have made available in recent months. 
Duell, who has 20 years experience homeschooling her children, says there is much less time devoted to direct instruction than most parents expect and the time depends on a child's age and grade level.
"For a first grader, an hour and a half of direct instruction is probably plenty and then the other time that the child is at home they're learning things while they are playing, while they they are interacting with mom making lunch, while they're doing chores," she says. 
She also says that she knows many families who work outside the home and teach their children in the evening after work. Of course, in those situations they do have to make arrangements for childcare during working hours. 
Helpful resources
Homeschooling is not without its challenges. There are costs to purchase curriculum. Patience is required to be both parent and educator. And it can take time to find the right resources to meet your child's needs, among other considerations. But there are so many resources to learn more and help inform your decision. Here are a few with local connections: 
• Homeschool Family Stuff - This is homeschool parent Nichole Burke's blog where she shares activities she's done with her children and her personal homeschool tips. 
• Tips for first-time homeschool teachers - Rebecca Friesen, a doctoral student in the University of Arizona's educational psychology program, and a homeschool parent shared some of her best tips with UA News earlier in the spring.