---
'Tis the season for holiday markets and handmade gifts. 
Lucky for us, Tucson has no shortage of amazing people making amazing things. 
But the road from studio to sale — what we see online or at pop-up markets — is a long one. 
We asked three women making and selling beautiful art in Tucson how they do it and what inspires them. 
Mayra Duron is a 32-year-old Tucson native who launched Solace Macrame one year ago. 
Lori Kindler, 45, has been in Tucson for four years. Kindler has been making pottery for 11 years.
And Lauren Valenzuela, the 35-year-old owner of Sigfús and lifelong Tucsonan, makes polymer clay jewelry. 
You'll want to check out all of their shops after this. 
Meet these three women who have turned their art into a business. 
Meet Mayra Duron. 
Tell us about your art. I make macrame for weddings and home decor. 
How did you get started? My daughter loves to crochet and she wanted to learn macrame so we went to Hobby Lobby. After we posted our first project, we got six orders. And the orders haven't stopped since! This journey has been so amazing!!!
What inspires you? My children inspire me to be creative, and I've been entrusted to guide them in life. I dare them often to do something beautiful. If someone hurts them, I dare them to retaliate but not by hurting them back. That's too predictable. Instead take all your anger and frustration out and create something beautiful! This is how we change the world.
What advice do you have for girls interested in doing art and selling it? I remember in college, I took a creative writing class and the teacher asked us, "What does a writer or painter or singer need to be successful?" Everyone guessed creativity or something along those lines but her answer was "A deadline." Her answer never left my mind. So I pass this lesson on to you. If you're doing something you love and are passionate about, then it's time to set your deadlines and put your dreams into action. Just do it darling!!!
Meet Lori Kindler.
Tell us about your art. I am a potter and create most of my forms on the wheel, but I also hand-build using slabs of clay. Most of what I sell is functional kitchenware, but I also enjoy creating installations, wall-hangings, and masks.
How did you get started? My college roommate was a potter, and I would sit and watch her for hours at a time. There was a time when we had a wheel sitting in our dining room. I didn't give it a try until years later when I needed a personal creative outlet outside of my home that was full of the activity of having three very small children. I sat down with the clay and all of those years of watching my roommate came to me. I took lessons at a small art house for a couple of years, then set up my own studio.
What inspires you? For inspiration on form and color, I look at the work of other artists. I make a point of going to markets and shows for this purpose where you can really see the texture and variation. I also learn new techniques by taking workshops or just talking to other ceramic artists. I keep a small sketchbook of the ideas that I gather, so that I can take these bits and pieces and make them mine. I take these ideas into the solitude of my own studio and start the real work for a new design or a new form. More often than not, my favorite pieces have come from just doing and experimenting. Taking risks is a part of that. When I throw a piece that isn't quite symmetrical, I think about how I can alter it to make it into something completely different.
What advice do you have for girls interested in doing art and selling it? Making and selling are two very different skills. We all do it a little differently, playing upon our own strengths and situations. Once your craft is solid, talk to other makers in your own market and see how they are making things work. Collaborations are key and you have to be willing to do the outreach to make that happen.
Meet Lauren Valenzuela.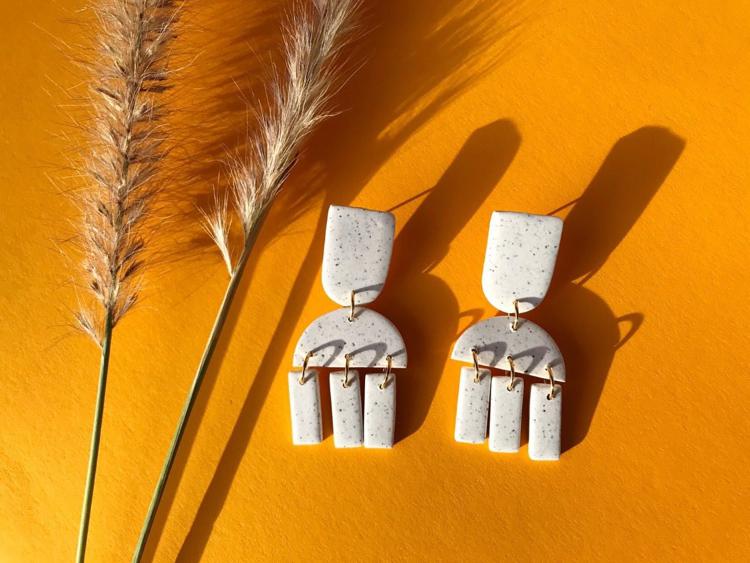 Tell me about your art. I make handmade clay statement jewelry. I currently sell in about 10 stores and online.
How did you get started? I was bored one day after one of the restaurants I worked for closed. I started playing around with watercolor and drawing a bit and was looking for a creative outlet. After researching about how to watercolor paint on YouTube, a video about polymer clay popped up, and I was fascinated. The rest is history!
What inspires you? I am inspired by everything! My style is a little bit eclectic so I feel like I'm all over the place. I love bold bright color, but also love soft desert neutrals! I'm very driven by my mood as well as the music I'm listening to.
What advice do you have for girls interested in doing art and selling it? Just start! People often want to wait until they feel they're "good enough" to list things for the public. We all start somewhere and people want to be a part of that journey with you. It's OK to not be the best at something right away, but work hard to get better! Also, from the very beginning, price your items with the market value. Many people I know price their work way too low and then have to raise the cost, and they have a hard time transitioning their market. I say start at a higher rate and the sales may be slower in the beginning, but you will attract the right demographic. If you price your work really cheaply, people don't necessarily take you serious. Take pride in your work! Not everyone will get it, but when they do, it's the best feeling ever!
Got a future, professional artist? Here's how your girl can get started. 
Tucson Parks and Recreation has several upcoming art classes for kids. There's "Drawing and Cartooning" for kids 8-14, "Music and Art" for 2-to-5-year-olds and even jewelry making. Classes vary in price, ranging from around $80 to $200. Tucson residents get a discount. Go here for more information. 
The Drawing Studio, offers several classes for kids and teens. From experimenting with watercolors, exploring mixed media and drawing live figures, there are lots of options for kids as young as 9. Classes start around $40 and rise to around $110. Visit thedrawingstudiotds.org for more information. 
---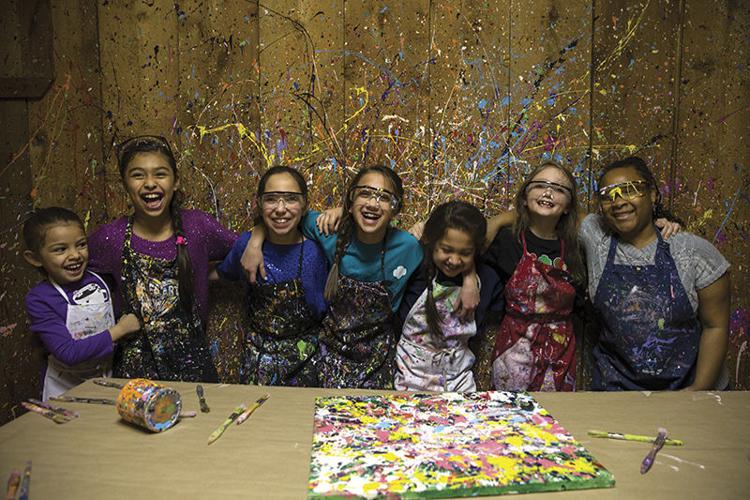 With a little exploration and encouragement, every girl can discover her inner artist. From murals to watercolors, photography to jewelry making, these activities for all ages will take your girls on a colorful adventure through the Girl Scouts. Not only will these artistic endeavors cover her uniform in well-earned badges, but they encourage every girl to stop and appreciate the beauty of the world around them.