Museums are closed, live performances are canceled and community needs are rising.
Times are tough for many Tucson nonprofits. 
The Arizona Daily Star reported in July that nonprofits in Pima County had lost $25.3 million in revenue due to COVID-19, according to a June survey from the Alliance of Arizona Nonprofits. 
These are the organizations that continue to serve our community through education, artistry and generosity.
Many of them are participating in the Jim Click Millions for Tucson Raffle — basically, you purchase raffle tickets from participating nonprofits, they keep the proceeds, and you get a chance to win a 2020 Ford F-150 Platinum and other prizes.
Besides buying a raffle ticket, here are a few ways to give back. 
Donate in-kind
The loss of fundraisers and programs means that many Tucson nonprofits that serve the city have seen both rising needs and sinking incomes. (Many also need volunteers to help virtually and in-person — just make sure to ask about in-person safety precautions).
Just about every nonprofit will gladly take financial donations, but many are also looking for donations of specific items to help them better serve the community. 
"We're bracing ourselves for this coming wave of need as government benefits run out or are uncertain and people are still losing their jobs," says Ann Garn, the communications and publications coordinator for Interfaith Community Services, a local nonprofit that is collecting nonperishable food items at its food banks at 2820 W. Ina Road and 8701 E. Old Spanish Trail Road. 
The Humane Society of Southern Arizona needs donations of pet food to meet a greater need for families struggling to care for pets, says Randy Peterson, director of development and marketing and communications for the Humane Society of Southern Arizona.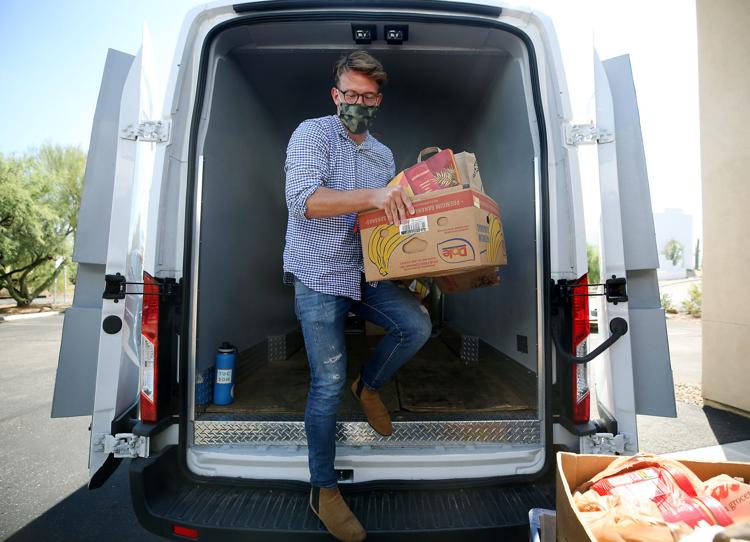 Emerge! Center Against Domestic Abuse needs prepaid data cards of 25 GB or more so domestic violence survivors can use their cell phones for video chat sessions, according to marketing and communications coordinator, Mariana Calvo. The nonprofit has a wish list for back-to-school items and also needs prepaid Visa, Mastercard or American Express gift cards of no higher than $20 each that are given to those who need essentials such as food and toiletries. 
Buy a membership
Many of Tucson's museums have been closed since March, and although some are beginning to open again, weeks of closure during what is usually a busy season meant a loss of revenue from admission, programs, store sales and membership, says Gentry Spronken, the director of marketing and communications and associate director of The Mini Time Machine Museum of Miniatures. 
Spronken adds that hopes are not high for future attendance, even as the museum has reopened again with safety measures in place. Even if you're not making plans to visit any museums in the near future, renewing or purchasing membership is a great way to help, Spronken writes in an email. 
"Membership is especially important right now, though, because it will infuse organizations with some revenue that will make up for past and future losses," she says. 
The Mini Time Machine Museum of Miniatures is offering a discount of $10 off membership if you sign up or renew using the code FRIEND at checkout. Membership starts at $40 and include free admission for the year, discounts in the gift shop and on certain events and more. The offer expires Aug. 31. 
Many museums are extending the duration of existing memberships to compensate for time closed.
"Membership is key to our ability to maintain the museum and remain open to the public," writes Lisa Jensen, membership manager for the Tucson Museum of Art, in an email. "Our members form a community of giving and support that keeps the arts going during this strange time. Proceeds from membership go directly to our general operating expenses and any membership that is purchased or renewed now will help offset the loss in admissions we experienced being closed for three months." 
Donate season tickets
Like Tucson museums, organizations that contribute to Tucson's vibrant arts community abruptly closed in March, suspending seasons and canceling performances. 
"We're struggling, like many nonprofits are, and in particular, with our genre of dance, we rely on live performances and ticket revenue for a specific chunk of our cash flow and that's out of our window for right now," says Justin Carroll, the director of operations with Ballet Tucson. "We don't know when or how soon we can get people back in the theater, and when things open, how anxious are our patrons going to be to get back into a crowded theater?" 
Ballet Tucson recently made the decision to cancel the rest of its performance season through 2020 and announced a matching grant challenge to make up for some of that lost income. In addition to donating to that challenge, Carroll says people can help Ballet Tucson and other local arts organizations by renewing season tickets or "donating a season" — basically, give a cash donation in lieu of purchasing season tickets, Carroll says.
On July 17, the Arizona Theatre Company announced on its website that is was planning a six-show season to kick off in 2021, with six-show subscribers receiving tickets for each show or professional recordings if supporters aren't ready to return to the theater. 
The Loft Cinema has also announced a donation match campaign, with a group of donors promising to match contributions up to $100,000. 
"We're not alone in this," Carroll with Ballet Tucson says. "There are tons of nonprofits and arts organizations in the same predicament. If you don't feel like donating to Ballet Tucson, find some other arts organization you do favor and support them, because we're all going to need the help."