Once a year, the night-blooming cereus wows us with white, palm-sized flowers that blossom at dusk and wilt before sunrise. 
Also known as Peniocereus greggi var. transmontanus or queen of the night, the night-blooming cereus typically blooms this time of year ⁠— although she hasn't graced us with her presence on a mass bloom night yet. 
When she does, expect to see showy flowers that you may be able to smell more than 30 feet away, says Adam Farrell-Wortman, the horticulture manager for the Tucson Botanical Gardens. 
Here are five things you need to know to get ready for bloom night. 
When to see the blooms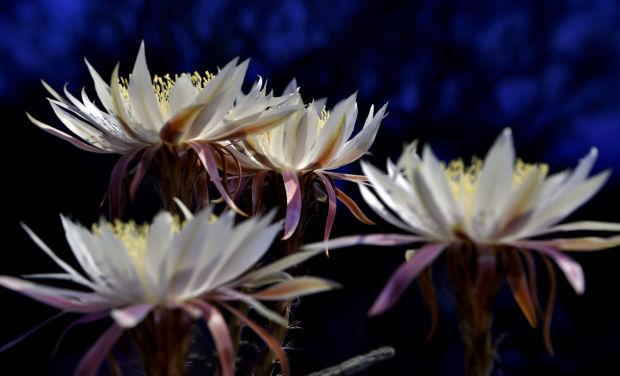 The queen of the night typically blooms on summer nights in June or July. 
There are a few reasons Tucson loses its mind when the queen blooms. One: Flowers last one night only, opening when the sun sets and wilting when it rises. Two: The cacti typically bloom all at once (although there are a few stragglers in the nights before and after). That means if you go somewhere with multiple night-bloomers, you're in for a beautiful, mass bloom. Three: Caretakers can't usually tell if the cactus is going to bloom until lunch time the day of the bloom, Jessie Byrd, the Native Plant Nursery manager for Pima County Natural Resources, Parks and Recreation, told us earlier this month. So when you learn it's bloom night, you have to make plans fast. 
Where to see the blooms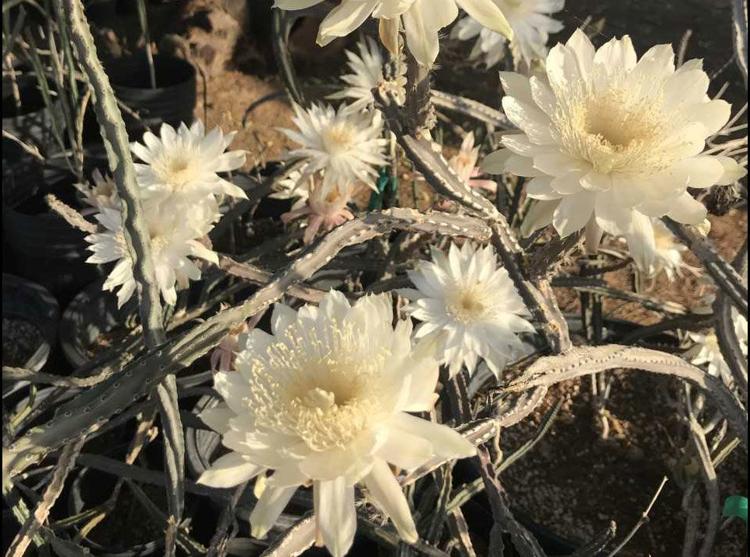 In nature, the queen of the night often grows in sandy or gravelly soils and on wash edges or hill slopes, beneath a desert shrub or tree, says Farrell-Wortman.
How to know when they're blooming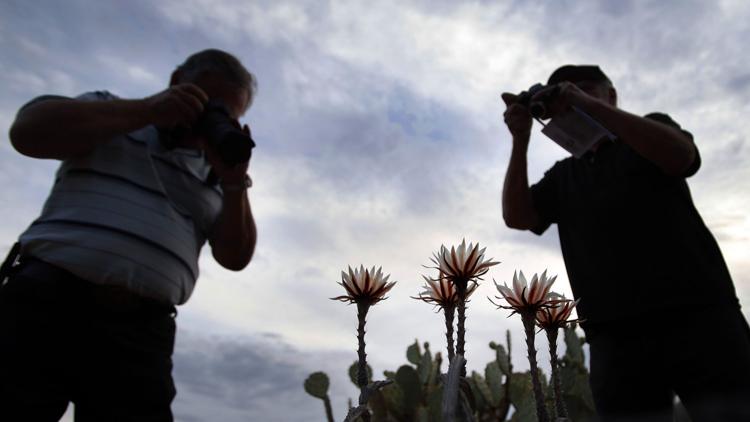 Both Pima Prickly Park and Tohono Chul have bloom watch lists you can sign up for. 
Admission to Tohono Chul on bloom night is $5. You can sign up for bloom watch here. 
You can sign up to be notified by email about bloom night at Pima Prickly Park by contacting Valerie Samoy at Valerie.Samoy@pima.gov. You can also follow the Pima County Natural Resources, Parks and Recreation Facebook page. The park is free to visit. 
You should wear close-toed shoes and bring water and flashlights to both bloom nights. 
Why they bloom all at once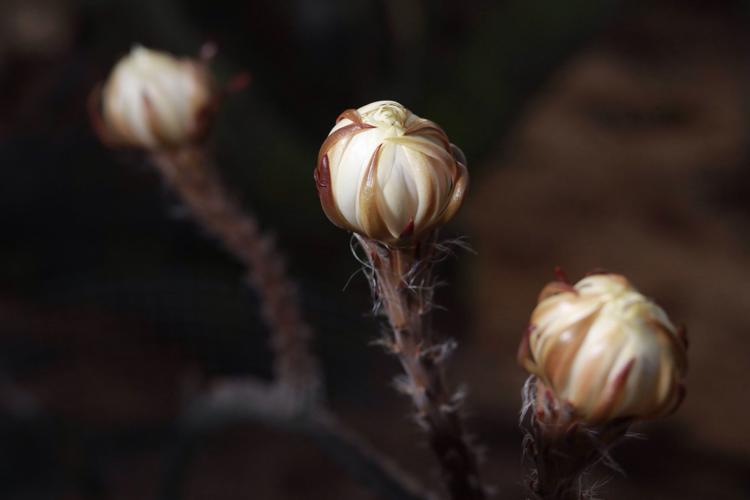 It's actually kind of a mystery but has to do with pollination. 
"The flowers are not self-fertile, so they require cross pollination," says Farrell-Wortman. "Generally, an individual flower will only flower once or twice a season, and they only last one night. So it needs to flower at the same time as others in the area in order to be pollinated and produce viable seed." 
He believes that the combination of heat, daylight and moisture (or lack of) contribute to the timing. 
"Since they bloom in groups, there must also be some plant communication going on," he says. "They need to bloom, set fruit and have their mature seed dispersed and that seed germinated before the end of the monsoon. Different colonies bloom at different times, so it much be a combination of factors in their micro-climate." 
That's why the queens at Pima Prickly Park and Tohono Chul may not bloom on the exact same night. You can tell a night-blooming cereus is ready to flower when buds are softer and show a small flash of white, Byrd says.
What they look like the rest of the year
Most of the year, the night-blooming cereus looks like a spindly gray stick that can barely support itself ⁠— more pauper than princess.
"It can grow up to 9 feet long, but will usually be 3 feet or less," he says. "It is very hard to find in the wild unless it has the flower or its bright red fruit."
Farrell-Wortman adds most of the plant is underground "as a tuberous root" that "looks like a turnip" and can weigh as much as 150 pounds. 
Additional sources: "Field Guide to Cacti and Other Succulents of Arizona" by Peter Breslin, Rob Romero, Greg Starr and Vonn Watkins.