For a single night each summer, the desert's drama queen commands our attention. 
Because Arizona's night-blooming cereus, or Queen of the Night, looks like a gray stick for most of the year, we get pretty excited when the cacti unveil the majority of their milky white flowers in a mass bloom night each summer. The flowers only last one night.
Jessie Byrd, the Native Plant Nursery manager for Pima County Natural Resources, Parks and Recreation, says in years past the cacti have bloomed as early as June 12 and as late as July 12.  
Tucson calls it bloom night. And this year, you can marvel at more than 100 queens in one park for free. 
This spring, Tucson Cactus and Succulent Society volunteers and Native Plant Nursery staff planted 105 of these night-bloomers— scientifically known as Peniocereus greggii variety transmontanus — at Pima Prickly Park. You'll spot many of them underneath creosote or mesquite trees for support and shade, as you would elsewhere in the desert.
Byrd called it a "spring queening."
Although the county has hosted bloom nights at its Native Plant Nursery in years past, this will be the first year you can see the queens planted in the park, 3500 W. River Road. 
The desert park just off of River Road is home to hundreds (if not thousands) of cacti donated privately or saved from development sites. 
"These plants belong to all of us," Byrd says, referring to the night-blooming cereus. "They came from Pima County development sites, so they were publicly owned plants already, and we've had them in the nursery for the last four or five years with nowhere to put them. The park is a good place for that." 
The park used to be a pit. 😂
Because the land wasn't stable enough for ball fields after it was filled in, the nine acres became Pima Prickly Park and the nursery, Byrd says. 
Now, the seven-acre park provides a place for the Tucson Cactus and Succulent Society to plant rescued cacti — often chollas and prickly pears —  that can't be sold at plant sales, go home with volunteers or return to development sites. Plants that outgrow the nursery also end up here. 
Just this year, they've planted more than 500 plants in the park. 
"Here is a landscape that was not just disturbed but was totally messed up," Byrd says. "It was a hole in the ground with no landscape. It's never going to be pristine desert again, but that's not the intent. The intent is to show that with people and the Sonoran Desert working together, this can start to function as desert again." 
"Eight to nine years ago, there was hardly an animal..." says Richard Wiedhopf, the president of the Tucson Cactus and Succulent Society. "But in a very small period of time, the small mammals came back. ... Now we have rattlesnakes and lizards, and we've seen bobcats, coyotes, javelinas and owls." 
Trails meander through the park, passing Saguarohenge (exactly what it sounds like), the Cholla Forest Maze and the Agave Garden. The cacti here are survivors, making a go of it in a new home.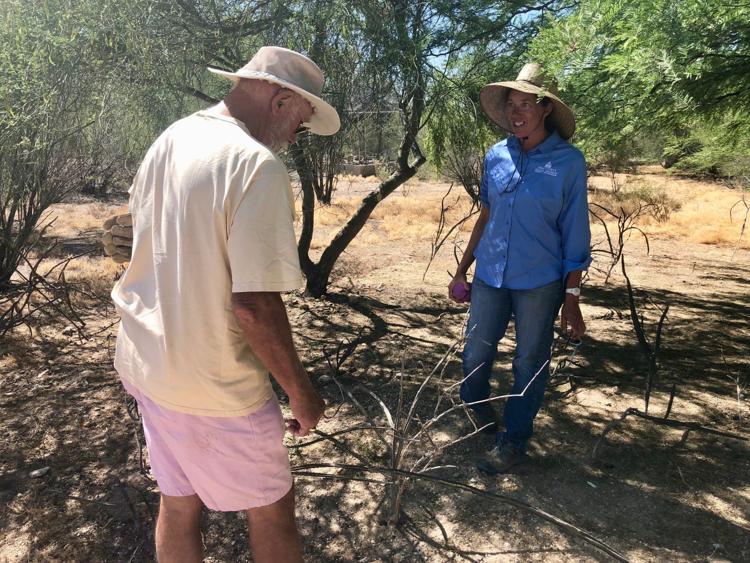 Some — like the night bloomers — come from the Pima County Native Plant Nursery. The nursery is on two acres and has 20,000 plants all destined for public projects, Byrd says. Think road widening, schools, libraries and other public places that need plants. 
On bloom night, volunteers with flashlights will help visitors navigate the trails to find the blooming queens planted throughout the park. You should plan on bringing your own flashlight, too.
If night-time adventures aren't your thing, come back for the morning-after party. "The flowers don't close up until the sun hits them," Byrd says. She adds that there are always some stragglers that open in the days before or after the mass bloom.
Tohono Chul's plants will also bloom within the same time frame. The gardens on the northwest side have been hosting bloom nights for 28 years. With 437 of the plants on the property, Tohono Chul has the largest private collection of night-blooming cereus cacti in the world, says Michelle Armstrong, the gardens' director of marketing and communications. To sign up for Tohono Chul's bloom watch, go here.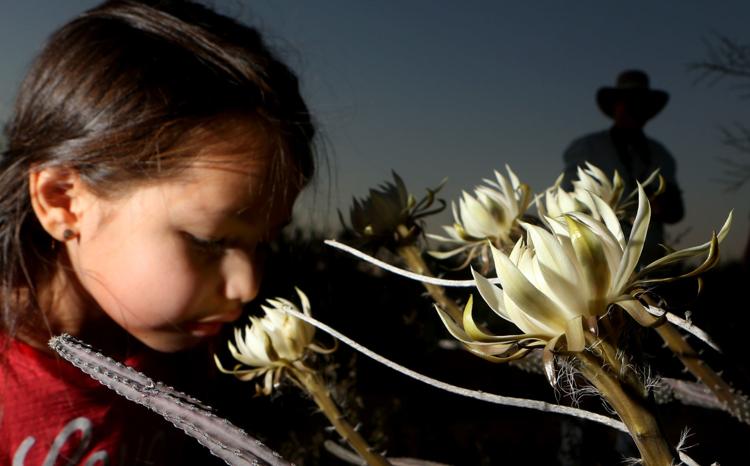 You can tell a night-blooming cereus is ready to flower when buds are softer and show a small flash of white, Byrd says. She won't know if the cacti are ready to bloom until lunch time that day, she says.
 "The point was to get them out of the pot and into the desert where they can be a functional plant again in a place where everyone can come see them for free," Byrd says. 
Correction: The night-blooming cereus is NOT blooming this week at Tohono Chul, like we posted in another story on Tuesday, June 4. We apologize for the confusion. The best way to get bloom night alerts is by signing up at tohonochul.org/bloom-watch or with the county (see below). 
---
If you go
What: Bloom night at Pima Prickly Park. Bring flashlights and water. 
Where: Pima Prickly Park, 3500 W. River Road (the county's parks and natural resources offices are located near the park)
More info: You can sign up to be notified by email about bloom night by contacting Valerie Samoy at Valerie.Samoy@pima.gov. You can also follow the Pima County Natural Resources, Parks and Recreation Facebook page.