Editor's note: This story was last updated on April 13. 
Local artists are making it a bit easier for us to stay home by making free, Tucson-inspired coloring sheets you can print at home and color to pass the time. 
You can Google the mental and physical health benefits of coloring for all ages. But you don't have to be an expert to know how relaxing it feels to unwind away from a screen, focus on one task and create something using your hands.
We've rounded up lots of options to choose from, and even made our own #ThisIsTucson coloring sheets downloadable for the first time. Pick your favorites, sharpen your colored pencils and put on a virtual concert from a Tucson musician for some relaxing down time. 
Some of these may make you nostalgic for things you love but can't do right now like hiking up Tumamoc, riding bikes with your friends and going to the library. So maybe keep a box of tissues close by, too. 
If you share your finished creations on social media, be sure to tag the artists to show them some 💗 and if you are an artist with some sheets to share send your links to us and we'll add you to the list. 
#ThisIsTucson 
Illustrator Chiara Bautista is the incredibly talented woman behind all of our super adorable cactus people designs found on our merchandise, digital sticker packs and branding. Her work is so cute it makes us want to cry. Fun fact: Bautista has also designed Metallica tour posters and has a huge following for her personal artwork online. 
We usually hand out our coloring sheets for free at our events, but since those are on pause we're happy to share these designs of happy cactus friends enjoying bike rides downtown, joining in the mermaid parade, cooling off in a backyard pool and other things that are totally #ThisIsTucson. Use the links below to see and download all the pages for printing. 
Arizona Daily Star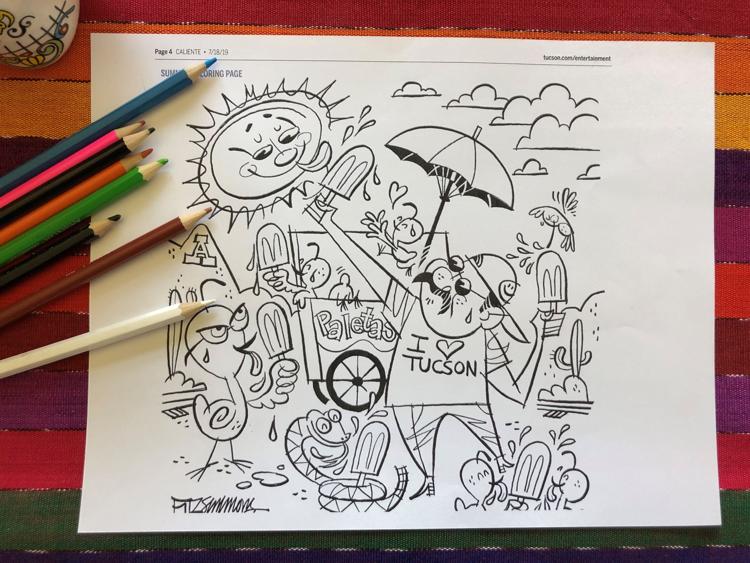 Arizona Daily Star cartoonist David Fitzsimmons and illustrator Chiara Bautista made a collection of 12 coloring pages that were published in Caliente, the Star's entertainment section, last summer.
The art shows beloved desert critters enjoying what Tucson summers are all about: paletas and ice cream, backyard BBQ's and enjoying the cool monsoon rain. We are feeling some serious summer vibes and can smell the creosote and feel the heat just by looking at them. Download the pages here.  
Annotated Audrey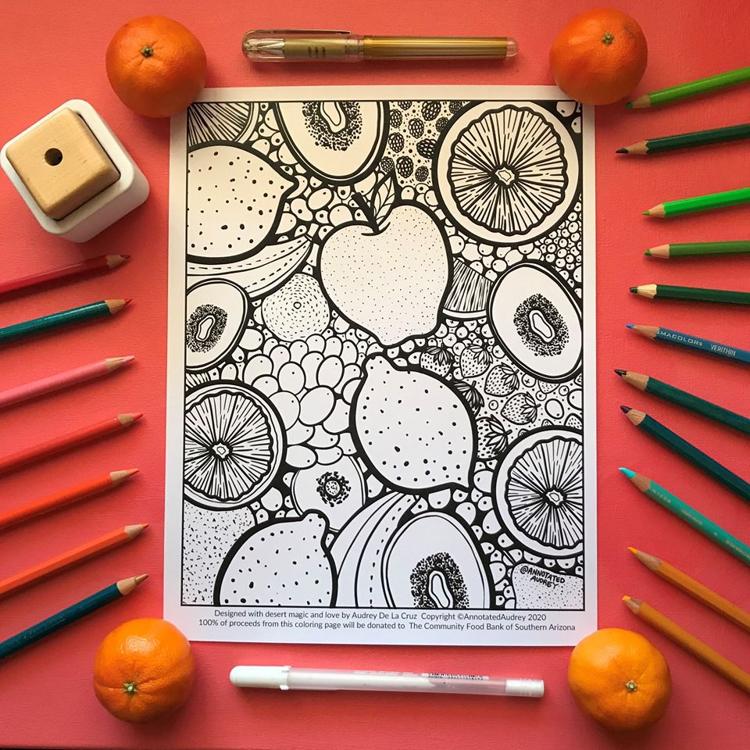 You've probably seen Audrey De La Cruz's whimsical and colorful art inspired by the desert on greeting cards, prints, decals and buttons in a number of local gift shops or online under her Annotated Audrey brand. But De La Cruz actually started her art career making coloring books. She decided it was the right time to get back into creating coloring book art and offer new and old coloring pages to help remedy some of the boredom and stress of being home, she says.
"In addition to the coloring pages, I wanted to create other resources for people to help cope with their changing circumstances," she says. So she also made work-from-home daily planners, grocery shopping planners, food inventory sheets, and menu planners. We cannot tell you how excited we are to put these resources to work, seriously, THANK YOU, Audrey! 
She releases new printables every Saturday at 10 a.m. which you can download on her website, you still have to add them to your shopping cart and go through the checkout system like you would for a purchase, but once you do that the designs will be available for immediate download and will also be sent to your email. If you don't have a printer, you can order 25 copies for $4.99 from her website and she'll send them to you in the mail. 
This week, in addition to two new sheets, she also made a fruit design that can be downloaded for $1 with all the proceeds going to the Community Food Bank of Southern Arizona. "I like to use my business to help my community when I can and I plan on doing more fundraising coloring pages in the future," she says. 
This is Tucson interviewed De La Cruz in 2016 about her coloring book, "Desert Dames & Doodles", where she also shared some coloring pro tips. 
Why I Love Where I Live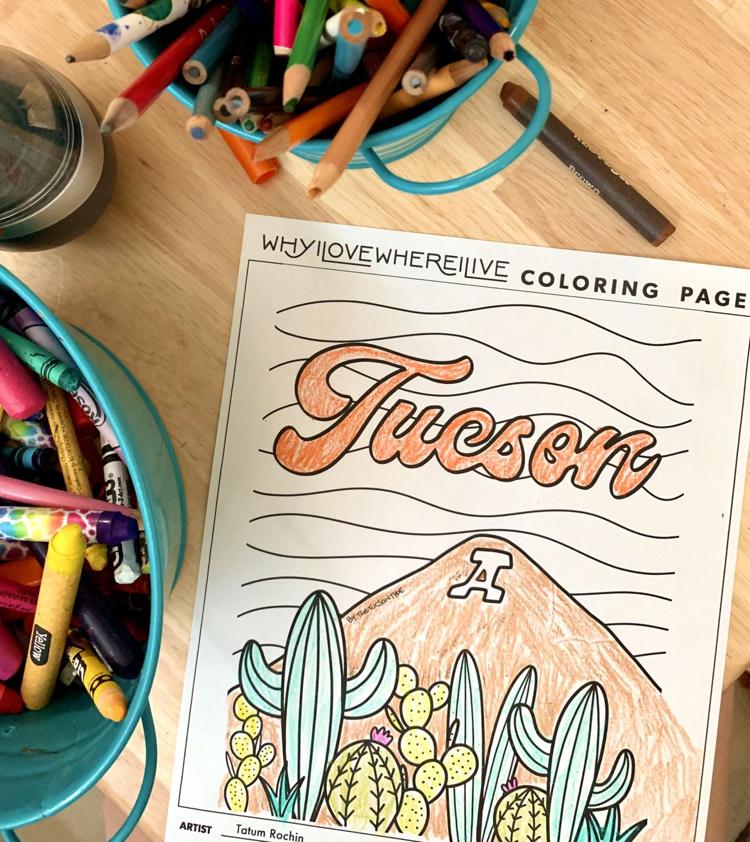 Why I Love Where I Live has assembled a collection of southwest-inspired coloring pages made by several Tucson artists that can be downloaded on its website. So far there are 15 designs, including a newly released Easter themed page made by Phoenix Supply Co.
Each artist submitted their work free of charge and each page includes the artist's website and a bit about their style so you can explore more of their work. Designs include lowriders by Miguel Cruz of Lower Arizona, lots of cactus art by Tatum Rochin from The Tucson Type and Emily Powell of Why and Wiser, and a pretty intricate floral rattlesnake by Serena McRae of Cactus Clouds Art. 
"Our hope is that through this offering, we could introduce people to new artists they may not have heard of before and use this as an opportunity to promote artists' work while coming together to just create something light-hearted for people," Kristin Tovar, owner of Why I Love Where I Live said via email. 
The pages were released last week on a Thursday to give people something fun to do on the weekend. 
"We saw so many people post throughout the weekend about the joy it brought them to take their mind off of things and just have a moment of peace to create," she wrote. 
You can get also get hard copies of the coloring pages with to-go cocktails from Westbound while supplies last. Donut Bar Tucson will also include one of the pages in its Share Some Sweet packages, that include a half-dozen donuts being delivered to people through a nomination process. 
Museum of Contemporary Art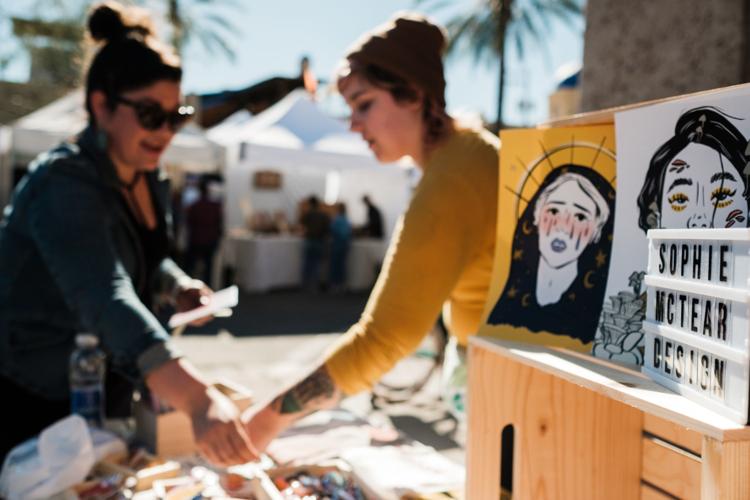 The Museum of Contemporary Art is closed, but still wants to connect with the community and showcase the talented artists that call Tucson home. So the museum put together a whole coloring book with 30 designs from local artists. There is so much variety in styles and themes that range from simple geometric shapes to extremely detailed scenes. 
The book is a display of the range of talent in Tucson and you get to learn more about the artists and what inspires their work in short bios at the end of the coloring book. 
MOCA says it will repost coloring creations if you tag @mocatucson in your posts. 
The University of Arizona Alumni Association
You can bear down and color in some of the iconic campus buildings and vegetation or make a color a thank you card for a first responder with these coloring sheets from the UA's alumni association.