Tucsonans will finally get the chance to meet Penzi, the baby pachyderm born during the pandemic, when the Reid Park Zoo reopens to the public next week. 
The zoo and other outdoor amenities will begin a phased reopening this month, marking one of the first steps in a citywide reopening plan amid the pandemic.
After a five-month closure, the Reid Park Zoo will officially reopen Aug. 28, inviting the public to visit with the animals for the first time since March. Zoo members will have the chance to visit the zoo on Aug. 26 and Aug. 27. 
"Wildlife Walks" through the zoo will offer a modified viewing experience with enhanced safety measures to protect guests, staff and animals. The zoo will be open daily from 8 a.m. to 2 p.m. through Sept. 30.
All tickets must be purchased online and in advance. The zoo will be limiting the number of guests allowed inside each day and will also be enforcing the use of face coverings and social distancing. The zoo's water fountains will be closed so visitors are asked to bring their own water or purchase bottled water at the zoo. 
Some zoo features like the carousel, train rides, play equipment, giraffe feedings and indoor areas will remain closed as a safety precaution. The gift shop, cafe and front entrance will be closed for construction. Food and water will be available for purchase from carts set up throughout the zoo. 
Zoo staff will frequently sanitize high touch areas like handrails, restrooms and credit card machines. 
The zoo asks that anyone who is not feeling well to stay home and visit at another time. 
Find more information about the zoo's reopening procedures on the zoo's website. 
City of Tucson park playgrounds, ramadas and restrooms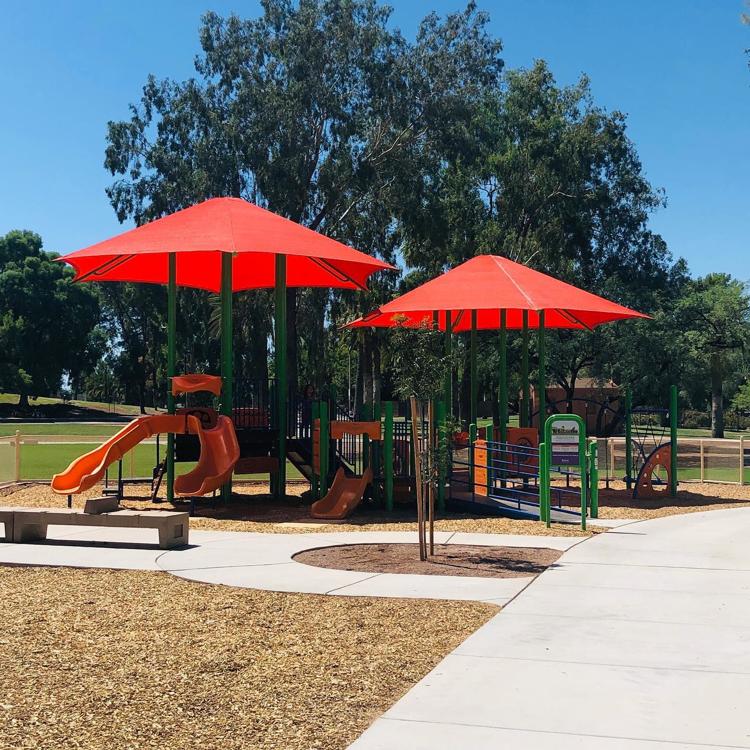 In addition to the zoo, other Tucson Parks and Recreation amenities will reopen for public use, including playgrounds, ramadas, bathrooms and outdoor sport courts.
City playgrounds, which have been closed since April, will reopen to the public on Monday, Aug. 24. According to a press release, playgrounds will be cleaned and inspected daily and signs will be added to help enforce CDC guidelines. Park restrooms will open on Friday, Aug. 21. 
Also starting Friday, Aug. 21, small ramadas will also be available for use for groups of 10 or less. Reservations and beer and wine permits for the small ramadas can be made online at EZEEreg.com or by calling 520-791-4873 beginning Aug. 28. 
All medium and large ramadas, for groups larger than 10 people, will remain closed.
"We strongly advise that all groups keep to 10 or fewer people, stay 6 feet away from anyone they do not live with, stay home if feeling sick, and follow all other CDC guidelines to keep safe," said Sierra Boyer, Tucson Parks and Recreation marketing manager. "Every person in the city of Tucson over the age of 5 is required to cover their nose and mouth with a face covering when in a public setting where continuous physical distancing is difficult or impossible."
Sports courts, fields and other amenities
Also beginning Friday, Aug. 21, some outdoor courts, including tennis, racquetball, handball, bocce, badminton and sand volleyball will reopen. Basketball courts will remain closed, however.
"Tennis and pickleball will be limited to four participants per court," Boyer said. "All others will be limited to 10 participants per court."
While sports fields have remained open through the pandemic, the city will begin accepting reservations again on Friday as long as practice is limited to 10 people.
Other City of Tucson facilities, such as recreation centers, lobbies and pools, will remain closed until further notice.
"Safety is our priority as we begin to reopen playgrounds, small ramadas and other park amenities," says Mayor Regina Romero. "While we want to make sure that our community has a safe space to enjoy, I encourage Tucsonans to use extra caution while at our parks to protect the health and well-being of our families and neighbors.
"The sanitizing plan and cleaning resources devoted to maintaining park areas will allow Tucsonans to enjoy the amenities safely, even though at limited capacity."