When Dominique Stoller tasted her first Oreo as a teenager at a friend's house, her world got a whole lot sweeter. 
Growing up with a vegetarian mother, Stoller, a Tucson native, knew desserts to be fresh fruit or cookies made with honey and carob chips. To her, the ice cream truck was a "jungle of candy." 
"That Oreo struck a chord in me, and I was like, 'What else have I not been getting to try?'" says Stoller, 37, adding that her mother's habits did pave the way for her to continue eating healthy, even with her current job. 
Today, Stoller works as the executive pastry chef and general manager at Hub Ice Cream Factory, 245 E. Congress St. That means she's part of the duo that crafts new flavors for the ice cream shop every three months. She's also Playground's catering and events coordinator.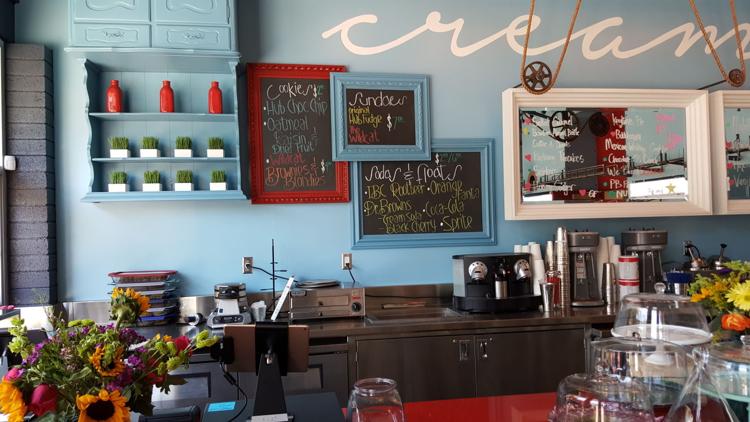 Once a kid who'd never tasted an Oreo, Stoller is now responsible for creating decadent ice cream flavors such as Nutter Butter Marshmallow Crunch. 
She begins her morning with a cup of coffee and a sample of each flavor in the case — for quality control reasons, of course.  
Stoller and executive sous pastry chef Lucy Cioe brainstorm new flavors, drawing inspiration from other desserts, childhood favorites or past Hub ice cream recipes. Stoller says there are hundreds of Hub ice cream flavors.  
The duo tests new flavors themselves, taking careful notes and eliminating excess ingredients. Cioe is particularly proud of the shop's creative vegan flavors. They make all of their own add-ins (think brownies, cookie dough, etc.).
Stoller's current favorite flavors include Queen Bee (25 cents of every scoop goes toward the Bald Beauties Project), Orange Dream with Cream and S'mores.
It's a pretty sweet gig — until there's drama. 
With 24 flavors available in the case at a time, Hub Ice Cream Factory rotates many of its flavors in and out, provoking some chilly responses from customers who find their favorite flavor ousted. 
"People get really upset," Cioe says. 
The S'mores flavor, in particular, causes a lot of feelings. 
"There was a young lady who was in tears..." Stoller recalls of a recent attempt to rotate S'mores out of the case after three years. "And all the staff at Hub were like, 'What happened? Why would you do that? It's the best flavor!'" 
The replacement — a Rice Krispie treat flavor — wasn't good enough. Yelp reviews and irate emails followed the disappearance of S'mores. 
"The title of the email was 'Toasted marshmallow s'mores gone' with a sad face," Stoller says. To mitigate the anguish, they try to keep flavors newly rotated out available in pint form. And some steady favorites stay available at the restaurant across the street. Calm down. 
"They had a closet in the kitchen," says Sandy Ford of the tiny ice cream prep space in the restaurant. Ford is director of operations for the Hub Restaurant and Ice Creamery, the factory and Playground Bar and Lounge. "And the ice cream line would wrap out the front door and down the sidewalk, so it dissuaded a lot of people from coming in because they thought that line was for the table." 
Although the restaurant still serves a few ice cream flavors, the sweet treat shop created an opportunity to offer additional flavors and novelties — think house-made choco tacos and mango popsicles dipped in chamoy and Tajín. Like the lollipop, but frozen.  
"That is all Doma and Lucy," says Ford, who has known both women since before they worked at the shop. "We give them free reign. There is no micromanaging. It's like a treat when it's time for the new season, and we're like, 'Ooh. What do you guys have for us?'"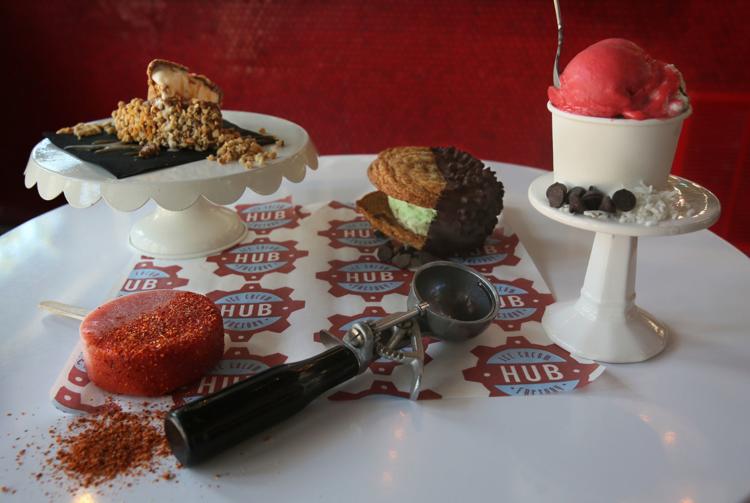 Every day, Hub Ice Cream Factory makes about 100 gallons of ice cream for the dessert shop and the restaurant, Cioe says. She gets in around 6:30 a.m. to start the process, which takes 8-10 hours. 
Stoller and Cioe work with a staff of 10, including them. Neither set out to become a pastry chef and ice cream inventor. But they're really good at it. 
"They're both just naturally adept at this stuff," Ford says. "They're like, 'what about this?' — and it's magic." 
Cioe discovered baking while preparing goodies for her three sons. 
"I just have a knack for it, so I just went with it," Cioe, 47, says. "I just loved it and still do." 
She got her first pastry chef job at the now closed Jax Kitchen. Red velvet cake, her signature cake at home, became the signature dessert at Jax. About four years ago, she got a call from Ford asking if she'd be interested in helping with the restaurant's ice cream.
Stoller, too, didn't plan on becoming a pastry chef. 
Her first experience working in a restaurant kitchen happened almost by accident. A server at the original Tavolino Ristorante Italiano in 2002, Stoller ended up in the kitchen on a short-staffed evening. She thinks it was Valentine's Day. 
When Contigo Cocina Cantina opened in 2010, Stoller came on as executive chef. 
"That was my first executive chef job, and I did all of the desserts as well," she says. "I love cooking, but making desserts was so fun. I fell in love with it. You get to take your time. You get to make it pretty." 
She bought her first ice cream maker as a way to use leftover base from a Spanish-style crème brûlée on Contigo's menu, she says. Rather than let it go bad, she turned it into ice cream.
And thus began her great love for frozen treats.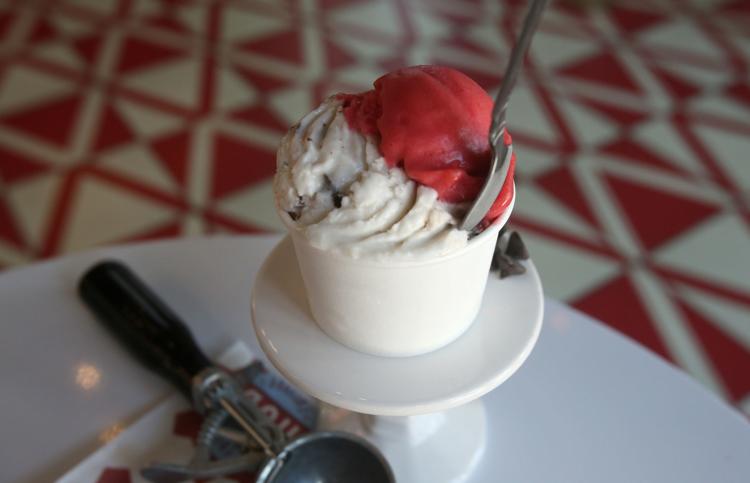 She went on to work at Hacienda del Sol, at Hub as an ice cream churner and then as a caterer selling her homemade ice cream at farmers' markets. 
When she learned that the shop needed a new executive pastry chef roughly  three years ago, she dropped everything else. 
"I was like, 'So you're saying you want me to be Willy Wonka at the chocolate factory?'" she says. " I'll do that. That's the job, right? Because I will do that right now."