The annual gem, mineral and fossil shows are back in Tucson! Every year, the shows bring international vendors, rocks that weigh thousands of pounds (and cost thousands of dollars) and a chance to find one-of-a-kind items.
With such unique items at the shows across town, your shopping bag can fill up quickly. Fortunately, there are plenty of fun items you can buy that won't break the bank. 
The Kino Gem & Mineral Show has so much more to offer than just gems, minerals and fossils. Keep reading to see what other goodies you can find.
The Kino Gem & Mineral Show, located at the Kino Sports Complex, 2500 E. Ajo Way, runs 10 a.m. to 6 p.m. daily until Sunday, Feb. 12.
Small crystal heart dishes 💖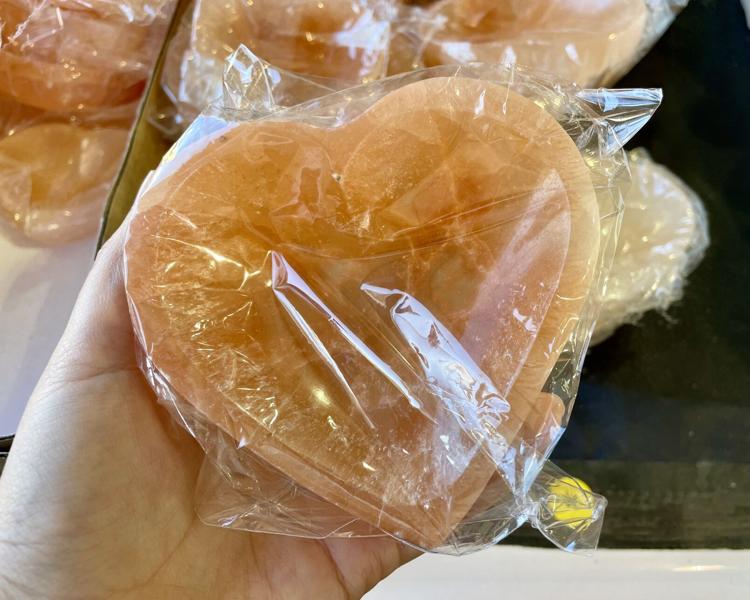 These cute heart-shaped dishes made from various crystals make the perfect addition to your nightstand, vanity or bathroom counter. The dishes come in various sizes and colors and range in price between $2 and $4. Circle-shaped dishes start at $1.50.
The possibilities are endless when it comes to what you can use these dishes for. I think they could make the perfect small jewelry holder. Find these lil cuties at the King of Selenite tent.
Pocket-sized stones 💎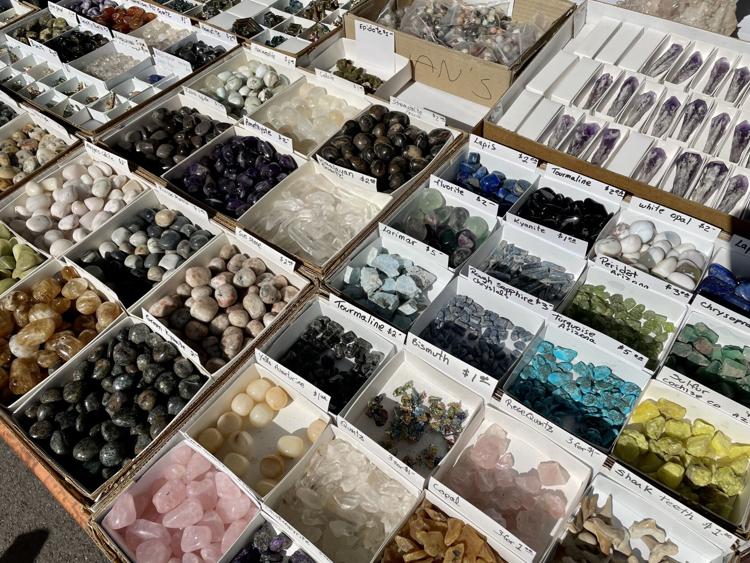 Of course, you can't stop by a gem show and not pick up some kind of rock. Find numerous pocket-sized stones such as pyrite, calcite and fluorite at the Themadrocks table. Prices start at $1.
If you're looking to splurge, I recommend checking out their chunks of bismuth — a beautiful rock that looks almost as if a shiny piece of metal and an oil slick had a baby.
Various accessories 👂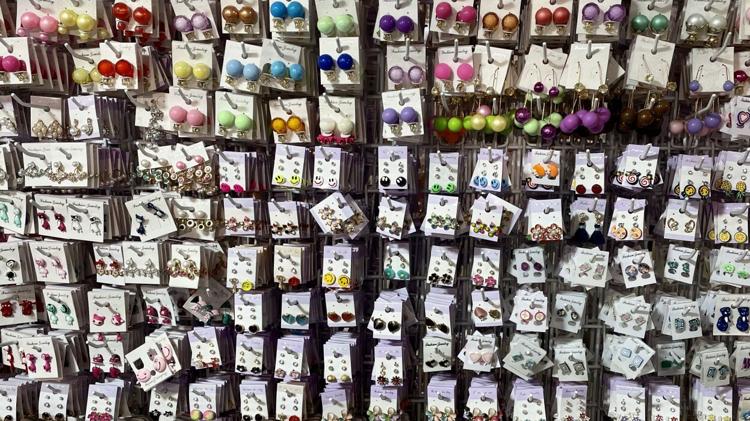 There are a few places at the Kino Gem & Mineral Show where you can find all kinds of budget-friendly accessories to rock. This particular seller has tables —yes, tables — filled with necklaces, bracelets, earrings and even hair clips. Just check out their tall fixture of earrings, which start at $1!
Beads, beads, beads 📿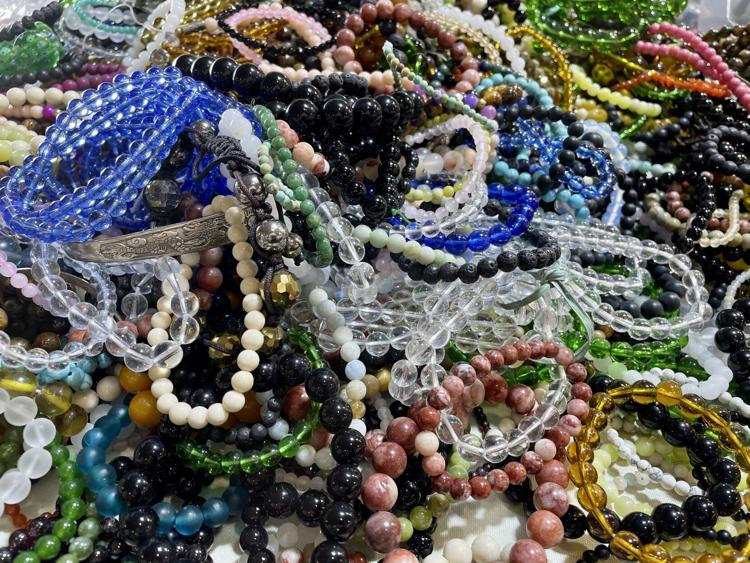 Aside from unique rocks, there's one other item you can count on seeing at the gem show: beads! There are tables upon tables of colorful beads.
Sure, some beads can be pretty pricey depending on the type of bead, the length of the strand and other features. But there are also plenty of affordable beads to find throughout the show. I found this small table (at the end of another bead table) that featured a pile of bead strands for $2. 
Ivory carvings 🦷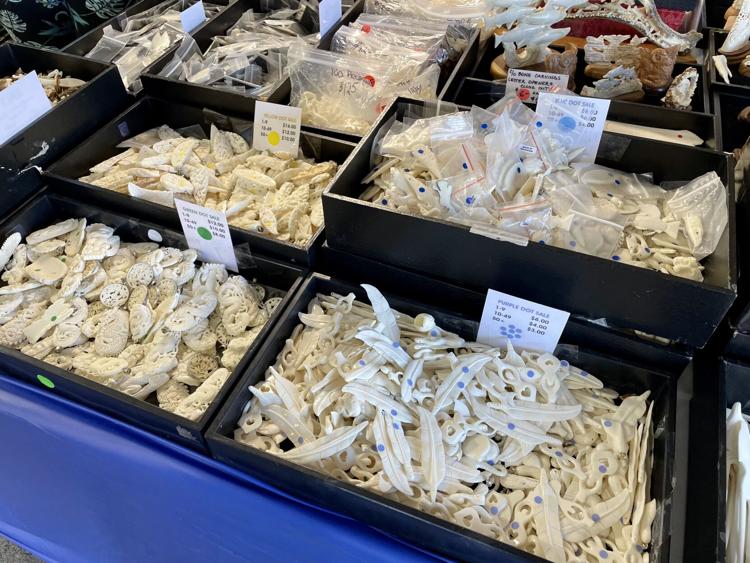 If you're interested in something a little less sparkly, check out the Walter Lee Bennett carvings table inside the main tent with mammoth ivory and moose antler carvings and bone jewelry.
You can find carving pendants starting at $6. The more intricate carvings go up in price, but they are super cool to check out.
Crystal crowns 👑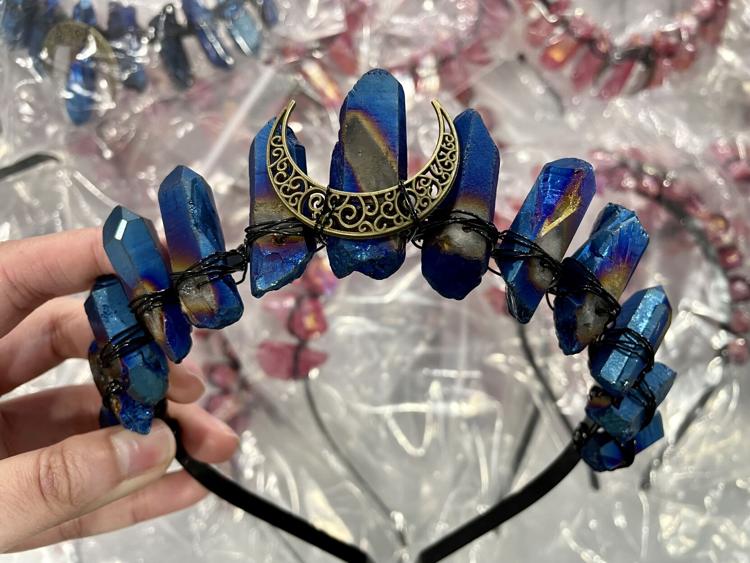 OK, OK, this item is a little more on the pricey side, but who doesn't want a crystal crown? You can find these cute crystal crowns at the Hoffmann Minerals section inside the main tent. The crowns are $20 each and come in a variety of colors. My favorites were the deep blue and the vibrant pink.
Himalayan pink salt shot glasses 🥃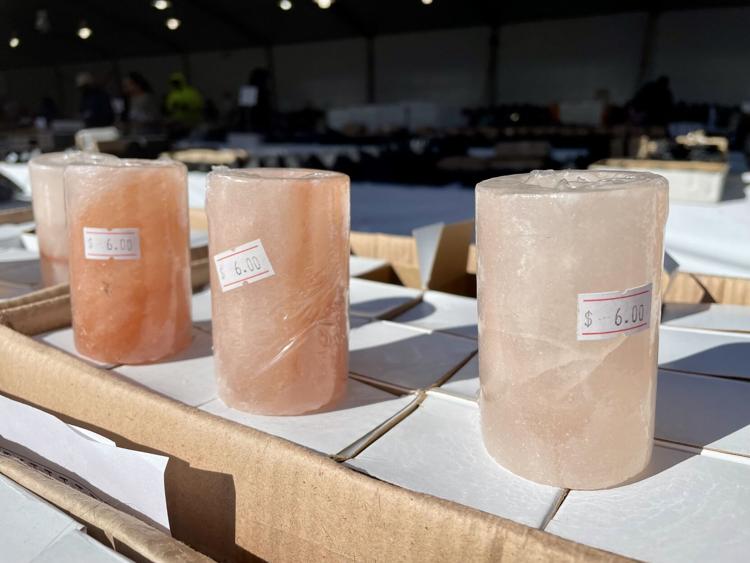 Here's a cool find for your kitchen or bar — Himalayan pink salt shot glasses. These unique shot glasses could also make a great gift for someone (or yourself).
The best part is that these glasses are sold individually for $6 each, so you can decide how many you want in a set, unlike other boxed sets with a predetermined amount of glasses. You can find these glasses near the Quasar Gems USA tent!
The world's tiniest bowl? 🥣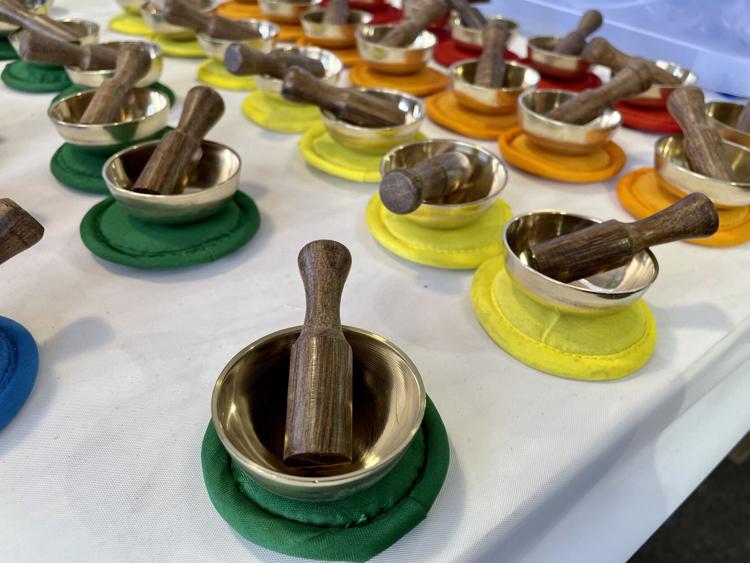 I wasn't kidding when I said that the gem show has one-of-a-kind items. These tiny bowls caught my eye while I was walking through the Serenity Tibet tent and they were only $7.50.
What do you do with them? That's a good question. I'm sure you could find various uses for this tiny bowl, such as crushing up dried herbs.
Dried herbs 🌿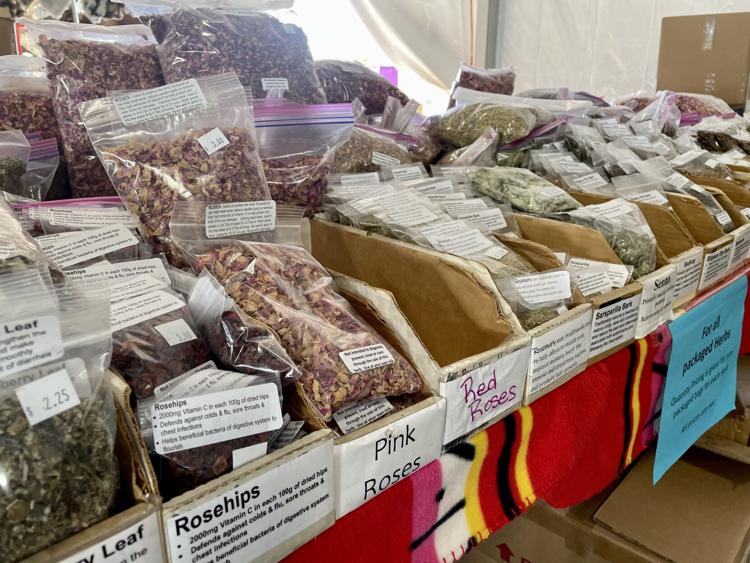 Find tables filled with dried packaged herbs inside the Denis Brand tent. This seller has dried herbs, flowers and more, with many of the prices starting around $2. (You can even find some smaller bags of dried herbs for $1.50!)
If you're looking to splurge, they have huge bags of dried lavender and roses, too!
Incense 👃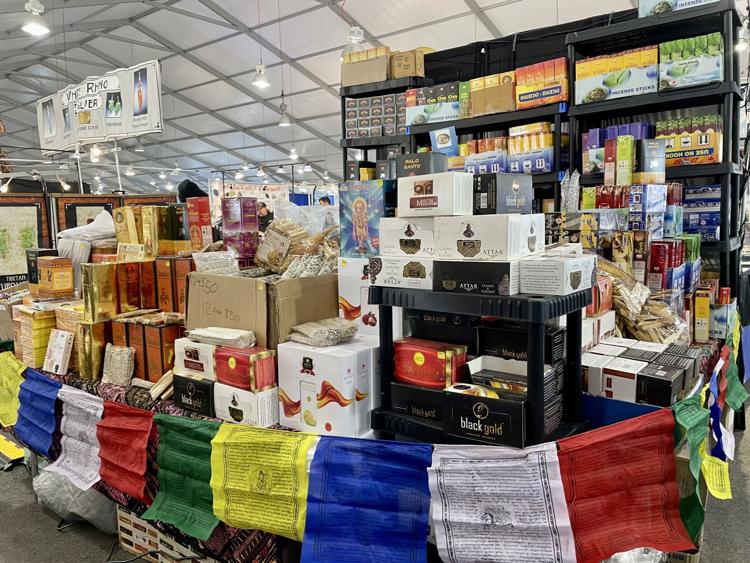 Another surprising find at the Kino gem show was a table inside the main tent dedicated to incense from around the world. The table has incense boxes stacked so high that you may miss the seller standing behind them. Prices start at $5.
---