It's pumpkin picking time and we cannot wait to slap on some flannel, go on a tractor ride and jump in some haystacks. 
Here are just a few farms you can visit around Southern Arizona to find the perfect pumpkin for you. All locations require a drive out of Tucson, so bring the whole crew and make a day of it. 
Pro tips: The earlier you go, the better chance you have at beating the crowds and picking the best pumpkins. Allowing yourself at least an hour-and-a-half at all of these places is ideal — there's just so much to do!
Fall Pumpkin Celebration at Apple Annie's Orchard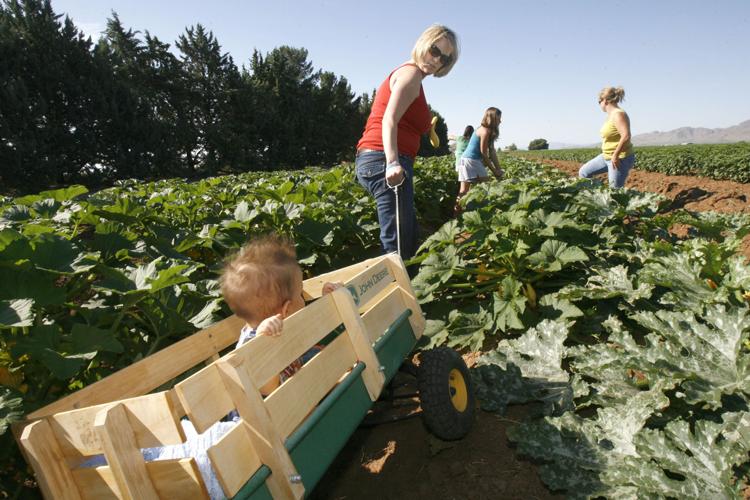 You can now pick pumpkins at Apple Annie's Orchard in Wilcox every day till Oct. 31! The pumpkin patch didn't open on time this year due to weather damage so Sept. 28 is your first chance to get yourself a giant orange gourd there.
And every weekend they're hosting a Fall Pumpkin Celebration where you can roam their 40 acre pumpkin field and go on a wagon ride.
Pumpkin prices range from $3 to $25 per pumpkin depending on the size. There's also a produce and food section where you can buy pre-picked pumpkins and treats.
And if that doesn't have you heading to Willcox, how about checking out their corn maze located right next to the pumpkin patch ($8 general admission, $6 for kids 3 to 11), it's the largest one in Arizona.
Visit Apple Annie's orchard location at 281 W. Hardy Road and enjoy an all-you-can-eat pumpkin and buttermilk pancake breakfast from 8:30 to 10:30 a.m.
Find more information here.  
When: From Friday, Sept. 29, to Tuesday, Oct. 31.
Hours: Open daily from 9 a.m. to 5:30 p.m.
Cost: No admission fee. Pay for whatever activities you do. 
Marana Pumpkin Patch & Farm Festival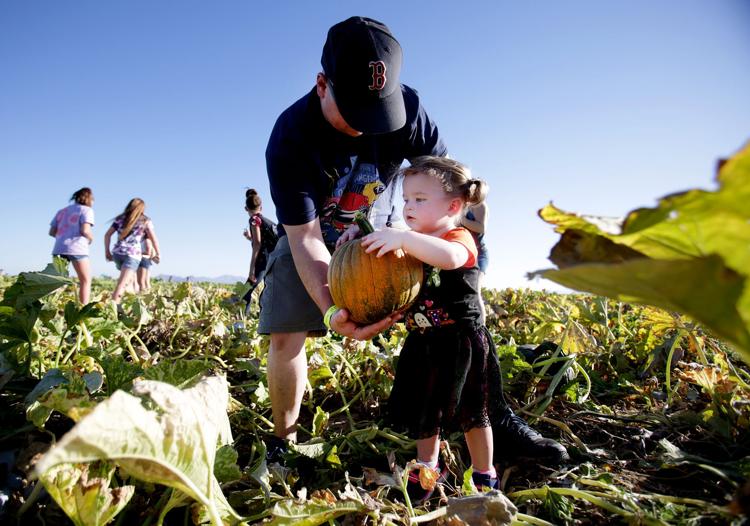 Admission into the festival gives you access to the corn mazes, Straw Mountain, petting zoo, kids' play area and a wagon ride to the pumpkin patch. 
Find more information here. 
When: Festival starts Saturday, Oct. 6 and ends Tuesday, Oct. 30. Open
Hours: Monday-Thursday, 3-7 p.m.; Friday-Sunday, 9 a.m. to 7 p.m.
Cost: $11 per person, plus tax, Monday-Thursday admission; $13 per person, plus tax, Friday-Sunday admission. Kids 34-inches-and-under get in free.
Buckelew Farm's Pumpkin Festival & Corn Maze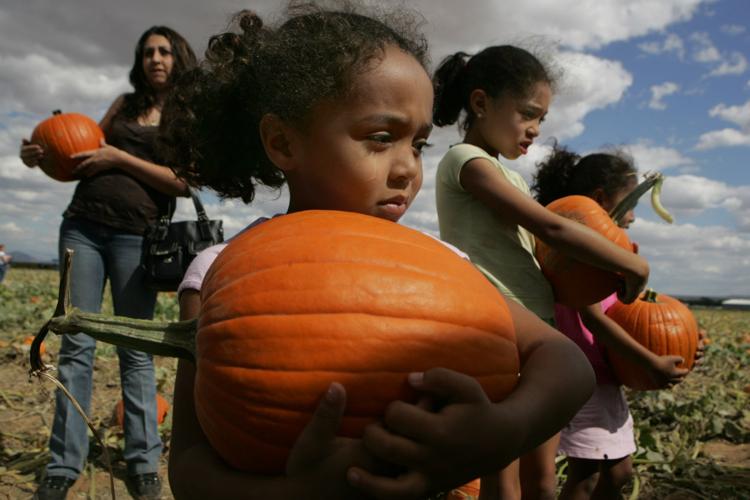 Buckelew Farm is celebrating the 30th anniversary of their annual pumpkin festival with lowered ticket pricing. Now you can enjoy pumpkin fields, three corn mazes, games and more for $10 instead of the usual $12 admission. 
Pumpkins are priced at 50 cents per pound. Other activities include pedal carts, petting zoo, inflatable obstacle course and unlimited wagon rides. 
This is also the only location on our list that serves beer and wine in addition to all the other food fare. 
If you're all about the spook this season, explore a corn maze after dark with Flashlight Nights that happen every evening after the festival. —  find more ticket information here. 
If you REALLY want the pants scared off of you, check out Buckelew Farm's haunted attraction, Terror in the Corn. It's  open every Friday in October from 6 p.m. to midnight, Saturday from 5 p.m. to midnight, Thursday, Oct. 25, from 6 p.m. to midnight, and Halloween from 6 p.m. to midnight. This haunted corn maze is not for the faint of heart, children under 12 will not be admitted without a parent or adult — find more information here.  
Find more information about the pumpkin festival here.
When: The weekend of Oct. 13-14, 20-12 and 27-28
Cost: $12 general admission, $10 senior discount, $6 for children under 12 during Kids Weekend from Oct. 7-8.