Here in the desert, we know water is precious — especially after a monsoon season that left much to be desired. 
And while naturally-flowing sources of water are the most magical, they aren't always reliable during dry seasons. 
Luckily, Tucson has a number of places where you can find water throughout the year. Take the picnic blanket or plan a stroll along these local lakes, rivers and ponds. 
Because who couldn't use a tranquil change of scenery these days? 
Sweetwater Wetlands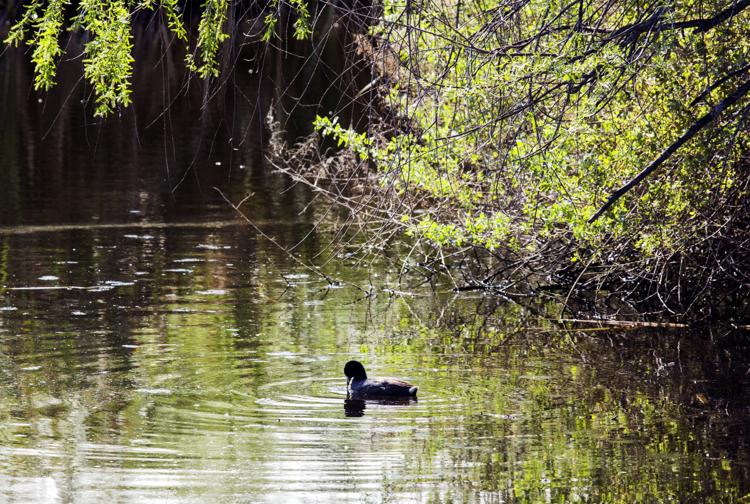 Accessible from the Loop, the city's Sweetwater Wetlands, 2511 W. Sweetwater Drive, has several observation decks and more than two miles of pathway winding through the facility. 
The wetlands are sustained by reclaimed water and home to fish, birds, turtles, frogs and other critters. Tucson Water has created a digital guidebook with info about the wetlands and profiles of all the animals and plants you might spot on your visit. There's also a Sweetwater Wetlands Bird Checklist. Dogs and bike-riding are not allowed in the park. 
Agua Caliente Park 
Agua Caliente Park, 12325 E. Roger Road, is named for the warm spring that historically filled the area's manmade ponds. The main pond at this northeast-side park was recently restored, and you might even spot the endangered Gila topminnow flitting around its depths. The park has more than one pond, although the newly restored one is the main attraction.
There's no fishing, wading or swimming in the pond but there is wildlife to watch. There's an Agua Caliente Park Bird List if you want to wildlife watch with a purpose. Throughout the spring's history, the water has been channeled and directed into multiple ponds, but in recent years, as the spring went dry, the county has pumped well water to sustain the main pond, according to a history of the park. 
Reid Park 
Reid Park, 900 S. Randolph Way, is midtown's urban oasis. This massive park (and home of the Reid Park Zoo) has water features that include a giant pond, fountain, plenty of ducks and a waterfall to create that peaceful bubbling brook vibe.
There are also mature trees for shade, lots of grass and abundant walking paths to keep you active. 
Santa Cruz River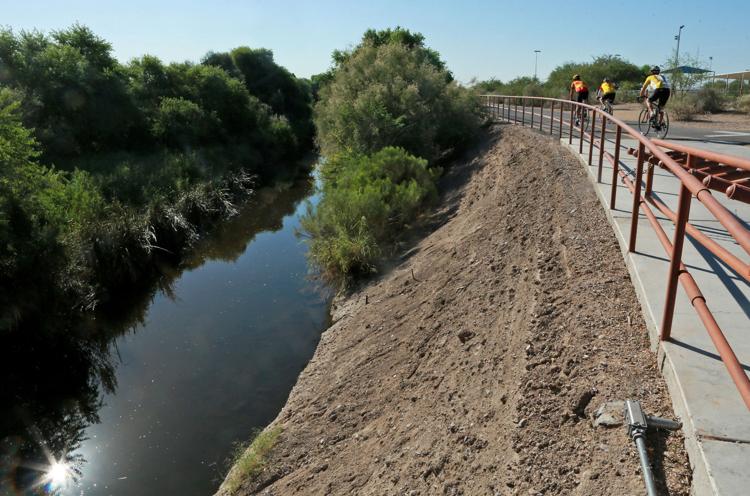 There are two stretches of the Santa Cruz River in Tucson where you're likely to see water. One is just south of downtown and the other is near Crossroads at Silverbell District Park in Marana. Both flow along stretches of the Loop thanks to the release of reclaimed water, or effluent. 
Water releases in the downtown stretch of the river have fluctuated since Tucson Water began releasing effluent last summer, so you're likely to see a steadier flow in Marana. Whichever location you choose, we suggest taking a walk along the Loop to spot the dragonflies, birds and other wildlife the water supports. 
Silverbell Lake
Silverbell Lake, located at Christopher Columbus Park,  4600 N. Silverbell Road, is 13 acres and allows both fishing and non-motorized boating. Make sure you have the proper licensing and permits, as well as flotation devices. No swimming or wading is allowed at Silverbell Lake. 
There is also a smaller lake at the park for model boats.